Property
Bikroy and Akter Properties Ltd. Signed a Memorandum of Understanding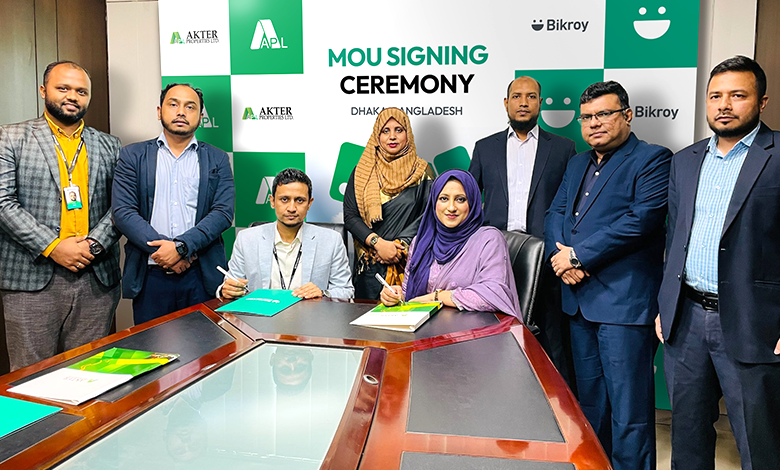 Recently Bikroy signed a Memorandum of Understanding (MoU) with Akter Properties Ltd. As per the agreement, Bikroy has signed to be a digital partner of Akter Properties Ltd. for selling properties.
Recently, on the occasion of the 7th year of their business partnership, Bikroy and Akter Properties signed an agreement, intending to serve a wider range of customers online. At the ceremony, Nasreen Khan, Chairman and CEO of Akter Properties Ltd., Sanjoy Biswas, Head of Corporate Sales of Bikroy; and Arifin Hussain, Head of Marketing of Bikroy were present among others.
Since 2019, Akter Properties Ltd. has been providing modern and contemporary architectural designs with better amenities through its apartments, commercial properties, and condominium projects countrywide. Bikroy has been working with Akter Properties Ltd. since 2017. Millions of buyers trust Bikroy as their source for buying, selling, and renting properties. Through this signing, interested buyers will be able to browse through different listings of Akter Properties Ltd. on Bikroy and find their dream house.
Nasreen Khan, Chairman & CEO of Akter Properties Ltd. said, "Akter Properties is a reliable name in the real estate sector of Bangladesh. Just as Akter Properties have been working to build improved architectural infrastructures for people, Bikroy works as a medium for property buyers and helps them find their desired property easily. I believe this partnership will result in many new initiatives for our customers."
Sanjoy Biswas, Head of Corporate Sales of Bikroy said, "Bikroy is currently the most popular online marketplace for Property. Akter Properties Limited has been working with Bikroy for 7 long years. Through Bikroy our respected members can reach their target audience very easily. With this new step of our partnership, we hope to achieve better things for our customers."