Bikroy Updates
Bikroy announces the winners of '50 Years of Bangladesh' story writing competition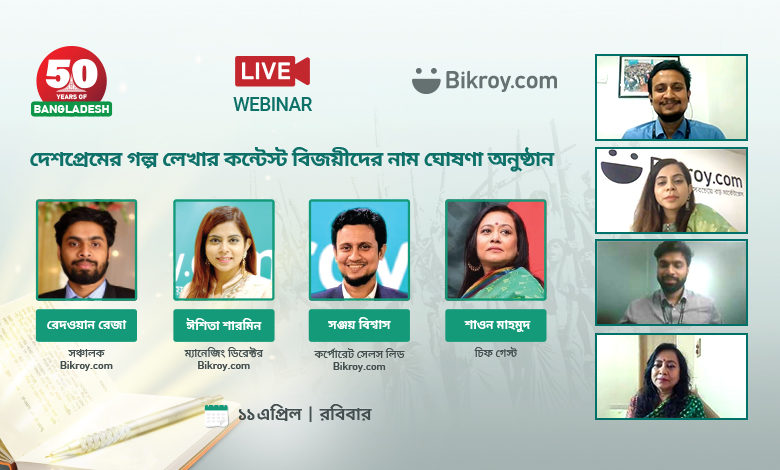 Bikroy.com, the Largest Marketplace in Bangladesh, has announced the winners of their story writing competition – '50 Years of Bangladesh'. A webinar was held on 11th April 2021 for the winners' announcement ceremony.
At the ceremony, Shawan Mahmud – daughter of the freedom fighter and musician Martyr Altaf Mahmud was present as the Chief Guest. Eshita Sharmin, Managing Director of Bikroy.com, and Sanjoy Biswas, Corporate Sales Lead of Bikroy.com were present among others.
Recently, Bikroy launched the competition for the third time to highlight the stories of freedom fighters and individuals who, out of their deep-rooted patriotism, played or is continuing to play an important role in the progress and well-being of the nation and its people. Participants visited the Bikroy Blog and submitted their stories.
More than 100 stories were collected during the competition from which three stories were selected as winners. A panel consisting of the Chief Guest and the Bikroy team selected the best three stories. Md Fahad Hossain Fahim was announced as the 1st prize winner; Dripta Sarder Sujan and Md. Moynul Islam was announced as the 2nd and the 3rd winner respectively. The first prize of the contest was 5,000 Taka, the second prize was 3,000 Taka and the third prize was 2,000 Taka. In addition, the winners received certificates from Bikroy.com, and the three winning stories will be posted on the Bikroy Blog very soon.
Eshita Sharmin, Managing Director of Bikroy.com said, "In continuation of our successful competition 'I Love Bangladesh', we arranged this competition on the occasion of the 50th Independence Day of Bangladesh. We wanted to bring out the heroic tales of our freedom fighters and real patriots who can be an inspiration for the young generation. This is such a competition which is very popular among our customers. We are pleasantly surprised by the active participation from all over the country on such short notice, especially during this pandemic. We got many good writings from which the final winners have been selected. On behalf of Bikroy.com, I want to thank everyone who spent their valuable time participating in this competition."
 Shawan Mahmud, the Chief Guest of the ceremony said, "Many many best wishes for Bikroy.com. I hope they will continue doing such arrangements with Bangladesh in the future as well. My urge to Bikroy.com will be to bring similar competitions throughout the year and not only for occasions. For the past three years, I have been with Bikroy.com in countrywide activities. I'll be delighted to be with Bikroy in the future. Love to everyone involved with Bikroy.com."