Bikroy Updates
Bikroy brings 'Weekly Bonanza' offer for private users on posting car ad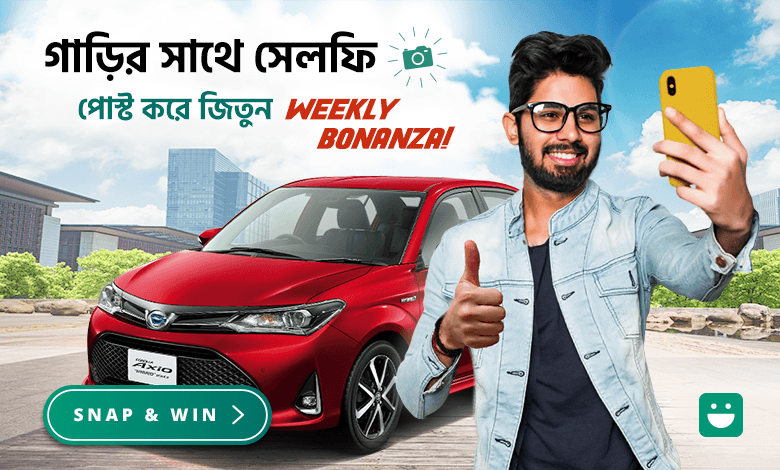 Bikroy.com, the Largest Marketplace in Bangladesh, has launched the 'Weekly Bonanza' offer for car selling ad posters. Private users now have a chance to win a surprise gift every week by posting their car ad on Bikroy. The campaign was officially announced on 13th September and was live till 11th October.
For the first time, Bikroy.com is arranging this kind of prize-winning contest on ad posting. Participants need to post an ad of a new, used or reconditioned car sale on Bikroy, then take a selfie with the car and post it on their Facebook timeline with the ad link and #MyCarOnBikroy in the caption. Among the participants, one person will be selected as the winner each week and will receive attractive accessories worth up to BDT 10,000.
Regarding this, Eshita Sharmin, Managing Director of Bikroy.com said, "Cars is one of the best-selling categories of Bikroy Vehicles. Used car ads account for 46% of all car ads on our site. Following this trend, we have come up with this offer for car ad posters. A seller always wants to get a good price for his car and hand it over to a trusted buyer. At Bikroy, we are ready to serve our customers as a trusted platform. I hope that all the winners will be happy to receive our surprise gifts each week by posting selfies with their beloved cars."
Md. Afzal Hussain, Vehicles Lead of Bikroy.com said, "With the growing digitalization, the demand for online shopping has skyrocketed. Cars are no exception. Car is a high investment and high involvement product, so even if it takes a long time, a car dealer wants to sell it at the best deal. Bikroy.com is a reliable platform for selling cars very fast and at good prices. We have attempted this contest to increase the interest of customers in online ad posting. We hope that our customers will be delighted by this wonderful offer and make it a success with their active participation."
Terms & Conditions:
This offer is only applicable to private users. Members can not take part in this competition.
Bikroy holds the right to decide on the winners.
Gift items are not applicable for any return, exchange, or transfer.
To maintain confidentiality and ensure fairness, Bikroy employees cannot participate in this competition.