Bikroy Updates
Vehicles
Bikroy Arranges a Webinar on the Motorbike Riding and Trading Situation During the Lockdown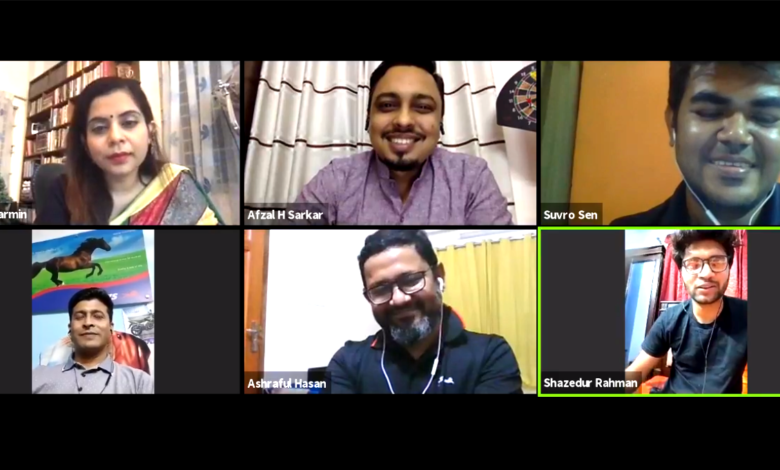 Considering the condition of buyers and sellers amid this lockdown, Bikroy.com- the Largest Marketplace in Bangladesh, organized a webinar on 23rd April 2021, entitled "Motorbike riding and trading during lockdown". The webinar has discussed motorbike trading and riding situations during the lockdown period.
Meanwhile, in this lockdown, Bikroy's offerings to its members to expand their businesses include more vouchers and promotional tools, dedicated customer support, EMI facilities, etc. Besides, there are also special tips from Bikroy for the members to reach more interested buyers and sell faster.
In this webinar MD. Ashraful Hasan, Head of Marketing of TVS Auto Bangladesh Limited; Abdus Salam Khoka, Proprietor of Modina TVS, and TVS Dealer of Cumilla; Suvro Sen, CEO of BikeBD.com; and Mohammed Shazedur Rahman, Founder of Beyond Borders were present as panelists.
On behalf of Bikroy.com Eshita Sharmin, Managing Director of Bikroy; and Md. Afzal Hussain Sarkar, Vehicles Lead of Bikroy were present in this webinar.
In the beginning, Eshita Sharmin, Managing Director of Bikroy said, "Motorbike is one of the most popular products on our website. Expressing solidarity with the Hon'ble Prime Minister, we also want to say that we have to take the business forward at this difficult time sitting at home. We're committed to making Bikroy.com more accessible to those who are doing business online during this lockdown. We have more than 3.5 million monthly users on our site and we expect this number to increase further in the pandemic. This is a good time to buy and sell a motorbike as there is a growing demand for personal vehicles. So instead of taking Corona as a threat, we can use this whole thing positively for our business."
Regarding buying and selling of motorbikes through online platforms in Bangladesh and the role of Bikroy here, Md. Afzal Hussain Sarkar, Vehicles Lead of Bikroy said, "Bikroy offers product listing in two ways, one through 'free advertising' and the other through 'membership'. Besides, users can view their ads directly by clicking on the 'Authorized Dealer' button to easily find authorized dealers of motorbikes. In addition to the membership, sellers will be able to add more ads as well as enjoy the SEO benefits on Google. Bikroy.com provides monthly research data to each member from where a seller can easily see how many responses they are getting against their ads every month."
Discussing the journey and future plan of TVS Auto Bangladesh, Md. Ashraful Hasan, Head of Marketing of TVS Auto Bangladesh Limited said, "TVS Auto started its journey in 2008 as the second Indian brand in Bangladesh. Later on, with the immense love of all dealers and TVS riders across the country, today TVS has risen in the list of top motorbike brands in Bangladesh. The contribution of various online marketplaces, especially Bikroy.com, is undeniable for putting trust on TVS Bangladesh."
He also thanked Bikroy.com on behalf of TVS Bangladesh. Apart from that he also mentioned that "keeping in mind the demands of their customers, TVS Auto is going to bring the new Apache RTR 4V to the market for the upcoming Eid – with the addition of X-Connect, navigation, modern security equipment, and many other features."
Talking about the current position of the motorbike market in Bangladesh, Suvro Sen, CEO of BikeBD.com said, "Bikroy.com is playing an important role in digitizing and simplifying the lives of motorbike riders. During this hard time, many people are using Bikroy to find and buy new and used motorbikes safely from home. Bangladesh is already in the process of bringing higher CC motorbikes and in order to ensure safe bike riding, every rider has to take their necessary licenses step by step."
He also appealed to the Government and bike brands to come forward to manufacture bikes in Bangladesh and said, "Everyone wants to buy and ride higher CC bikes at the lowest possible price."
On motorbike business during the lockdown, Abdus Salam Khoka, Proprietor of Modina TVS, and TVS Dealer of Cumilla said, "When someone wishes to buy motorbike aged between 15 and 50, they do search over online first. Among all other sites and web pages, people feel free to put their beliefs on Bikroy.com. Through membership and direct buying facilities from authorized dealers, Bikroy can help to reduce fraud cases. Moreover, our members get phone calls from all across the country."

Above all, for the bike lovers in our country and for those who often go on long rides with motorbikes, Mohammed Shazedur Rahman, Founder of Beyond Borders said, "Motorbikes always play a great role for long-distance travel which is not commonly found in other vehicles. It is best to do a pre-riding checkup to avoid any unwanted incidents in a long ride or journey. The latest servicing of the bike should be done before starting the ride. Also, if the engine gets hot, go to a nearby garage or mechanic and ask for help."