Bikroy Updates
Bikroy Verified Badge: A New Success Metric for Your Business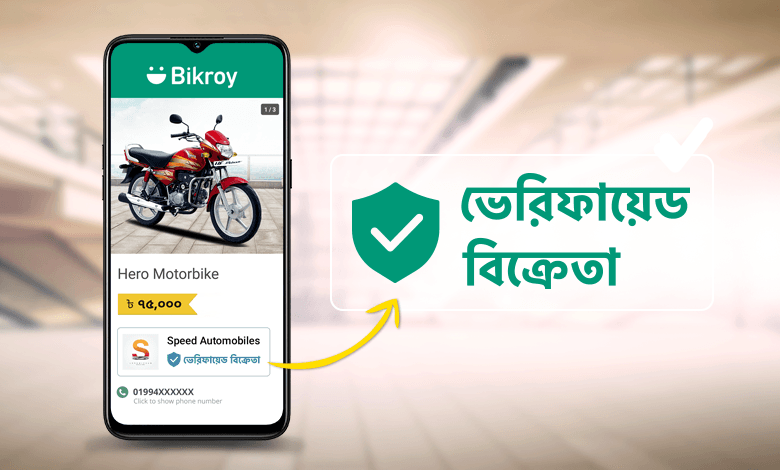 Bikroy.com is now offering a new feature named Verified Badge that implements a safeguard designed to help both buyers and sellers to experience trustworthy trading over the platform. We do this to keep Bikroy.com a safe marketplace where you know who you're doing business with. This new feature will support the business to receive a new height from both ends.
Here we listed some major situational factors that you can address to increase your business trustworthiness through the new Verified Badge feature and affect a positive outcome.
The two major goals with this feature:
Differentiate from competition by helping buyers find reliable sellers.
Members can improve customer interaction in addition to generating more revenue with Verified Badge.
"Verified Sellers" also gets a special Verified Seller Badge: A Symbol of Higher Trust
When you become a verified seller, you will get a badge to display over your shop. It will help your shop to reach people based on valuable behaviors, such as people who do physical shopping mostly or people who are confused about making a broader purchase over online shopping.
Trust is a decision-making process. Getting the badge will immensely help you to get the spot on your consumer's mind, as well as it will make you more responsible and liable towards them.
This is how the Verified Badge will appear in your shop.
Verified Badge Implies Trustworthiness
Getting customers and clients to trust you is hard to achieve, especially when you are targeting them online. But it is imperative to success- perhaps a bit more important than sales. If you get others to trust you, it will become easier to grow and nurture your business. So, where and how do you gain trust?
Along the way, the Verified Badge will assist you to gain customer confidence. When a potential user will visit your verified shop, they will have the confidence to buy a large amount of expense. While getting a membership is playing a major role to boost your sales, adding a Verified badge will take your business to the next level.
How to apply for the Verified Badge?
Members who are doing business with Bikroy for the last 6 months consecutively will be eligible to become a "Verified Seller".
Our team verifies the seller's email, business name, and contact details. In addition, we will verify the documents below based on the membership category:
The national ID of the owner and Trade License of the business for categories such as Vehicles, Electronics, Home & Garden, Services, etc.
National ID for Property brokers.
No documents required for well-known property developers.
For Jobs- Members who are registered business entities in Bangladesh are eligible to become a "Verified Employer".
Unlock Your Consumer Hesitation With The Verified Badge Feature
Adding the Verified Badge feature will allow you to reach people who get into confusion before making an online purchase. After adding the badge, you can enjoy-
Secured trading through your online shop on Bikroy.com.
Cater a larger audience group who are confused to make an online purchase.
You can give your customer's a strong voice of trustworthiness that they would become committed to making a purchase again.
Final Words
In the end, trust is a necessary component for all positive business relationships. Fortunately, it also can be influenced when, as a business owner, you can understand its components and work to create a constructive environment.
We encourage you to go with the Verified Badge feature by the above-mentioned process and bring the most out of your online business.
For more information on this new Verified Badge feature, please contact your Field Sales Executive. You can also contact our support team at support@bikroy.com or call us – 09609 555 444.