Electronics
What Should I Consider Before Buying My First DSLR Camera?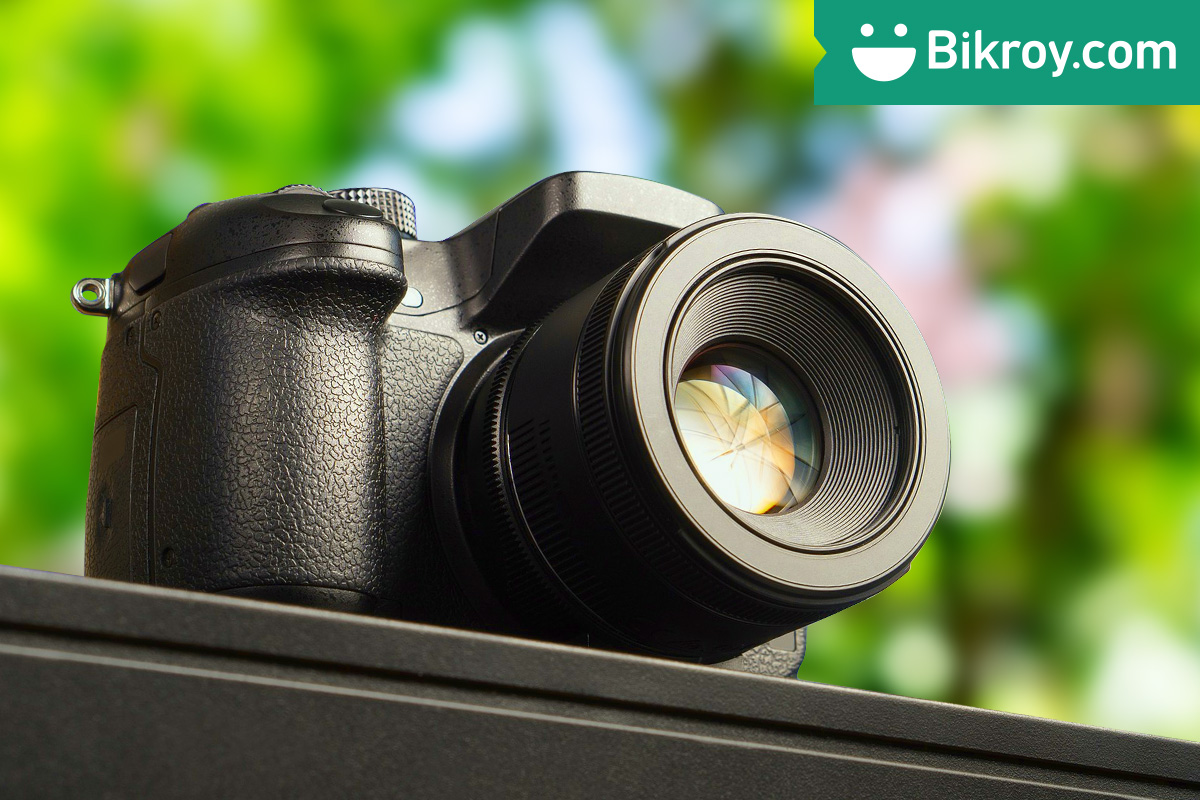 If you are a newbie photographer or videographer, the decision of buying your first DSLR camera can be pretty tough, especially with the daunting list of options that we have today in different marketplaces. Thankfully the good thing is, we have some great DSLRs in almost every price range or different needs. However, there are some things you should consider before buying your first DSLR camera. Every camera has so many specifications and features that it becomes very hard to tell them apart. In this article, we'll take a look at the various things you need to know to choose the right DSLR for your needs and point out some very important factors that you should consider before buying a DSLR for the very first time.
Your Usage
First of all, the best DSLR for you depends on the purpose you are going to use it for – photography, videography or both! If you're buying a DSLR camera for photography, you should look out for the various features it offers as camera modes, such as- HDR, portrait, night mode etc. along with built-in flash and image editing features.
If you are going for videography, you need to look for many more distinctive features, such as- the resolution it shoots and the frame rate speed it offers. For instance, almost all cameras will offer you 1080p video shooting, but very few will let you capture slow-motion videos at 1080p. Most cameras let you shoot slo-mo videos at 720p resolution and a maximum frame rate of 50 to 60 fps. Canon EOS 5D Mark IV, Sony Alpha 6 and 7 series cameras can offer you slow motion video shooting in 1080p and a maximum frame rate of 120 fps. The higher the frame rate is the smoother the video we get as output, resulting in great slow motion effect. You can check our another article Buying Your First Camera? Which One Should You Buy? for a better overview.
Sensor size
Sensor size is one of the most important features while buying your first DSLR camera. It is quite obvious, the larger the sensor, the more information it can capture and the clearer the photos will be. There are various types of sensor sizes available in the market. But the 3 most popular sizes of the sensor are – full frame, APS-C and the micro four thirds.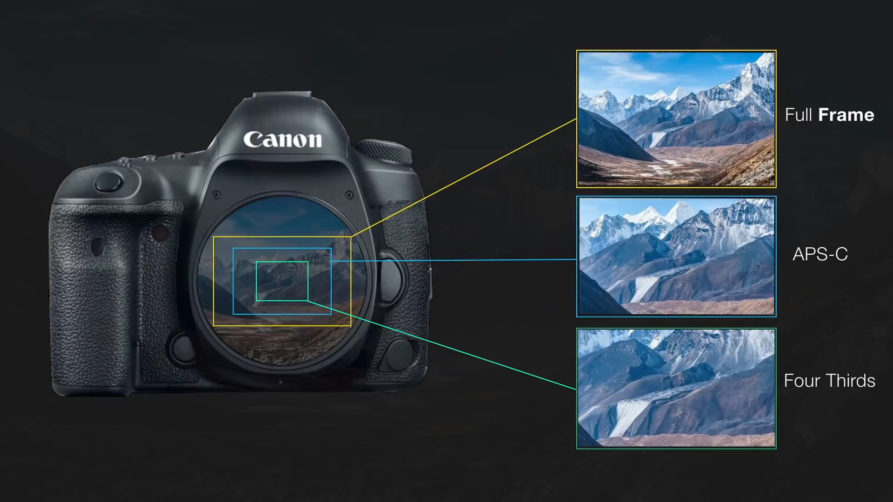 The full frame sensors offer the best clarity in an image along with some great dynamic range. As the name suggests, the full frame sensors have absolutely no crop factor. So basically the entire image that you see through the viewfinder is captured through a full frame sensor. It mostly benefits the photographers and is pretty expensive. But because of the wide angle capturing quality it is basically the best type of sensor available in the market. So if you are planning on buying a camera that would perform for at least 3-4 years at stretch without any upgrade, I suggest you should go for a full frame camera, unless the budget is not an issue.
The APS-C sensors are one of the best-cropped sensors and are used in most entry level and mid-range cameras from Nikon and Canon. The sensor size brings a 1.6 crop and provides a perfect balance between price and image quality. This sensor size is optimum for both photographers and videographers.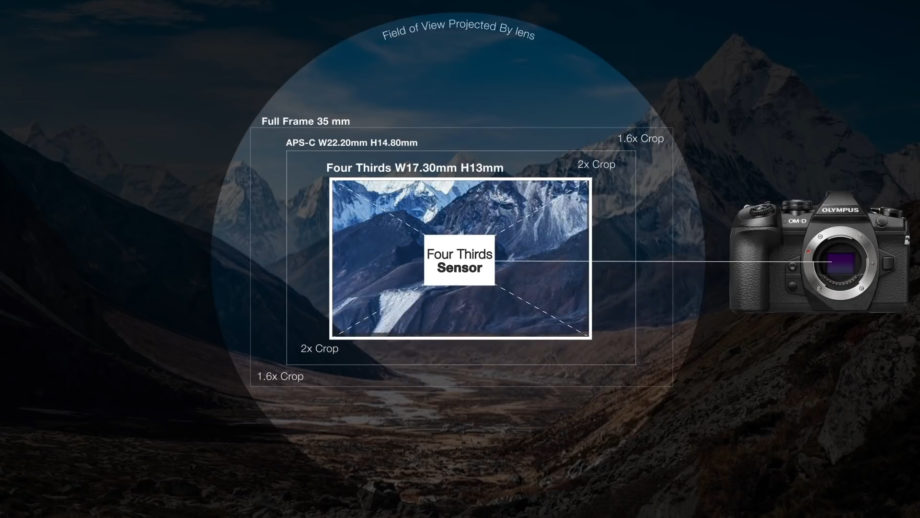 Then comes the four thirds or micro four third sensors that are used in Olympus and Panasonic cameras. This sensor size offers a 2x crop and uses a 4:3 aspect ratio. This makes it more suitable for videographers. Plus, cameras with this sensor size also tend to offer more frame rate speed and better resolution. So to sum things up, if you are looking for the wide angle and cover the most from your viewfinder, you should go for full frame sensor cameras. And if you want it all within a budget then you should buy a cropped sensor camera, preferably APS-C.
The Body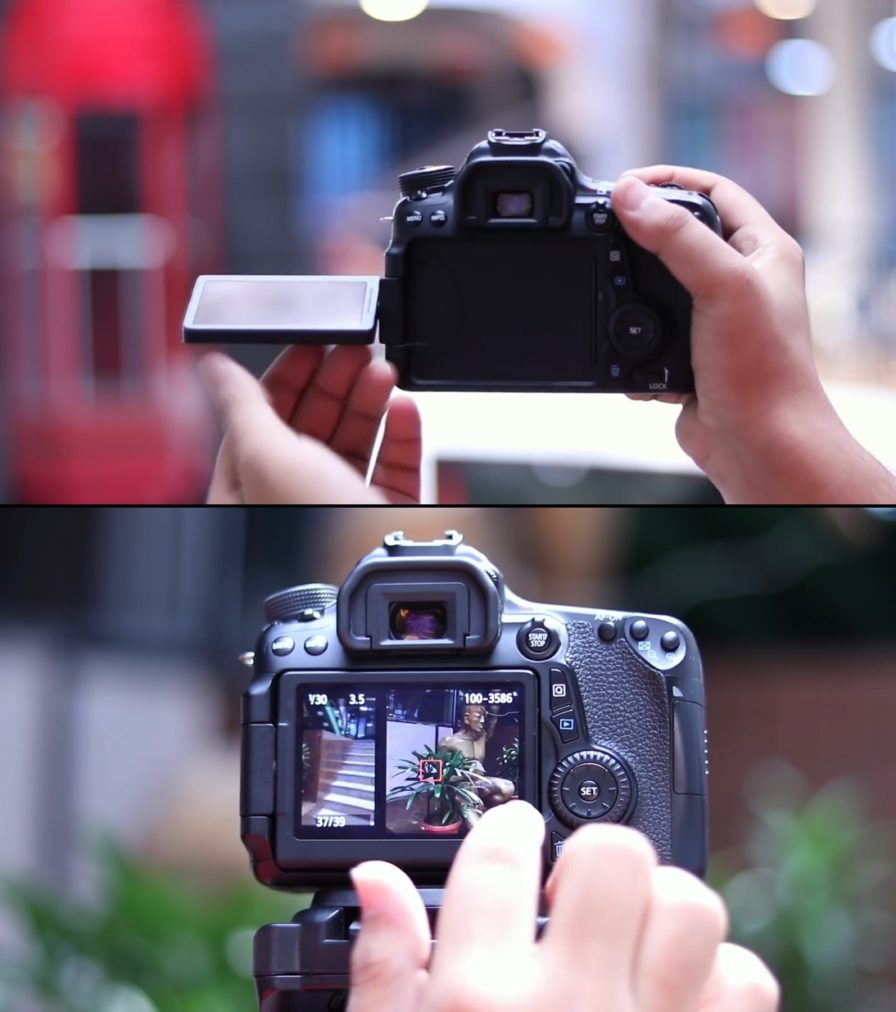 The next important factor of buying a DSLR camera is its body. While most popular DSLR models look pretty similar, you need to make sure that the ergonomics of the model that you are buying is the perfect fit for your comfort.
Then you should check for the dedicated microphones, an HDMI port and the number of custom buttons on offer. Also I would suggest you go with cameras that have an LCD touchscreen display because it simply makes things easier. Also check if there is a flipping or rotating display or not in your DSLR. If you are planning to shoot videos, this might come in handy. Both Canon and Nikon offer touch screen display in most of their budget cameras. But there are exceptions, so make sure to check. Otherwise, you will get used to the buttons eventually, no matter which camera brand you go for.
Lenses
Lenses are the most important factor when it comes to the quality of a camera. So you need to make sure that the DSLR brand you are choosing has a great selection of lenses. Actually Nikon, Canon and Sony, the three most popular brands out there, have both equal and broad collection of lenses. However, it is said that the Nikon lenses are more affordable than the same featured Canon and Sony lenses. Also all these brands offer a kit lens of around 18-55mm zoom lens. However, if you are on a budget, you should invest in a cheaper body with cropped frame sensor and invest more on both a zoom kit lens and a prime lens, so you're covered for all the fronts. I suggest an 18-55mm kit lens paired with a 50mm f1.8 prime lens; in case of a bigger budget, you can go for a 50mm f1.4 prime which performs even better.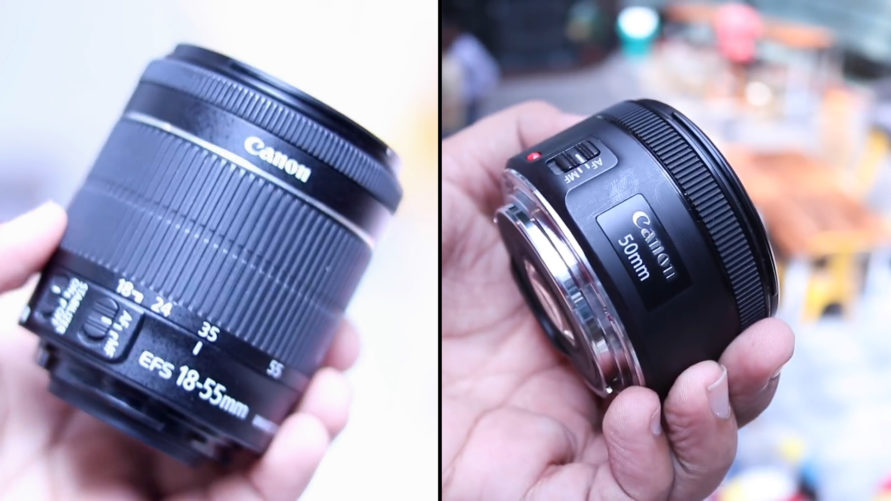 If you don't have any budget issues and want to go professional with your DSLR, you can try different types of lens combinations. For wide angle photography, you can get a 17-40mm kit lens, this can be replaced by a 16-35mm if you have a bigger budget. For capturing equally great landscape and portrait images and getting a bigger zoom, you can go for a 24-70mm(/24-105mm for the higher price) kit lens. Also there are great zoom lenses for capturing portrait images such as the 70-200mm f4 / 70-200mm f2.8(higher price). Prime lenses are great for portrait photography, so you can go for 85mm f1.8 lens or even an 85mm f1.4 lens if you have a good budget. These lenses also perform great at low light.
For macro photography the 100mm f.2.8 prime lens is one of the best. All these lenses we mentioned are for a full frame camera, but you can use them with a cropped frame camera too.
Megapixels
The megapixel count is important, but not as important as you might think. More megapixels doesn't necessarily mean better photos. 8MP photos are good enough for large prints and even entry-level DSLRs come with up to 15 to 16-megapixel count. To be honest any DSLR model that you buy today, will have more than enough megapixels than you might need. So you don't need to keep megapixels into account at all.
However, for billboard photography Canon 6D, Mark III, IV or equivalent cameras perform the best, as long as you shoot them in RAW.
Future Proof?
DSLRs are not cheap, so you should make sure that the camera that you are buying is future proof for at least a few years, unless you are planning to upgrade very soon. Honestly, if you have a good enough budget, you should be good with most Nikon and Canon cameras. But if you want to go professional and thinking about investing in it one time, you should go for a camera with a full frame sensor for photography, or go for cameras with 4K support, if you are more likely into videography.
Mirrorless or DSLR?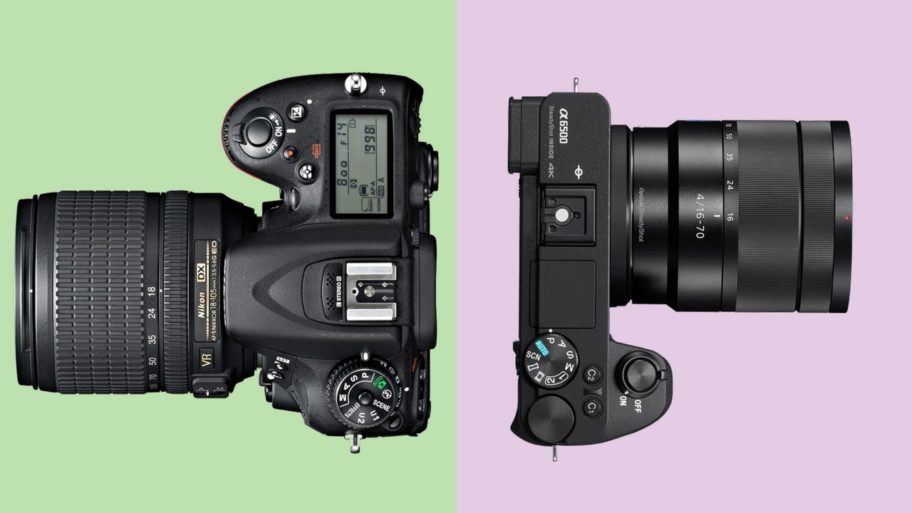 Mirrorless cameras are on the rise, so it is not wrong to get confused about whether to buy a mirrorless camera or a DSLR. Well, mirrorless cameras have certain advantages. They are certainly more portable and handy, as mirrorless cameras are smaller and lighter. Then there is the fact that the mirrorless cameras are way ahead than others when it comes to high-speed shooting. Also these cameras offer better video capturing with faster autofocus and the electronic viewfinder in these cameras are preferred by many.
However, I would still suggest you to go with a DSLR. Because for DSLRs, there are a huge variety of lenses. And while mirrorless cameras have lenses too, they are few in number and very expensive. Then there is the fact that some people just prefer the more natural and lag-free optical viewfinders, that come with DSLRs.
Now that you know all the basic factors about choosing your first DSLR camera, let us list down the best DSLR cameras according to different price ranges.
Under 35000 Bangladeshi taka the best camera body you can buy is the Nikon D5300. Under 70000 BDT the best camera body in the market is the Nikon D5500. Under 1 lakh BDT, you can go for the Canon EOS 80D DSLR camera body. Finally under 1.5 lakhs BDT, I prefer the Canon EOS 6D camera (body only). If your budget is even bigger, your choices will depend on how you are willing to use that camera. So you can determine the positive points about those models and then buy the camera.
Bonus Tip: Study thoroughly and make an informed decision
Buying a new DSLR Camera is a big investment, and you will definitely want to make sure that you're choosing the best camera for your particular purpose in the most comfortable budget you can think of. By comparing the sensor sizes, megapixel counts and image quality, lenses, and various other specs on each camera, you'll get a much better idea of what you're getting for your money. To do so, you can easily search for different online marketplaces such as Bikroy.com and browse through hundreds of options in hand. Also, you can always pay visit to standard and reliable camera showrooms and see for real. Make an informed decision, and you'll be happy with your purchase and can focus more on studying your passion and becoming a dedicated photo or videographer. For camera accessories have a look here Best DSLR Accessories You Must Have. Happy shopping!
What else do you look for when you are choosing a DSLR? What factors have you found that sets some cameras apart from the others? Share your best camera-buying tips and experiences in the comments section below!