Bikroy Updates
Enjoy 30% Off on Step Footwear Products – Only on Bikroy.com!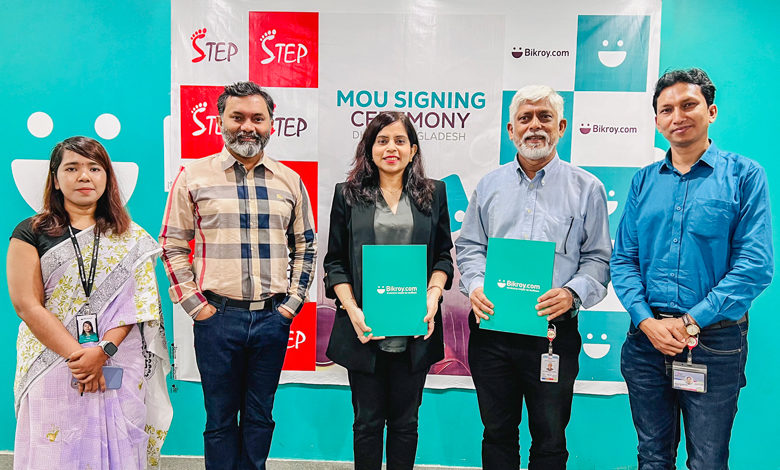 Recently, A memorandum of Understanding (MoU) has been signed between Bikroy.com – the Largest Marketplace in Bangladesh, and popular shoe manufacturing company Step Footwear. According to the agreement, selected items of Step Footwear will be available at a 30% discount on Bikroy.com's e-commerce service Doorstep Delivery. The offer will be valid till 2nd July.
The signing ceremony was attended by the CEO of Bikroy.com Eshita Sharmin and Director, Marketplace Md. Sazzadul Islam Fahmy, alongside the CEO of Step Footwear Md. Aminul Islam. The offer is only applicable for purchases made through the Bikroy Doorstep Delivery platform. Buyers also have the option to browse and order all new models of shoes from the Step Footwear range on Doorstep Delivery.
Doorstep Delivery is a comparatively new feature of Bikroy.com. It is an e-commerce section that saves valuable time for both buyers and sellers by delivering electronics and home appliances to customers with 100% security. Step Footwear is a Bangladeshi shoe and accessories manufacturer. They offer a selection of comfortable and stylish footwear at affordable prices.
Md. Aminul Islam, CEO of Step Footwear said, "Step Footwear and Bikroy have started their commercial journey together. We applaud Bikroy.com for the initiative they have taken for online shopping in Bangladesh. We hope that Step Footwear and Bikroy will continue to serve the public sincerely in the coming days."
Eshita Sharmin, CEO of Bikroy.com said, "Online shopping has become a part of our daily lives. On behalf of Bikroy Marketplace and Step Footwear, we are committed to providing the best possible service to our customers. By signing this agreement, we are enabling Bikroy.com's users to take a step further in finding the right footwear online at their preferred prices."
Md. Sazzadul Islam Fahmy, Director, Marketplace of Bikroy.com said, "Bikroy has been an established and successful online marketplace for a long time. I welcome Step Footwear, from now on their shoes will be available to buy online through Doorstep Delivery. I believe their online presence as a member of Bikroy will significantly improve their sales. Wishing Step Footwear all the very best!"