Bikroy Updates
Keep forgetting your passwords? Log in to Bikroy using just your phone number with OTP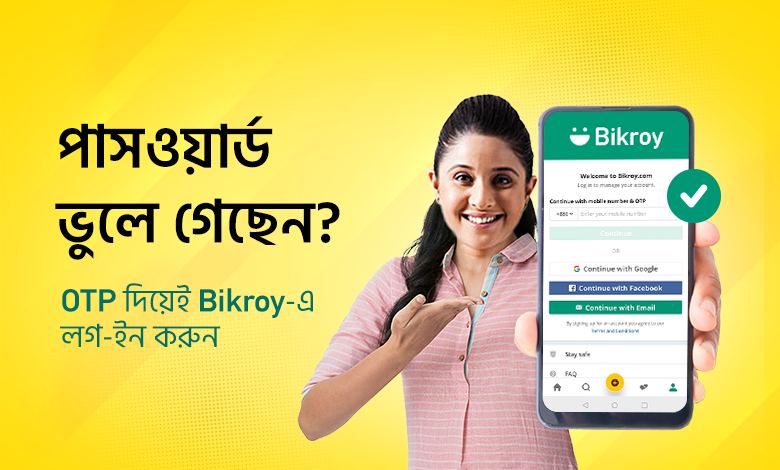 Are passwords really more secure if they must be so complex that you can't remember them and write them down? Be it mobile apps or desktops, users always prefer a convenient and secure login method for online platforms to ensure fast logging and safe browsing.
On Bikroy, you can now conveniently log in or even open an account – by simply using a mobile number besides your email or Facebook. No need to use a separate password on Bikroy anymore. Just enter your phone number as the username, and you will receive an OTP via SMS, which will enable you to log in directly. This is super secure as the verification prevents potential hackers from accessing your information illegally. And it's also convenient as you won't even need to enter your password for subsequent logins!
Signing in using your phone number and OTP on Bikroy
`
If your phone number is not linked to any other Bikroy account, you will be prompted to create a new account by providing the required information. On the other hand, if the phone number is linked to an account, you will be asked to verify the identity to log in.
You can now also enjoy the facility of deleting and adding phone numbers from the 'My account' option. By doing this, it will be possible to overcome the problem of running multiple accounts with the same phone number.
What is OTP? Benefits of using OTP
OTP or One Time Password is a special type of password that you can use only once. OTP could be 4-6 digits long and must be used within a specified time. Here are some benefits of logging in using OTP:
OTP is a special way to identify the original user
No need to remember the password to log in every time
No one else can access your account if you are using OTP
OTP is a free service, there is no need to pay separately
In Summary
Unauthorized access to your sensitive information must be your biggest worry. The usage of an ultra layer of security can assist you with a more convenient shopping experience from Bikroy now.
We are hopeful that Bikroy users can now buy and sell easily and securely using mobile numbers. If you have any further queries in this regard, you can contact our customer support via email at support@bikroy.com or by calling our helpdesk number 09609 555 444.