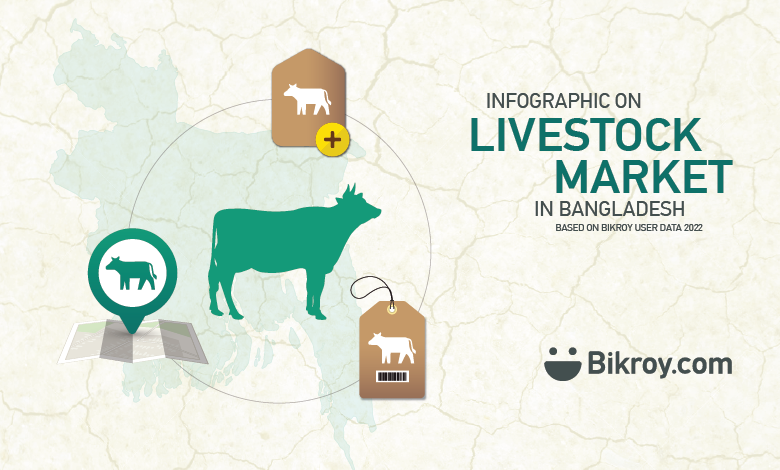 Online trading is on hype in Bangladesh these days. Fast Internet penetration and easy accessibility pushed up people purchasing through e-commerce platforms.
Being a pioneer in arranging digital cow haat in Bangladesh, Bikroy.com is exhibiting its flagship campaign 'BiratHaat' yet again this year. Besides, several online platforms are also organizing digital haat these days.
In today's article, we will analyze and evaluate some aspects of the trends in the livestock market in Bangladesh, based on Bikroy user data in 2022 and online cow price in Bangladesh.
Livestock Listings by Location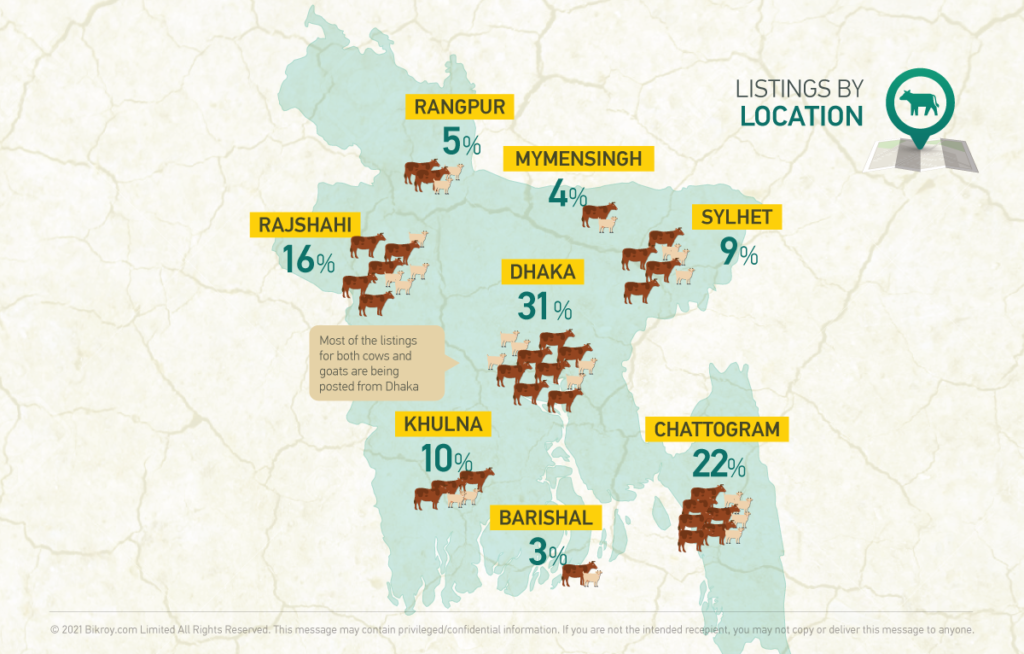 Livestock market listings usually gear up around the Eid-Ul-Adha season. As Dhaka is the most populated location in Bangladesh, it is no surprise that the majority of livestock listings are posted here. In total, 31% of all livestock listings this year are posted from Dhaka. Many farm owners from around Bangladesh bring their livestock to the city for the Eid season.
Chattogram is a close second with a total of 22% livestock listings. This is followed by Rajshahi with 16%, Khulna with 10%, and Sylhet with 9%.
The lowest portion of listings in the cattle market come from Rangpur, Mymensingh, and Barisal at 5%, 4%, and 3% respectively.
Livestock Listings by Price Range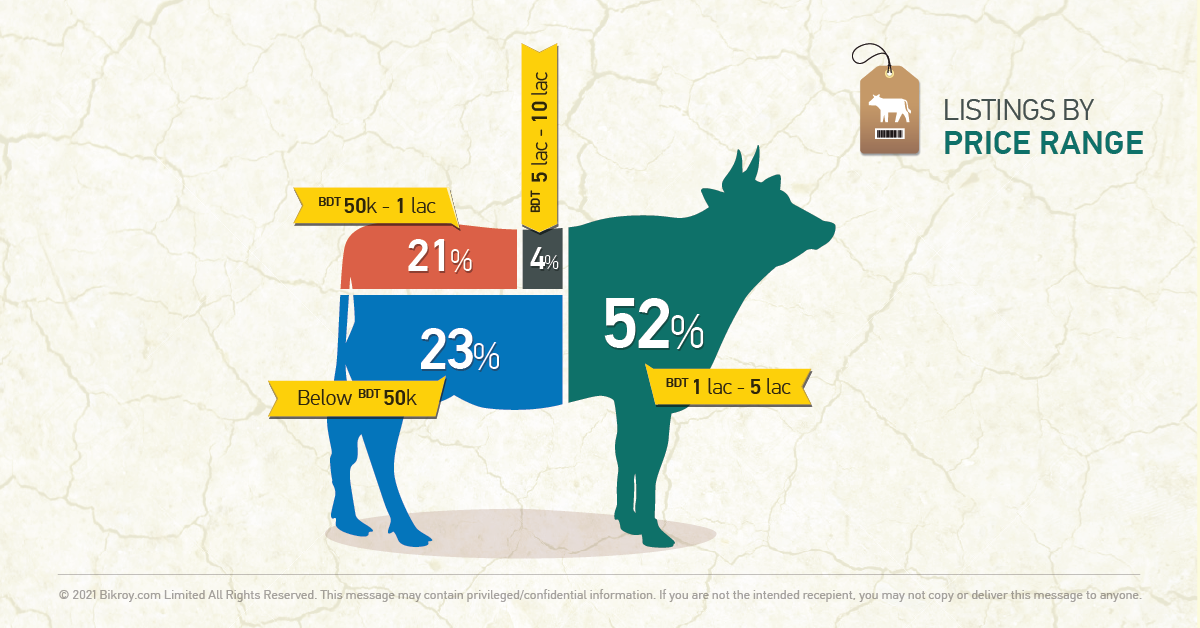 The livestock market is relatively on the premium side, especially during the Eid season. Individuals save up all year round to buy high-quality livestock for Qurbani.
At Bikroy, over half the cattle market listings (52%) are priced between BDT 1 lac – 5 lac. This is the average price range in the livestock market for cattle.
In contrast, 23% of livestock are priced below BDT 50k. These listings mostly include goats – another popular choice for Qurbani animals here in Bangladesh. Many people prefer to buy goats for Qurbani as they are easier to maintain compared to cows.
21% of livestock market listings are priced between BDT 50k and BDT 1 lac. This range consists of premium quality goats and smaller cows. The remaining 4% is made up of the premium livestock segment with prices ranging between BDT 5 lac to BDT 10 lac.
Livestock Listings by Inventory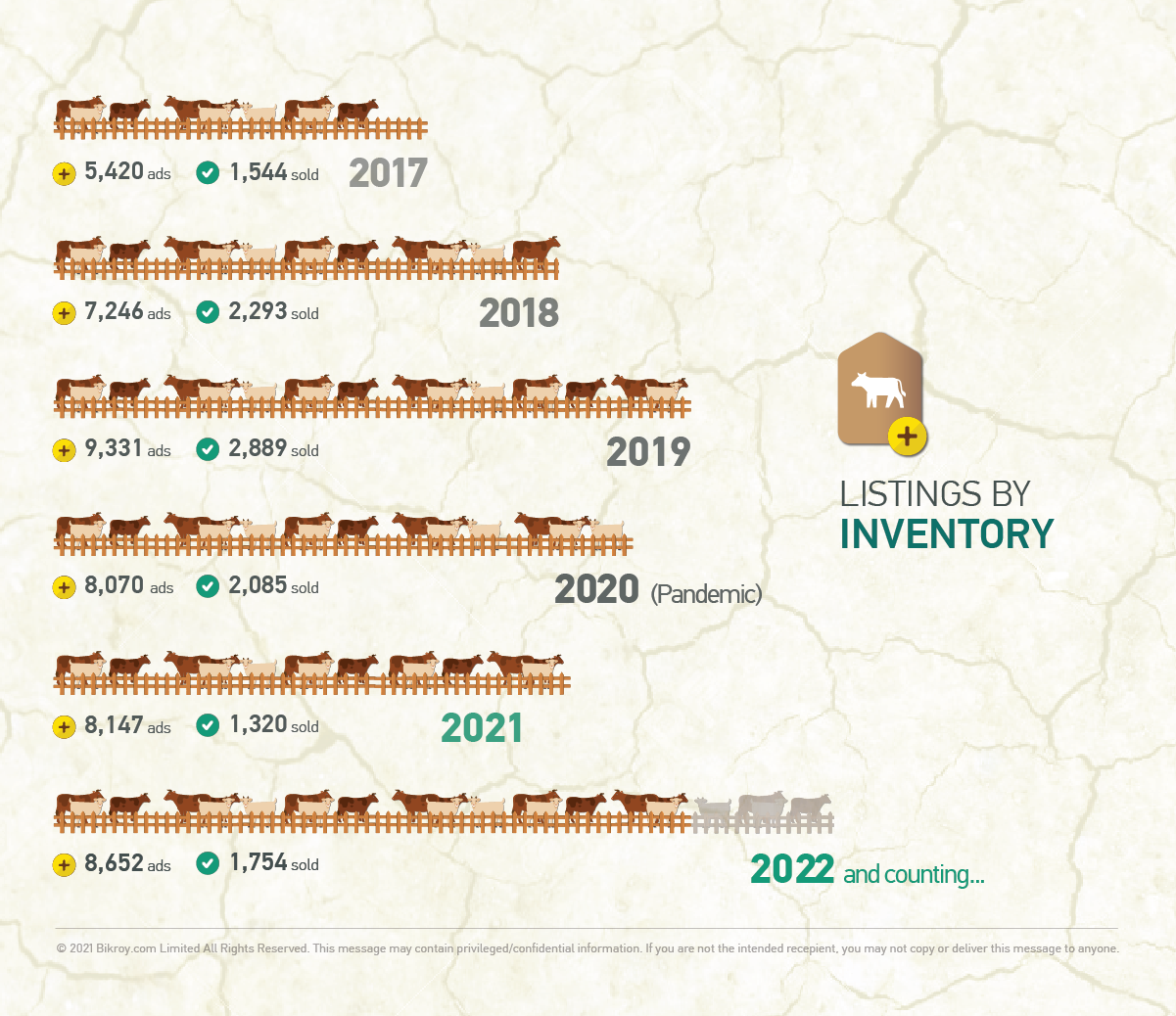 Over the years, thousands of livestock sellers have flocked to our site with their listings. In 2017, there were a total of 5,420 ads out of which 1,544 items were sold. In 2018, there were a total of 7,246 ads out of which 2,293 items were sold. In 2019, there were a total of 9,331 ads out of which 2,889 items were sold.
Due to the pandemic, the cattle market took a dip in the past two years. In 2020, livestock listings went down to 8,070 ads, out of which 2,085 items were sold. In 2021, there were 8,147 ads, but only 1,320 items were sold.
In 2022, the numbers have steadily increased. 8,652 ads were posted, out of which, 1,754 items have been sold so far.
Livestock Listings by Type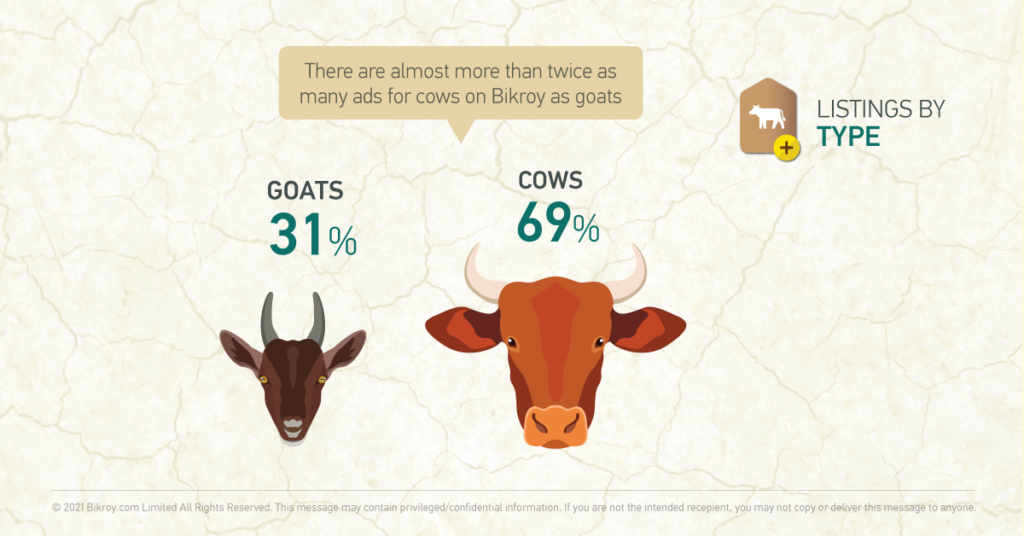 People here in Bangladesh, prefer beef as one of the most popular, reasonably low-priced, and healthy meat items, and this is the reason behind the number of cow trading advertisements is higher, which is 69% of the entire ads.
There are more than double cow ads on Bikroy compared to goat ads. According to the statistics we can see above, Bikroy has 69% cows and 31% of goats among all livestock advertisements, with the numbers rising each day.
Conclusion
The popularity and necessity of online haats are growing these days in Bangladesh. So, if you are thinking of buying Qurbani animals online or from the physical haats, just make sure you are aware of the cautions and know the basic aspects of buying cattle.
We wish a joyful Eid-ul-Adha in advance for you and your loved ones! 
FAQs:
Where to do online Qurbani cow shopping in Bangladesh?

If you are planning to purchase Qurbani animals online this year, Bikroy.com could be the best destination to jump in. Before making a decision, make sure you chatted or talked briefly with your seller.

What is the average Qurbani cow price in Bangladesh in 2022?

Depending on the type of Qurbani animal you are searching for, you can get your desired animal within BDT 20,000 to BDT 30,00,000.

Where to find good online cow haat in Bangladesh?

As there are several online cow haats available in Bangladesh, Bikroy.com is the pioneer and the most trusted platform among them.