The rise of delivery services, ride-sharing, and traffic congestion has exponentially increased demand in the motorbike market of Bangladesh. Each day, more individuals are opting to invest in motorbikes so they can swiftly navigate through congested roads around the country.
Aside from convenience, individuals are choosing to invest in motorbikes over cars as the motorbike price in Bangladesh is a fraction of the cost of four-wheelers – making them a great option for those with a limited budget.
Nowadays, we see motorbikes around every corner, and the market for these two-wheelers is still growing. However, with the proposed budget for the upcoming fiscal year, the cost of motorbikes is expected to increase. This is sure to result in significant changes in the demand for motorbikes in Bangladesh.
With that said, let's take a look at some statistics on the motorbike market so far this year to get a better idea of what to expect in the upcoming year.
Which cities have the highest motorbike listings in Bangladesh?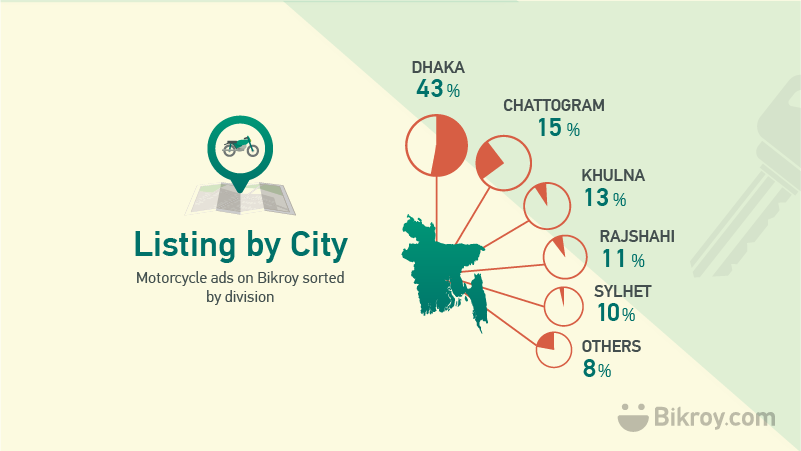 The motorbike market is gaining immense popularity, especially in the metropolitan area of Dhaka – which is why the highest number of listings come from this division. The Dhaka division is the most populated area in the country and has the largest number of roads and highways. Someone or the other in Dhaka city is constantly on the go and so the demand for all types of vehicles is relatively high. With the increase in traffic congestion, more individuals are opting to buy motorbikes to swerve through traffic and save time.
43% of all motorbike listings come from Dhaka, followed by 15% from Chattogram, 13% from Khulna, 11% from Rajshahi, 10% from Sylhet, and the remaining 8% listings are from smaller regions around Bangladesh.
What are the top brands in the Bangladeshi motorbike market?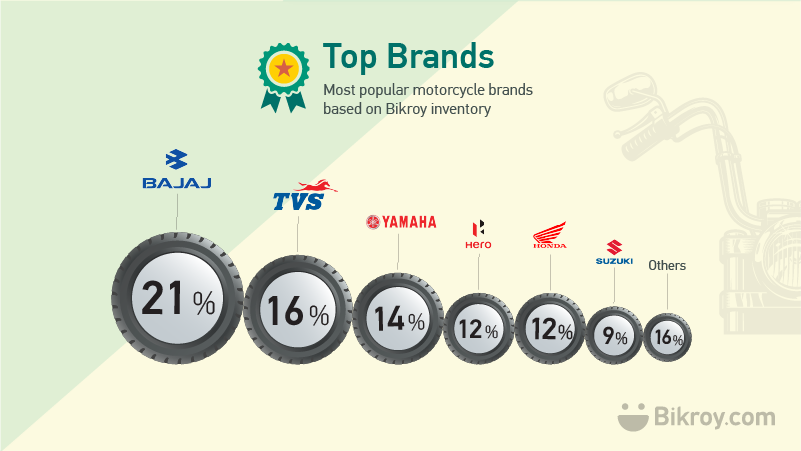 The motorcycle market in Bangladesh consists of a variety of local and international brands. According to our findings, Indian motorbike manufacturers tend to take the lead in this segment. 21% of all motorbike listings on Bikroy are of the Bajaj brand, followed by 16% of TVS brand bikes and other brands each. Yamaha bikes make up 14% of the listings, Hero and Honda bikes make up equal shares of 12% each, and Suzuki makes up the remaining 9% of the motorbike listings.
Among the 16% of other brands, some notable motorcycle manufacturers include local brands like Walton and Runner, and international brands such as Keeway, Mahindra, Lifan, Singer, and the famous scooter brand Vespa.
What are the top motorbike models in Bangladesh?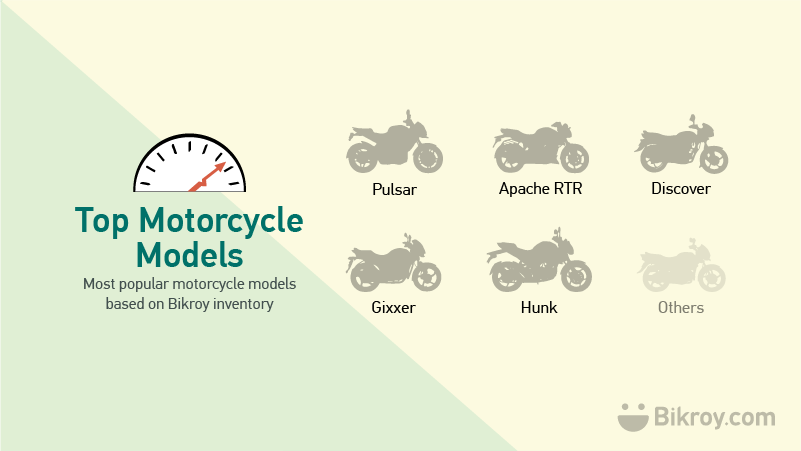 Based on our findings, we have discovered that certain models are quite popular compared to others in the motorbike market. Some of the top bike models listed on Bikroy are:
Bajaj Pulsar
Bajaj Discover
TVS Apache RTR
Suzuki Gixxer
Hero Hunk
These bikes are popular for a reason. They are incredibly powerful, reliable, and relatively economical in terms of price and fuel efficiency.
What is the average motorbike price in Bangladesh?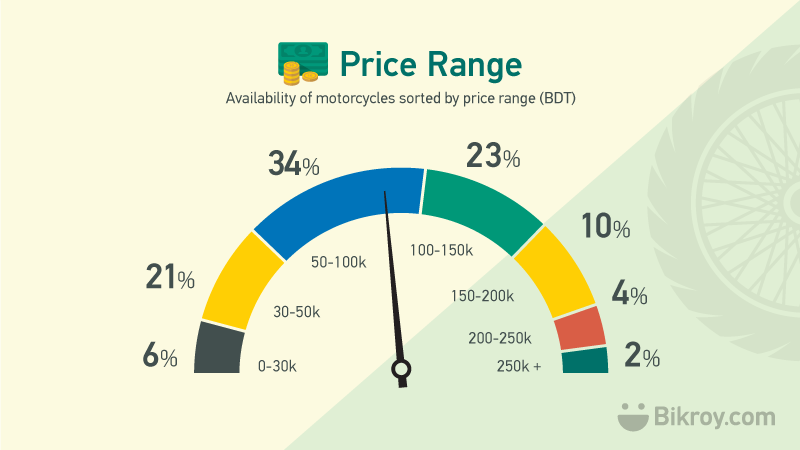 Motorbikes are incredibly cost-effective compared to other modes of transportation, which is why they are a popular choice in the Bangladeshi market. On average, motorbike prices range between BDT 30,000 to BDT 2,00,000.
Most motorbikes in Bangladesh fall under the mid-range category. Here on Bikroy, 34% of motorbikes are listed for sale between BDT 50,000-1,00,000, followed by 23% bikes available between BDT 1,00,000-1,50,000, and 21% of bikes listed between BDT 30,000-50,000.
Among the outliers are the 10% of bikes listed between BDT 1,50,000-2,00,000, 6% listed below BDT 30,000, 4% listed between BDT 2,00,000-2,50,000, and 2% of premium bike listings starting from BDT 2,50,000 upwards.
What motorbike conditions do buyers prefer in Bangladesh?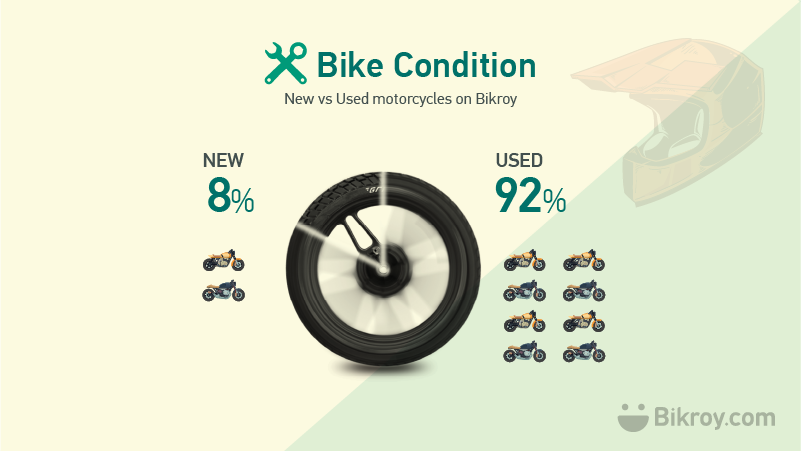 Bikroy is a great place for buying and selling second-hand items, so it is no surprise that a whopping 92% of listings are for used motorbikes. Buying used motorbikes allows you to experience the premium feel of higher-end bikes at a discounted rate. In many cases, the used motorbikes listed on the site have undergone various repairs over time, so you are getting a free upgrade as a perk!
The remaining 8% is made up of new motorbike listings. These listings are usually from verified dealerships from around the country selling authentic motorbikes at competitive prices.
What are the popular types of motorbikes in Bangladesh?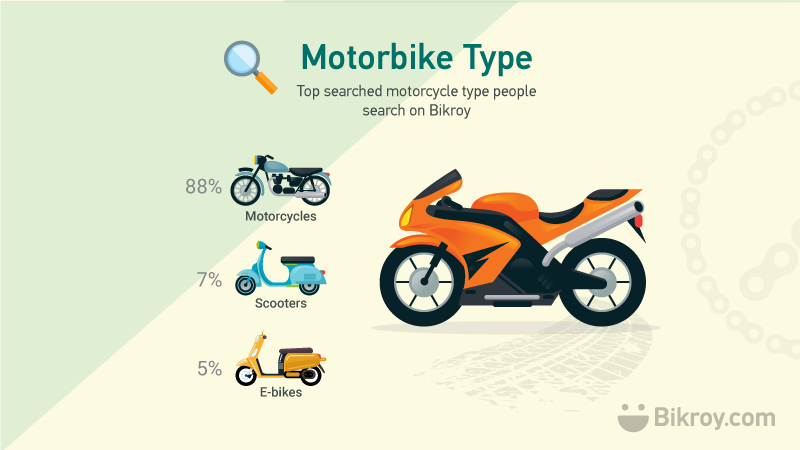 The motorbike market encompasses a wide range of bike types. Whether you are looking for a sporty racer bike to speed through the streets, an affordable and comfortable scooter for your daily commute, or an environmentally friendly alternative to fuel-powered two-wheelers – Bikroy has it all.
88% of the bike listings are for the classic motorcycle models. These are the most popular choice amongst bike enthusiasts due to their excellent speed and performance.
Scooters make up 7% of the total bike listings. These bikes are relatively more popular among women riders and come in a variety of colors and designs. While scooters are generally slower compared to motorcycles, they are much more comfortable to ride in.
The remaining 5% of the listings are made up of e-bikes – a great alternative to gas-powered two-wheelers. Electronic bikes and scooters are much more eco-friendly, and in the long run, they are comparatively cheaper to maintain than bikes that run on fuel.
Conclusion
Motorbikes are an affordable solution to your commuting needs. They are sleek in design, provide satisfactory performance, and most importantly – they help you avoid traffic. Motorbikes come in a variety of designs and functionality to suit your every need. The growth of delivery and ride-sharing services is helping the motorbike market flourish as more individuals are opting to work on the go with their bikes.
If you are in the market for a new motorbike, check out Bikroy.com to find listings for thousands of new and used motorbikes from all over Bangladesh. Find local sellers or shop from authentic dealerships online to get the best deal on your next motorbike.
FAQs:
Where to buy good motorbikes in Bangladesh?
Bikroy is a great place to find new and used motorbikes listed from all over the country. Whether you're looking for the
latest motorbike
launched in the market or a reasonably priced second-hand bike, you can find it all on our website.
What are the best motorbike brands in Bangladesh?
According to our users, the best motorbike brands are:
Bajaj
TVS
Yamaha
Hero
Honda
Suzuki
How much do motorbikes cost in Bangladesh?
In general, motorbikes are quite affordable in Bangladesh. On average, bikes cost somewhere between BDT 30,000 to BDT 2,50,000. A majority of the bikes available in Bangladesh fall in the mid-range category and are priced around BDT 1,00,000.