Bikroy Updates
'Moner Janala'-A Special Initiative for The Female Employees by Bikroy.com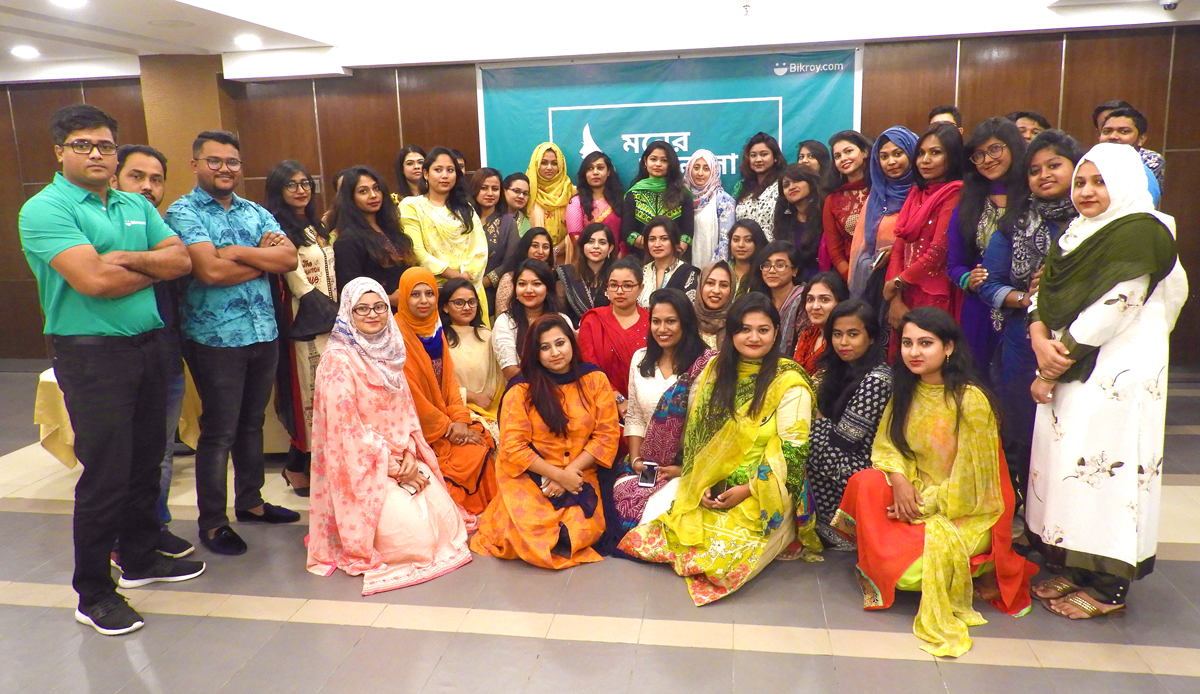 Special Guest: Rubaba Dowla
Bikroy.com, the largest marketplace of Bangladesh has created a forum named 'Moner Janala' in association with 'HeforShe' campaign of UN Women to increase the number of female employees and to ensure women empowerment. As part of this forum's regular activity, Bikroy organized a special event for the female employees on Wednesday, 14th November at The Platinum Grand Restaurant in Dhaka.
Through the 'Moner Janala' forum, female employees of Bikroy can share any of their thoughts or feelings. The objective is to reduce gender discrimination in the workplace. Naz Hussain, Rehenuma Islam and Eshita Sharmin, the three advisers of the forum are continuously working to realize this objective. Although the forum came into being keeping female employees in mind, male employees can also share their opinion here.
The Founder and Managing Director of Pulse Health Care Services and newly elected President of the Dhaka Chapter of TIE (TiE-The Indus Entrepreneurs Global), Rubaba Dowla was present as a guest at the event. Head of HR & Culture, Rehnuma Islam, Head of Marketing and Ad Sales, Eshita Sharmin and Head of Marketplace Shezami Khalil along with high officials of Bikroy were also present among others.
Rubaba Dowla
said at 'Moner Janala',
"A woman has to deal with the challenges of her professional, personal and family life all at the same time. These challenges often exhaust women. Many don't have the outlet to let the frustration out. I want to thank Bikroy.com for coming up with such a wonderful platform where everyone can share their issues openly."
Rehenuma Islam, Head of HR & Culture of Bikroy said, "At Bikroy, we aspire to grow as a company along with our talent. 'Moner Janala' is a platform where our female employees can share their feelings related to work environment and talk about any challenges they face at the workplace. We invite established female guest speakers to our events who inspire our female employees by sharing their stories. I believe these stories will encourage our female employees to excel at work."
Eshita Sharmin, Head of Marketing and Ad Sales of Bikroy said, "'Moner Janala' is a tradition of Bikroy, one of our regular initiatives. We've been arranging it in every three months for the last three years, in order enhance the leadership qualities among the young female executives. Despite compelling results of that more diversity in management level increases efficiency, women in leadership roles are low in most organizations. At Bikroy, we want to provide equal chances to both male and female employees to develop their management and leadership skills."
Rubaba Dowla has more than nineteen years of experience in influencing all aspects of the Telecom and IT industry as a successful professional, entrepreneur, mentor and advisor. She is a highly experienced leader with a successful track record. As the Chief of Marketing and Chief Communications Officer, she had been instrumental in building Telenor subsidiary GrameenPhone as number one brand and market leader.