Vehicles
Guide to Motorcycle Safety Gear for Riders in Bangladesh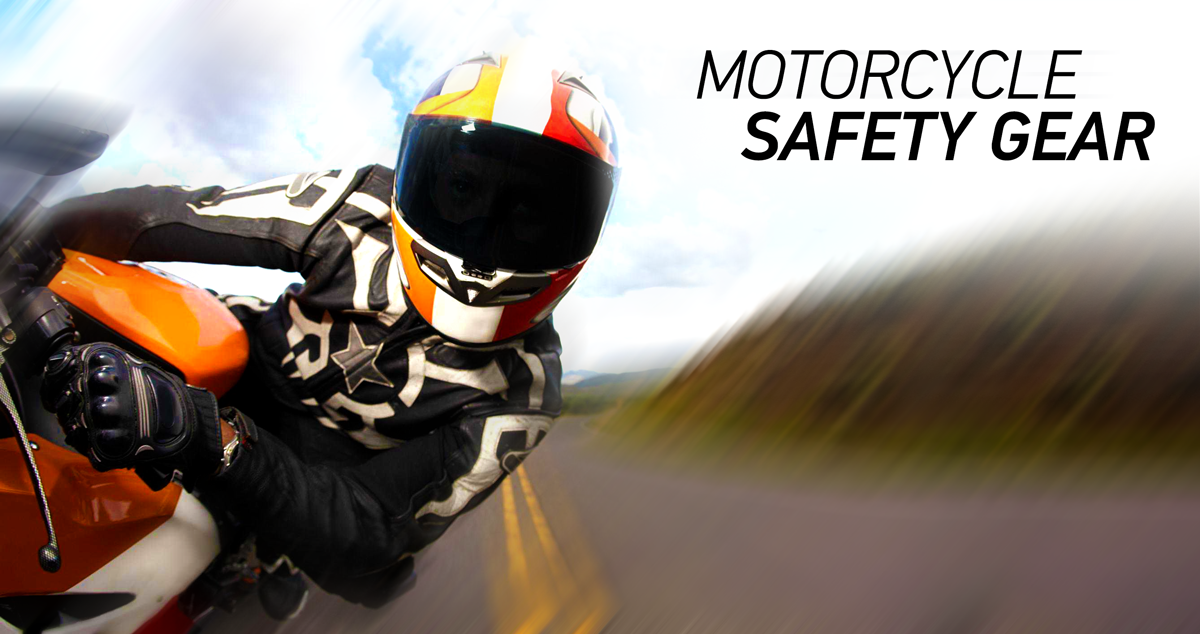 Have you always dreamt of owning the most exclusive bike as a kid? It is not uncommon to have the dream of owning a very high–tech bike, car, or even a house as a kid. Many of us go on to make these dreams come true but they change to a more practical real-life goal by the time we grow up.
But what is the one we don't think about as kids? Safety!
It may even be the case that even as adults we do not give safety its due importance.
As a rider or biker in Bangladesh, either new or old, we are always concerned with how we look and how our motorcycle is looking. We are very focused at pulling off the coolest outfits to complement our biking style while completely ignoring safe riding with proper motorcycle gear.
So what do you prefer?
Do you feel that fully geared clothing or safe riding is necessary? You may be feel that it is uncomfortable or unappealing to use motorcycle gear to address the issue of safety for bikers?
Today in this article, we will check out some of the coolest motorcycle gears consider safety for bikers on the road, especially in the streets of Bangladesh. While also factoring in style & comfort!
Safe Riding with Proper Motorcycle Gear
Safe Riding is a very important issue which we tend to overlook. It is true that the excitement of riding freely is incomparable but safe riding will assure that you are protected from potential harm. If you are someone who is not fond of safety gear because they are not comfortable, then you are not making an effort in finding the best gear for yourself. Look at cricketers, they play cricket with so much protection from pads, helmets, etc. and still perform. As a street cricketer these accessories would be difficult to be fond of but you cannot imagine playing without the right equipment as a professional. You can also check the Top 5 Motorcycle Brands in Bangladesh.
Similarly, as a rider who is protected with proper motorcycle gear, you can focus on the road and in case of minimal distractions such as wind blast, pressure, dust and other weather conditions you will be protected. You will not suffer from fatigue, tiredness and weakness allowing you to ride safely for longer. In case of serious accidents, you will be protected avoiding the chances of major injuries. You cannot avoid an accident, but you can be fully prepared in case there is one and minimize injuries.
Motorcycle is a style icon for the younger generations and its limitless speed gives the ultimate freedom. But in countries like Bangladesh, road conditions are bad and safety for bikers is a major concern. More people are now interested in stunts, races and other potentially high–risk activities. Safety must always come first and using proper motorcycle gear will make sure that your ride is smooth, safe & enjoyable!
The Complete List of Motorcycle Safety Gear & Apparel for BD Riders
Before we look at what safety gears and apparels you need for safe riding in the streets of Bangladesh, let's look at what it is and what it provides. Motorcycle gear is any and all specially designed safety accessories for bikers and clothing to protect the most sensitive parts of our body while riding a motorcycle. They provide safety for bikers in many ways as follows:
Protect from air pressure, dirt, dust or rain

Support from rudeness of weather in cold or in summer

Minimize fatigue and hazards of riding an open vehicle such as a motorcycle

Maximum possible protective support to the sensitive human body parts

Support the head, face, shoulder, back, chest, elbow, knee, shin, foot & more

Minimize body damage or injury during crashes or accidents
So, the following are the most common and essential safety gear and apparel for safe riding: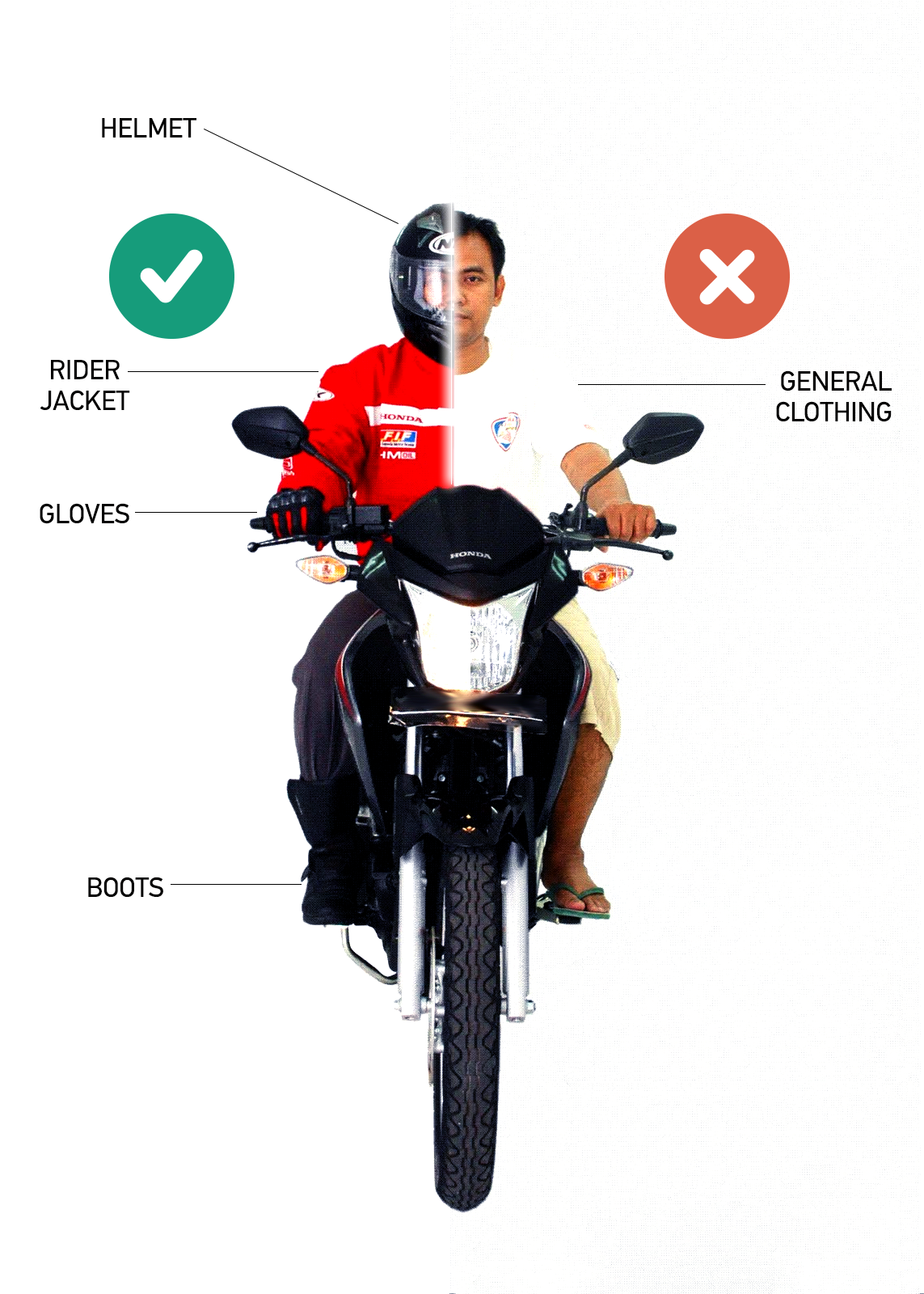 Headwear: Helmet
The helmet is an absolute life savior!
I cannot imagine anyone being on a motorcycle without one… especially in the busy streets of Bangladesh with rough & tough road conditions. There are many different types and designs of helmets available in the market to choose from whether you consider style or safety, such as the following:
Half Helmet

Full Face Helmet

Open Face Helmet

Modular Helmet

Off

–

road Helmet

Dual Sport Helmet
General Clothing
Is there a dress code for riding a bike? Yes, of course!
Clothing should always be decided upon based on your comfort, considering the weather conditions. But in case of bikers, you must also consider safe clothing. Something to protect your arms for sunburn, your legs from slight scratches, strong winds, rain, etc. The following are some of the basic clothing for bikers given one should make adjustments based on weather conditions and your comfort:
Full Sleeve T

–

shirt or half sleeve with tattoo skin for protecting arms

Stylish Jacket, Wind Breaker or just a Light Top

A Vest or other accessories such as Muffler, Scarf

Full Length Pants
Hand Wear: Gloves
Gloves are a very important accessory which is handy for better control from the rough road conditions and the repeated clutch and brake usage due to traffic jams and long drives. Not only will you get better grip, your hands will be protected as well. The following are some types of gloves and hand wear accessories:
Foam Gloves

Cloth Gloves

Leather Gloves

Fingerless Gloves

Arm

–

sleeve

Biker Gloves with knuckle protection

Full Hand Mask

/

Glove for sunburn protection
Footwear: Boots
Footwear is ignored but it is an extremely crucial motorcycle gear as safety for bikers. Boots are most appropriate for bikers to protect your heels, toes and ankle during awkward stops, etc. If you are a professional stuntman or rider then boots are a must, if not then at least fully closed shoes. The following are some footwear options for bikers in Bangladesh:
Socks

Shoes

Loafers

Semi Boots

Full Boots
Eyewear: Sunglasses
Vision is not something you want to neglect as a biker. This is specifically true for road conditions in countries like Bangladesh where the streets are not only full of vehicles but also men, women, children and animals. So it is best have any sort of eyewear to protect yourself from the dusty & dirty air and also during weather conditions such as sunny & rainy days. The style factor is a huge bonus!
Sunglasses for sunlight protection

Clear Glasses during nights

Goggles during rainy, windy or cooler days
Additional Safety Gear While on the Roads
Motorcycle riding is one of the most joyful activities and almost always manages to give us some extra excitement. But it comes at a cost of potential risks. Safety is the first priority while on the road, but on motorcycles it is an absolute must. This is because the slightest of incidents can cause serious injuries!
The safety of both the rider and the passenger is interconnected and the importance of safety gears for two–wheelers carries significance worldwide. Awareness of such is necessary in a country like Bangladesh, where it is one of the primary sources of transportation with the rise of rider sharing services. You can also check here to find more Motorbike safety tips for novices.
So, let's look at two (2) additional aspects of motorcycle gears:
1. Weather Conditions
During the heavy monsoon seasons of Bangladesh, the roads are much more risky than any other times. As a rider, you should almost always carry raincoat, pants, or at least some form of head cover. You can also consider special types of waterproof gear such as footwear, gloves and pants. During the winter, the weather is harsh with strong winds and lower temperatures. You should consider gears such as wind breakers, ear muffs, gloves, etc. Also, the dry season tends to be the season of dust, so you should consider masks to keep yourself safe from air pollution. Even the summers are scorching hot with sun directly burning you with harmful UV rays. You should consider sunlight protection creams to avoid harmful side effects of sunburn and long term exposure to sunlight.
2. Protection & Purpose
All motorcycle gears are designed for the providing some form of protection but other general safety gears are good to consider in case of accidents. Protective safety gears are those which save you from a fall or crash such as Chest Armor, Back Protectors, Elbow Armor, Shoulder Armor, Knee Armor, Hip Armor, Reflective vests, etc. These are especially important if you are stunt or racing enthusiast. If you are a racer then you must consider protective racing suits which made specifically for bike racers. It comes with appealing looks, freedom of movement and all necessary protection.
Conclusion
After our discussion throughout this article, I hope it was able to clear out all the misconceptions regarding motorcycle gears and present the important of maintaining proper safety when riding motorcycles in Bangladesh. It is crucial that anytime we are on the road whether on a bicycle or a motorcycle, whether as a rider or a passenger, we will be more confident, conscious and safe by using proper motorcycle gear.
It is not true that all safety gears are uncomfortable. We can always try various options to find the perfect match with our individual needs, riding patterns, comfort levels and different weather conditions. This way, we will be both safe and comfortable.
If you are looking for a motorcycle gears, accessories or other products then visit Bikroy.com today. Browse through the online marketplace for thousands of posts by thousands of reliable sellers throughout Bangladesh.
Get your gear and ride safe!