Property
Property Market in Bangladesh: Growth, Opportunity, and Forecast 2022-2023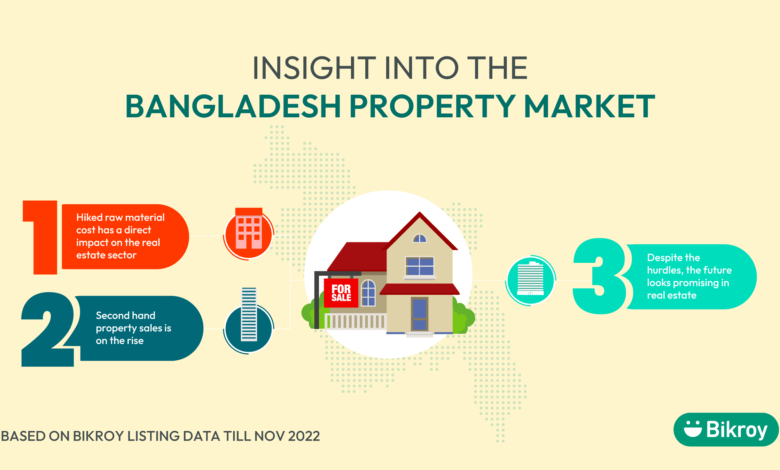 In the last two decades, there has been a noticeable change in the real estate sector of our country. The increasing population and popularity of urban lifestyle have made this sector more dynamic. As buyers tend to choose their preferred housing according to their income and needs, whereas real estate dealers focus on creating the preferred housing according to the buyers' needs.
With the government support and patronage further, the housing sector will come within the purchasing power of the general people we believe. Let's find out how the country's property market is doing in 2022 and what awaits in 2023, according to data from Bikroy.
Top Locations for Property Sale in Dhaka
Dhaka is the capital of the country and home to about 2.3 crore people. The number of people constantly increasing in this city for living or studying. According to the property market insight, different areas from Dhaka have emerged in the sale of properties.
In the list of the most selling and buying locations, Dhaka city has 33% of advertisements from different locations, followed by Mirpur with 17% of advertisements. Mirpur has been popular for buying flats, land, or houses for several years now. It is followed by Bashundhara, Badda, Uttara, and Mohammadpur with 16%, 12%, 11%, and 10% advertisements respectively.
Top Locations for Property Sale (Outside Dhaka)
Not only in Dhaka but also properties are getting sold in other cities as well. Let's see what is the demand for property sales in other districts.
According to data from Bikroy, the port city of Chattogram tops the list of most popular locations with 43% of property listings, followed by Dhaka. Then there is Rangpur, other cities, Rajshahi, Khulna, and Sylhet with 16%, 14%, 12%, 9%, and 6% advertisements respectively.
Top Locations for Property Rent in Dhaka
Finding a flat or house of your choice in Dhaka city is quite laborious but you can check out this information from Bikroy to ease your problem.
Several elite restaurants, high commissions from various countries, and clubs are situated in Gulshan. And this is why the highest number of advertisements for flats or other properties for rent are in the Gulshan area, which is 71% of the total advertisements. Followed by Banani, other places, Uttara, Baridhara, and Mirpur with 11%, 10%, 3%, 2%, and 2% respectively.
Top Locations for Property Rent (Outside Dhaka)
Apart from Dhaka, job opportunities in other metropolitan cities of the country are also on the rise comparatively and due to this people are moving towards the city.
According to data from Bikroy infographics, Chattogram city tops the list with around 24% of property rental ads outside Dhaka. It is followed by Khulna, other cities, Sylhet, Barisal, Rajshahi, and Rangpur with 21%, 17%, 16%, 9%, 7%, and 6% of total advertisement space respectively.
Available Property for Rent by Price Range
Due to increased construction costs in the post-Covid era and global economic slowdown, 57% of advertisements were listed for more than 80k monthly rent.
Also, between BDT 60K to 80K there are 17% of ads. On the other hand, 11% for rent below BDT 20K, 9% between BDT 40K to 60K, and 6% for rent between BDT 20K to 40K were asked in advertisements.
New vs. Used Flats
Changes in the financial status of the country's population, urbanization, and per capita income have fueled real estate industry investment to some extent. According to the infographic, most of the flats or apartments posted in 2022 were new. 92% of the total ads posted are for selling new flats, while the remaining 8% of ads are posted for selling used flats.
Top Searched Locations
Mirpur is the most searched area in 2022 according to Bikroy data. Followed by Bashundhara, Badda, Uttara, and Mohammadpur respectively. Locations like Mirpur and Bashundhara continue to rise in demand due to the increasing participation of middle-income people in the country's housing sector.
Final Words
Customers want to know about the property market insight before investing in property. We hope that the information provided by Bikroy will give you a quick and comprehensive picture of the property market in Bangladesh.
At the end of the day, a permanent home or residence is desired by all of us. Everyone involved in the real estate industry in Bangladesh should come forward and think about our future.
Wishing you a prosperous future!
FAQ
What are the top locations for property sales in Dhaka?
According to data from Bikroy, the most popular locations for property sale in Dhaka are:
Other places in Dhaka
Mirpur
Bashundhara
Badda
Uttara
Mohammadpur
What are the top cities for property sales in Bangladesh?
As per the Bikroy property market insight,
the most popular cities for property sale in Bangladesh are:
Dhaka
Chattogram
Rangpur
Other cities
Rajshahi
What are the top locations for property rents in Dhaka?
According to the Bikroy property infographic, the most popular locations for property rent in Dhaka are:
Gulshan
Banani
Other places in Dhaka
Uttara
Baridhara
Mirpur