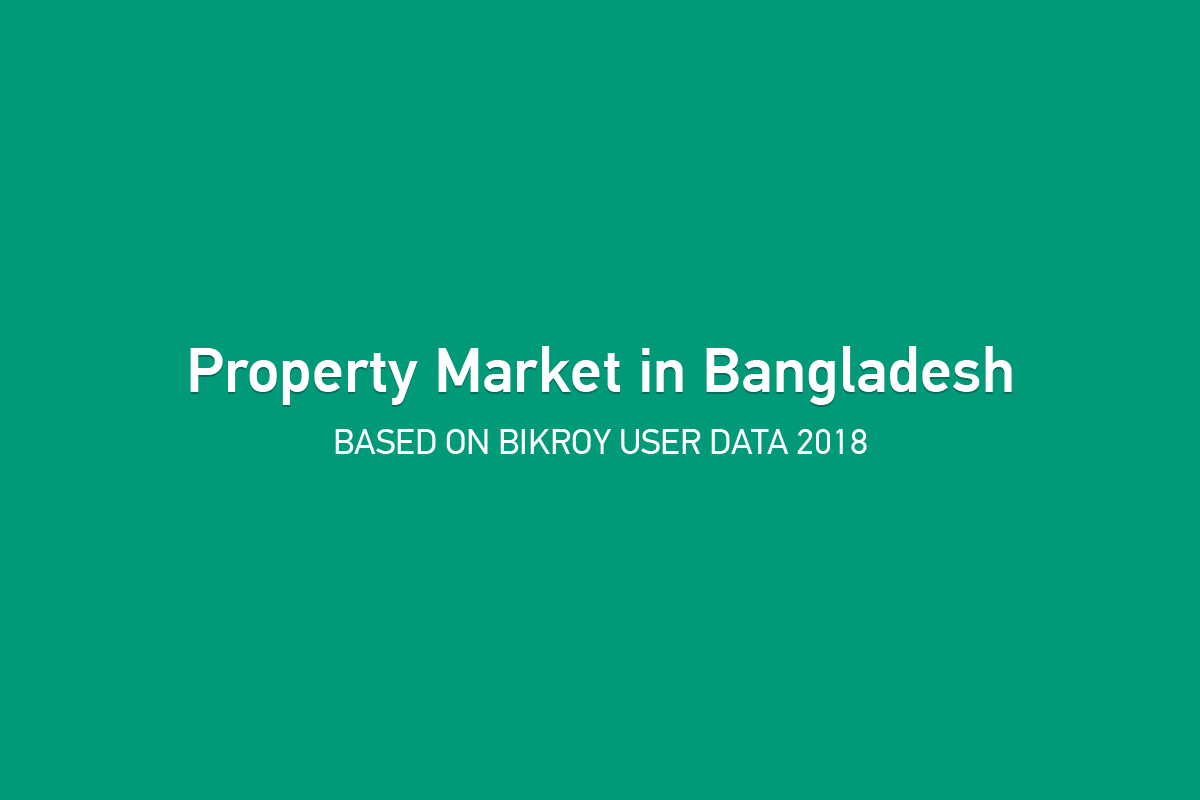 Bikroy is one of the pioneers of the Bangladesh Property Market with its unique real estate services and is one of the leading marketplaces in the country. Bikroy Property Portal believes in taking more responsibility rather than just posting properties for buy and sell. So, we have taken up this all-important responsibility of tracking the property trends of Bangladesh for a better understanding of those who matter most – you!
Find helpful data such as the top locations with properties for sale and rent, look at these properties by price range and flat sizes, etc. all based on actual numbers by buyers, sellers and renters in 2018.
As one of the market leader in the Bangladesh Property Market with this unique service, Bikroy presents this infographic for everyone's better decision making to buy, sell and rent in 2019.
Based on our research, we found out the types of properties that are in the most demand, where more people want to buy or rent properties, and how the future of the property market in Bangladesh is shaping up. All these factors and actual numbers from 2018 have determined the trend of the Bangladesh Property Market for 2019.
Top Locations for Property Sale in Dhaka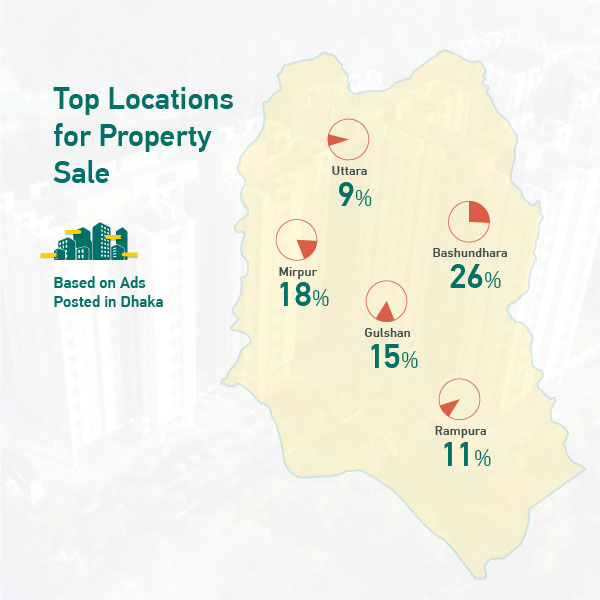 Available Property for Sale by Price Range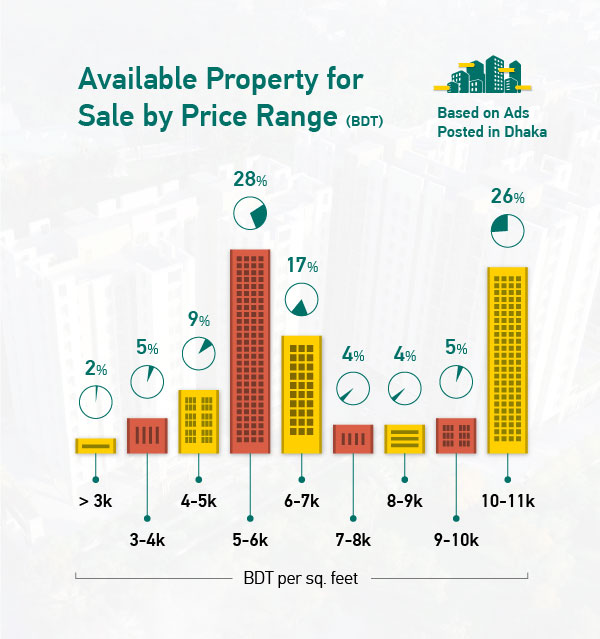 If you are looking to buy property, then we have picked out the top 5 locations to buy in Dhaka. The locations are all based on real ads posted by genuine sellers on the Bikroy Property Portal in 2018. Unsurprisingly, the largest percentage of properties for sale are in Bashundhara with more than one-fourth of all for sale properties at 26%. The second and third positions are closely followed by Mirpur with 18% and Gulshan with 15% properties for sale. The last two positions are filled by Rampura and Uttara with 11% and 9% respectively.
The cost of properties that have been posted for sale stretches from less than 3K BDT per sq. ft. to more than 10K BDT per sq. ft. A pattern can be seen where almost half (45%) of all the properties for sale are available in the mid-range of 5-7 K BDT per sq. ft. The next biggest numbers of available properties is 26%, which are all of the most expensive properties at more than 10-11 K BDT per sq. ft. The remaining 29% of all properties are modestly distributed among the other price ranges as can be seen in the infographic.
Top Locations for Property Rent in Dhaka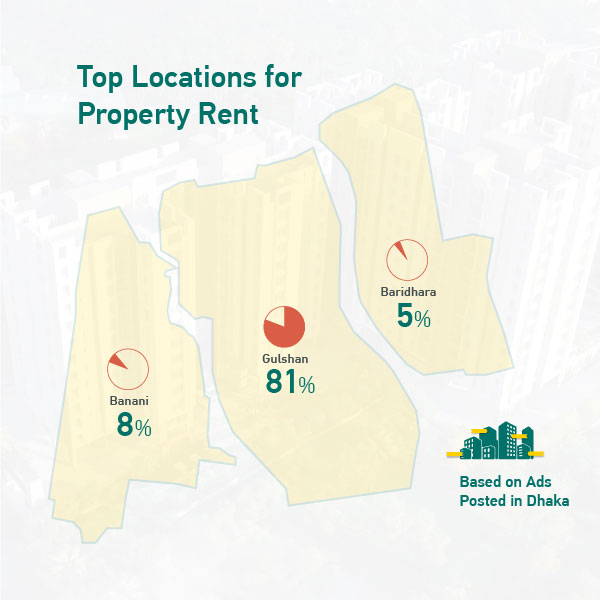 Available Property for Rent by Price Range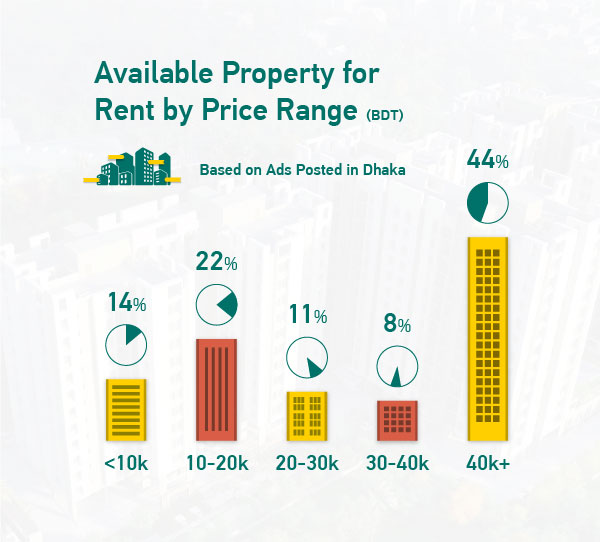 In terms of renting properties in Dhaka, the number one position holder dominates with 81% properties available for rent in Gulshan. Banani is next with just 8% followed by Bashundhara with just 5% of the properties available for rent in Dhaka.
The cost of renting in Dhaka is extremely high but almost half (44%) of all properties available for rent are higher end properties costing more than 40K per month. Only 22% of these properties fall in the mid-range of 10-20K rent per month.
Property Buying Trend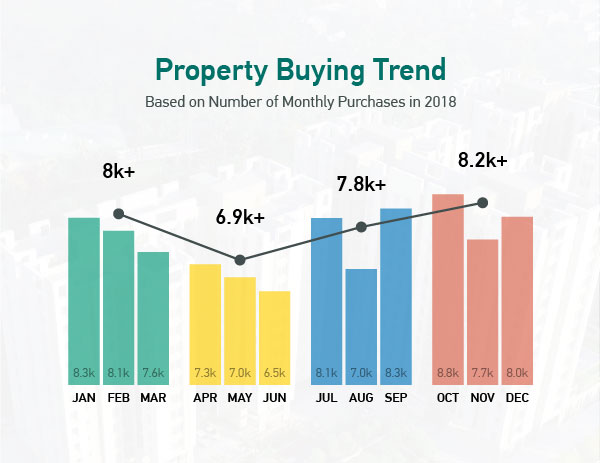 One of the most interesting trends can be recognized from monitoring all the purchases made throughout the year 2018. While during all other 3 month periods the sale of properties has been at or above 8 K sales, during the 2nd quarter of the year – months April, May and June – buying and selling goes down significantly at less than 7 K sales. So the 2nd quarter of the year is a slow period for buying and selling while the best period is during the last quarter during the months October, November and December.
The lion's share of properties for sale feature new flats at 96% while used flats are at the bare minimum of just 4%. So, more and more new flats are being completed and posted for sale as the lack of availability of used flats is clear. Another trend in the market is that while Mirpur offers the most variety of flat sizes and moderately priced properties, it is not one of the most desired locations for property. The top most search locations do not feature Mirpur in the top 5 but include others such as Bashundhara, Gulshan, Uttara, Dhanmondi and Mohammadpur.
Top Locations by Price Range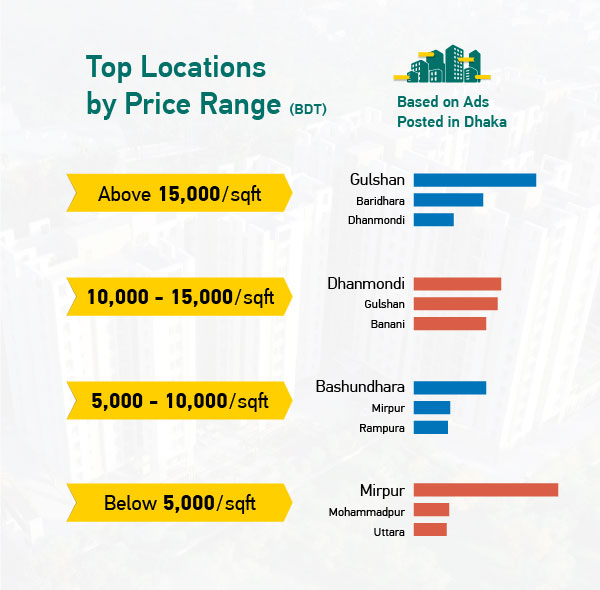 Top Locations by Flat Size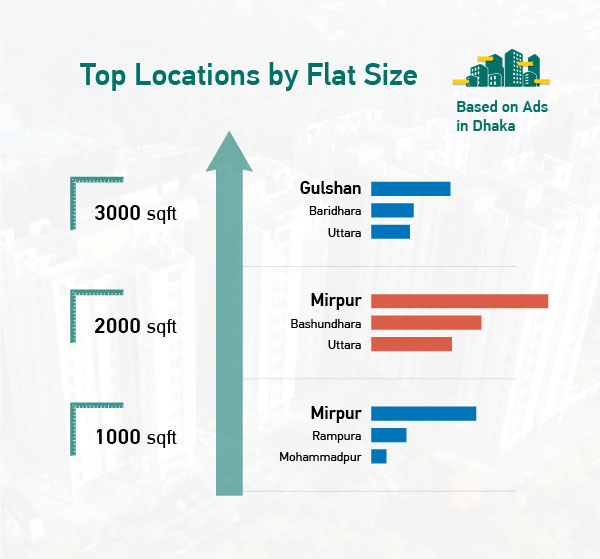 New vs Used Flats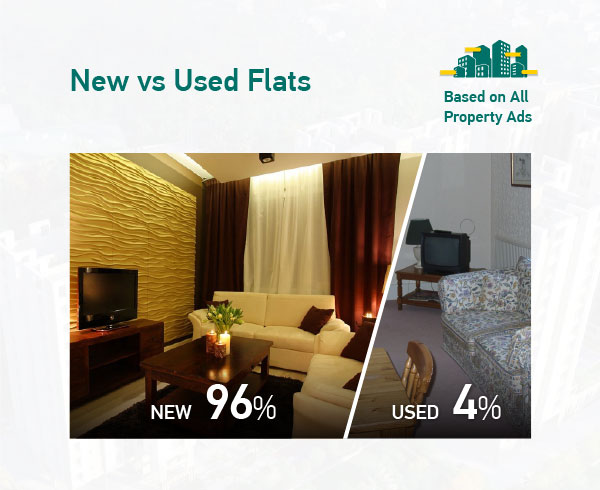 Top Searched Locations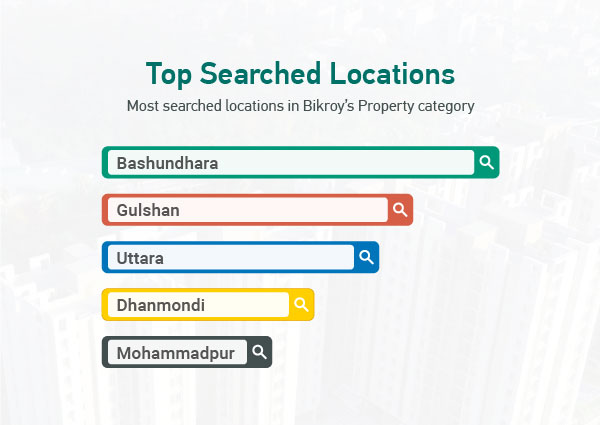 The real estate market of Bangladesh can be very volatile, and this true for not just this particular market but even for developed countries such as the USA and UK. At present, there are a lot of factors involved which affect the stability of the market such as political, economic, and other forms of instability in the greater population. In many cases, foreign investment comes to a halt and prevents property owners from putting property for sale. Or vice versa, where new buyers are reluctant to make purchases. But significant infrastructural improvement projects in the pipeline, good future returns can be expected from the market.
Get full Infographic on:
Pinterest: Property Market in Bangladesh
Slideshare: Property Market in Bangladesh