Property
New in Dhaka? Find Suitable Home for Rent or Buy in Dhaka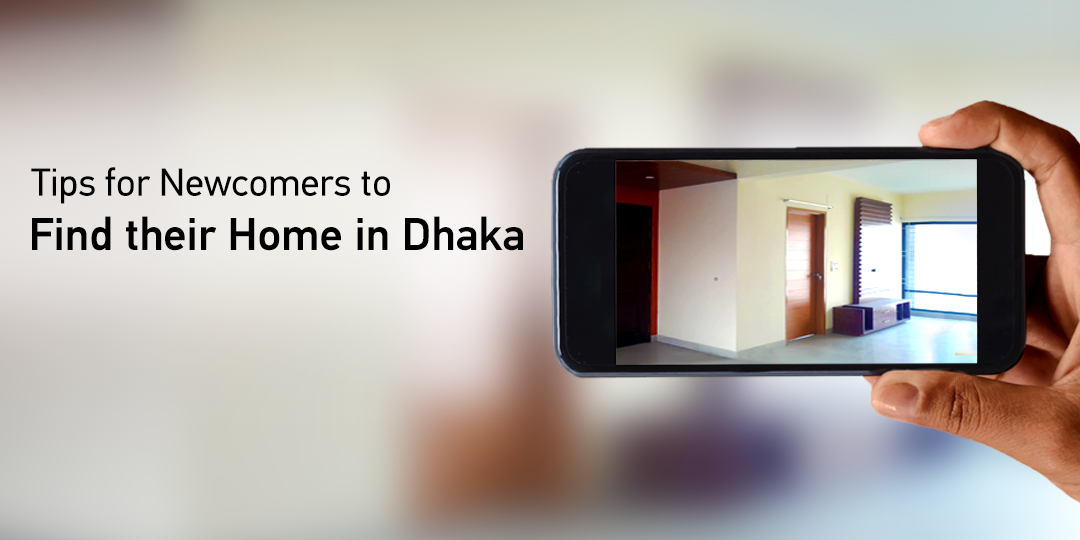 Have you recently moved to the megacity of Bangladesh? Are you a new comer to Dhaka City?
Welcome to one of the most densely populated & busiest cities in the world!
This the most essential article for you to read… a new comer's guide for living in Dhaka City!
Moving to a new city from another city, your village, or even another part of the city is not a simple process. In fact, it is one of the most hectic processes in people's lives. Whether you are looking for property to rent or buy, when you start your hunt to find property in Dhaka you will lose your mind!
You will have trouble to find a flat to rent or to buy in Dhaka, the most suitable location will seem to be out of reach almost always. But don't be discouraged, this complete new comer's guide to finding a suitable location to live in Dhaka will be your ultimate guide.
A Simple & Effective Newcomers' Guide to Get You Started
Set a Budget for Yourself
The first thing to do after deciding that you are moving to a new city like Dhaka is to determine an overall budget for a flat to buy and also for a flat to rent. Regardless of whichever (buying or renting) is your first choice, determine a budget for both. This gives you ground for comparison and better decision making.
When setting a budget, consider making a safe choice and the absolute choice. Meaning, you should set a comfortable budget the money that you are willing to spend to buy property in Dhaka or the monthly expenses when you find a flat to rent. But also make an absolute budget which may be more than your initial budget as a safety.
When determining the budget, don't just consider the price of a property or the monthly rent to be paid. You must also consider all associated costs with a purchased or rental property in Dhaka. It is important to consider the following things:
Cost of moving from your current residence such as manual labor, vehicle for moving, etc.

Packing supplies for your furniture, appliances & electronics, etc.

Down payments, instalment payments or monthly rent

Insurance, taxes & agent or signing fees

Utilities like electricity, water, gas, etc.
So, you can imagine a lot of things need to be considered before such a big decision. Carefully, assess your earnings and your savings to figure out what your budget should be. Read this article to find out some of the things no one will tell you when buying a home in Bangladesh.
Research the Property Market of Dhaka
You should always research the property market before making a purchase or renting a property. The sooner you start your research, the better your chances of making a good decision for you and your family. Try to get all the details about the property market of Dhaka for houses, flats, etc.
Today, a lot of mediums exist for you to research without too much effort. The easiest and one of the most increasingly effective medium is through the internet. Just use a reliable and improved online property portal such as Bikroy.com to find out all the details about particular locations, flat sizes, prices, etc. You can filter to personalize your search. It will allow you to consider crucial aspects such as cost of living, neighborhood safety, etc.
Without a standard measuring stick for getting the most suitable location to find property in Dhaka, it is one of the toughest decisions. But checkout this amazing infographic on Real Estate Market in Bangladesh in 2018 which has helpful data such as the top locations with properties for sale & rent, by price range & flat sizes, etc. all based on the actual buy, sell & rent ads throughout 2018. This will allow you to make the best decision on where to find property in Dhaka in 2019.
So you don't have to guess which area in Dhaka will be best to find flat to buy for your budget or even to find flat to rent for your required size. As long as you do your research and use the full resources available through a reliable property portal, you will get a suitable location to live in Dhaka city. But before you make your decision, consider all the important decision making factors mentioned here.
Should You Buy or Rent
After you have done your research, you will have a dilemma of whether buying or selling will be the better decision. Don't worry, it is perfectly normal to be confused!
While many will say that when moving to a new city, you should always rent first, there is not a correct answer. It all depends on your needs and requirements and how well you use your resources to make the right decision. If you are confused about buying or renting a property, check out this article Stop Searching for a House to Rent! Now Buy Your Own Home to help in your decision making.
Choosing a Suitable Location for Your New Property
After all the initial planning, research and preparations, it is decision time when you are choosing the most suitable location for your property. The safest way to do that is to be at a place where it is easy to reach to most other parts of Dhaka. So as long as you can move around from your home to your work, government offices, schools, shopping malls, etc. then the ideal location will not be so hard to choose.
Obviously, there is more than one right answer for this. But check out the ideal locations to buy and rent in Dhaka based on real property statistics of 2018:
Suitable Locations to Buy in Dhaka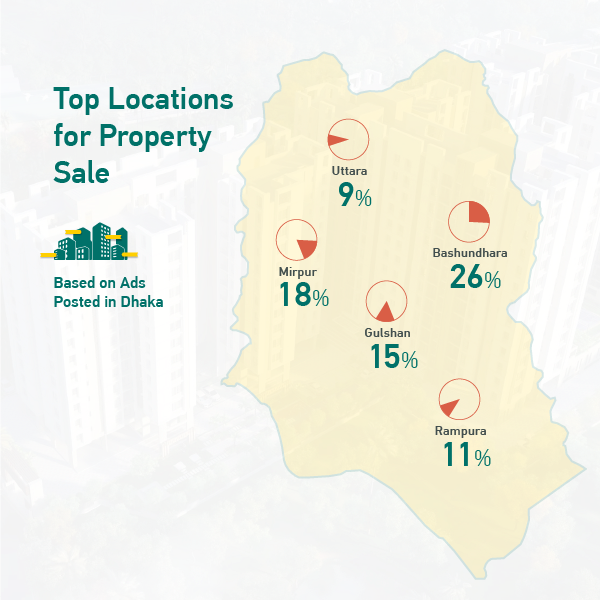 The top five locations to buy in Dhaka are Bashundhara with 26% properties for sale, Mirpur with 18%, Gulshan with 15%, Rampura & Uttara with 11% & 9% respectively. The cost of properties in these locations are between 3 thousand taka per square feet to more than 10 thousand taka per square feet.
Suitable Locations to Rent in Dhaka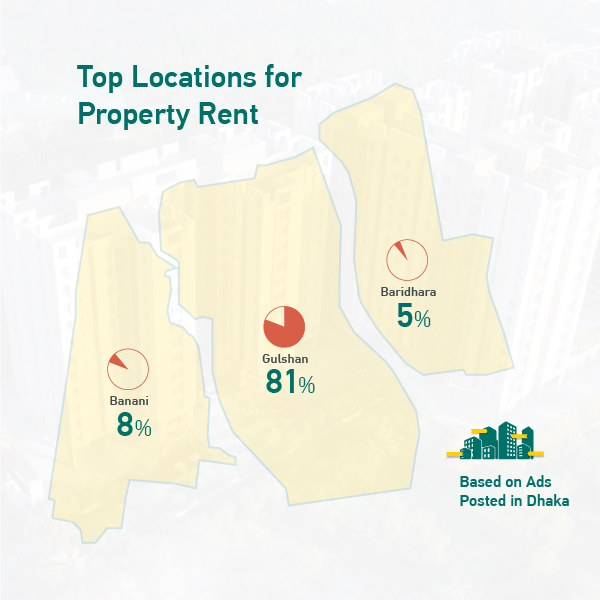 When renting in Dhaka, ranking in number one is Gulshan with 81% of all flats for rent in Dhaka city. Banani is ranking a very distant number two with only 8% properties for rent. Finally, number three position is for Bashundhara with 5% of all properties available for rent in Dhaka.
The cost of renting in Dhaka is expectedly very high. Forty four percent (44%) of the properties for rent cost more than 40 thousand taka per month while only twenty two percent (22%) are between 10 to 20 thousand taka per month.
Government Role in Improving Housing Sector of Bangladesh
One of the most amazing stats right now for Bangladesh is that the registration cost of a plot or a flat is currently 14 to 16 percent. Considering the high cost of properties, this is a very high cost. Due to this many buyers lose interest in buying properties and the government also suffers the consequences with the lost revenue from registration.
The housing industry businesses have for long been asking the government for a cut in registration costs to improve the buying of consumers. The Joint Working Committee, consisting of the National Board of Revenue (NBR), Public Works Ministry and traders have taken initiative to approach government ministers and offices to reduce registration expenses.
The Value Added Tax (VAT) is between 1 to 3 percent for the housing sector at present. The proposed initiative is asking for a 1.5 percent VAT and the older properties registration fees to be 3 percent lower than normal registration costs. With such cuts, the housing sector will get a huge boost for both consumer buying power and for businesses to sell housing as well as for government to collect registration and taxes.
The recommendations of the Joint Committee will be submitted to the concerned ministry for implementing the budget for the next fiscal year. If these recommendations are implemented, the housing sector will turn around. People would immediately be interested to buy flats as the reduction in cost of flat construction, reducing VAT and others, would also cause the flat/apartment prices in Bangladesh to decrease. Such steps from the government will ensure that the housing sector gets a much needed boost.
Conclusion
As mentioned earlier, the first thing to do is to set a budget for yourself, then you need to research the market to decide whether you want to buy or rent, and then you want to choose the most suitable location when you find flat to buy or find flat to rent. With careful considerations, you will be happy when you find property in Dhaka which is in a suitable location in your ideal size & price range.
Finding the most suitable location or the right property in Dhaka requires a lot of careful research as well as luck. So don't lose hope, as you will find a great place to make your home in this wonderful megacity sooner or later. The right property is there, you just need the right tools to find it such as Bikroy.com's Property Portal.
The property market of Dhaka is very urbanized and localized so you have to spend your time to thoroughly research individual areas, streets, etc. to find the most suitable location for yourself. But when you do find the right one, make sure to not waste time as there are always others looking for a property as well.
Depending on your budget, look at property websites, agencies, etc. to find the right property for yourself. If you are not sure, then look at customer reviews, ratings, etc. Bikroy.com/Property is an amazing platform to buy, sell & rent properties not only in Dhaka city but all over Bangladesh. With thousands of listings, you will find your ideal property.
Wish you all the best and good luck to you for finding a property in Dhaka that you are dreaming to call your new home!