Mobiles
Top 10 Samsung Phones of 2014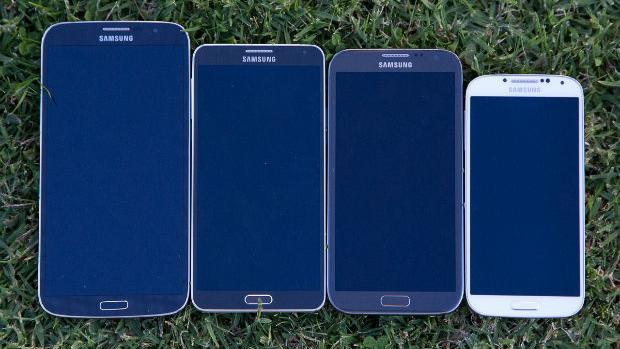 No matter your lifestyle, you probably depend on your mobile device to do everything from keeping you in touch with family to storing photos and apps that make life easier. Having isolated a brand—in your case, Samsung, because you're over the iPhone obsession–your next job is to evaluate models before making a buying decision or pricing your 2014 Samsung so you can sell it. Descriptions for the following 10 top Samsung mobile phones for 2014 should help. Whether you turn to a retailer to complete your mission or use classifieds like Bikroy.com to find the right phone or best buyer, apply due diligence so you don't wind up regretting your decision. Before we profile the top 2014 Samsung models, consider these four points:
1. Design. People carry smart phones around 24/7, thus design plays a big part in decision making. Weight, screen size, button size and appearance matter—particularly to people with beefy fingers, those who need glasses for small print and people who buy garments without pockets. Whether you're buying or selling, design matters.
2. Camera. How important are megapixels? Very. Do you share photos and videos? Use Bluetooth and social networking sites? Does it matter whether a camera lens faces front or back? If you're selling your Samsung phone, it does: front facing cameras are best for conversations, so mention that in your advert.
3. Operating System. Are you seeking or selling a Samsung model with lots of features– alarm clock, movie player, gaming epicenter, MP3 player, scheduler, flashlight, notebook, sketchpad and more? Say so in your sales ad or look for as many features as your budget can afford when buying. Stipulate Android or Windows, too.
4. Battery. Who hasn't experienced a dead battery in the midst of an important conversation or application use? Whether buying or selling, sustained battery life and recharge speed make great selling and marketing points since nobody wants to be chained to a power cord.
Now, for those Samsung phone. Samsung mobile phones reviews:
The ATIV SE. This 2014 Samsung device isn't the first of its kind, but it could be the most powerful. Upgraded quad-core processing, full camera display with a rear-facing lens, the ability to produce 1080 pixel video recordings and a second (front-facing) camera for dual recording sets in motion the ability to become something of a video production star. If you're selling an ATIV SE, use your ad space to promote the device's 23-hour talk time courtesy of a 2,600mAh battery. The appeal won't be lost on teens!
The Galaxy Alpha. Like the alpha dog, this Samsung phone takes the lead when it comes to speed: get the fastest 2014 data rate available: up to 300Mbps. There's a power-saving mode to extend the life of the 1860mAh battery, so chances of a dead phone in mid-conversation diminish. The Alpha's flimsy plastic shell was replaced by engineers with a sturdy metal one. If you must spotlight a drawback, it's the lack of a microSD card slot, but 2GB of RAM could satisfy a buyer if you're on the selling end of the Alpha.
The Galaxy S3 Neo. Do you rely on a smart phone to help you conduct business? Opt for an S3 Neo over a Note 4 because this device's MDM system is big on data security. This is the phone to buy if you have trouble cutting fast-moving business deals in noisy venues. PC-standard apps are pre-installed; the Samsung S Voice feature makes life easy as you move from one call to the next. Referred to by reviewers as one of fastest Androids on the market, if you're selling yours, place the ad near business adverts to attract buyers.
The Galaxy Note 3. Got your heart set on a tablet? Chose the 2014 Note 3. Putting yours on the market because you're going for a 2015? Promote features of this tablet by mentioning the upgraded processor (2.30 Ghz quad-core), camera that blossoms from 8 to 13 megapixels and a display that's lighter but larger at 1080 HD pixels. The Note 3 is a mightily improved Note 2, so if you're in the market to buy this smart phone, get the best deals on the 2014 model as soon as 2015 versions hit the market.
The Galaxy Note 4. Looking for a durable Samsung phone with a super-charged 5.7-inch HD screen to showcase your high-res photos? This Note may have your name on it. The 2.7GHz engine keeps up a lively pace if you're on the phone 24/7 and the battery's fast-charge capacity should be front and center if you're the owner of the Galaxy Note 4 and want to sell it. Front and back cameras add to this phone's pedigree and the battery offers ultra-power saving features, too.
The Galaxy S5 Sport. Perhaps you seek a smart phone that promotes your healthy lifestyle. You've found it in the Samsung S5 Sport model. Indulge in your favorite activity without leaving the device in your locker. The MapMyFitness app could become your new best friend because this phone has the ability to literally become your personal trainer. A 16-megapixel camera can capture your workout. If you're on the selling end of this sporty Samsung phone, mention in your advert that you credit this phone with getting you fit and healthy!
The Galaxy S5 Active. The S5 Active is a cut above the aforementioned Sport. Made for people who like their sports, fitness and health activities in the great outdoors, this rugged phone even launches adventure-friendly apps like a compass, maps and directional instructions, all automatically launched, so you would have to work really hard to get and stay lost! Place an ad for this phone within the fitness equipment classified section to attract the maximum number of buyers.
The Galaxy K Zoom. If you seek a 2014 Galaxy that's as much camera as communications device, this may be your first choice. The 20.7-megapixel BSI camera is twice as powerful as the average smart phone and there are two micro-processors powering the works. Critics proclaim the Xenon flash capability and ISP chip superior to other Android phones and you even get 10X optical zoom for sharp close ups. Recommend the Galaxy K to fashion-forward women if you're selling; this phone is so slim, the tightest outfit won't reveal the phone bulge!
The Galaxy S5. If a mobile device can have a "flagship," the S5 qualifies. With Ultra Power Saving Mode that switches to black and white to turn features off, faster camera autofocus, a 16-megapixel camera and a quirky palette of offbeat colors like copper, electric blue, glossy white and charcoal, this Samsung model is powerful and trendy, but if you've listened to the rumor mill and are considering selling your S5 because you hear rumors that Samsung is designing the S6 from the ground up, this model still makes a terrific value for your money.
The Gusto 3. If you're not familiar with the word, "gusto" is a synonym for pleasure, delight and enthusiasm and that's how you may feel if you find this Samsung in the mobile phones for sale section of your favorite classifieds like Gilroy.com. The Gusto 1 and 2 didn't live up to expectations, but this one does with its one-touch speakerphone capability, flip lid, 1-inch display and a 1.3 megapixel camera. Selling one? Mention the fact that the Gusto 3 outperforms its predecessors and you could find a new owner fast—fast enough to review this article one more time to see which Samsung would make the ideal replacement!
ᐧ
Samsung Galaxy A20 . (Used)
Samsung Note 10+ 12GB_256GB_ORIGINAL. (New)
Samsung Galaxy M21 (Used)
Samsung Galaxy S10 . (Used)
Samsung Galaxy A72 . (Used)