Vehicles
Why is a Toyota car ideal for moving around in Dhaka?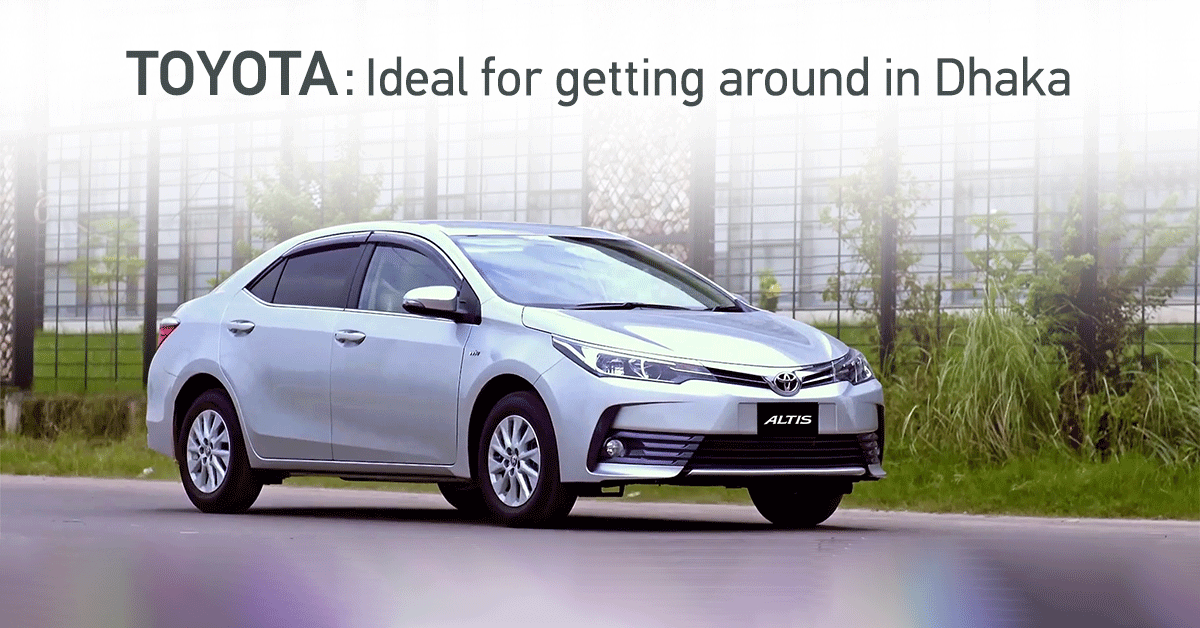 We all grew up with Toyota cars. They have been around for generations, and it's hard to imagine anyone who has never used one. These cars are insanely popular in Dhaka and around the country. Even now, with all the numerous car brands available in the market, the majority of people tend to lean towards Toyota, which continues to dominate our list of the Top Five Most Selling Cars in Bangladesh. In the following paragraphs, we will try to provide a deeper insight into the popularity of Toyota and what it has to offer as the dominant car brand in the Bangladesh market.
Why go for a Toyota?
Toyota is originally a Japanese automobile company. They have been producing and manufacturing cars for a long period of time now and have been able to capture a significant share of the market. Their customers are also very concentrated in Asia, particularly Bangladesh. Toyota was not always so well-known in Dhaka. Brands like Ford and Volkswagen were more popular in the very early days. However, in recent times Toyota has managed to assert dominance over competitors. Cars from other brands are not seen as frequently as Toyota cars, primarily because Toyota offers a wide range of services and variation in their cars. They seem to have a car for everyone. Let's have a look at some of the pros of Toyota.
Affordability
One primary reason for the popularity of Toyota is the affordability. These cars are reasonably cheaper and more affordable in comparison to other reconditioned or second-hand cars. Specifications of the car will matter but a lot of the buying decision will depend on the price tag. Price can oftentimes vary depending on where you choose to buy from. A car showroom might charge you quite a bit more than buying from a seller directly. The same conditions apply if you are thinking of buying a second-hand or used car. If you are looking to buy a Toyota car in Dhaka, check out Bikroy.com to get an idea of the price range you want and find your perfect car. This can allow you to buy a new Toyota car or a used Toyota car from a trusted seller.
Durability
Toyota produces cars for every terrain. For a person traveling in Dhaka, knowing the conditions of our roads is important. With all the construction work and road maintenance going on, the bumpy and sometimes inconsistent roads can damage our cars. This is where Toyota saw an advantage. With their robust and sturdy body and built, Toyota cars can withstand a lot of physical strain, ideal for driving in Dhaka. Toyota also has a wide range of pick-up trucks, SUVs, off-road vehicles and heavy-duty vehicles. These are great for going on a drive out of the city where the roads are rough. They are also time-tested and found to be extremely durable. Users become loyal to a brand that provides them with a long-term product and good service, and this is something that Toyota has been able to establish in the Bangladeshi market.
Variety
Let's talk about the diverse range of cars Toyota has to offer.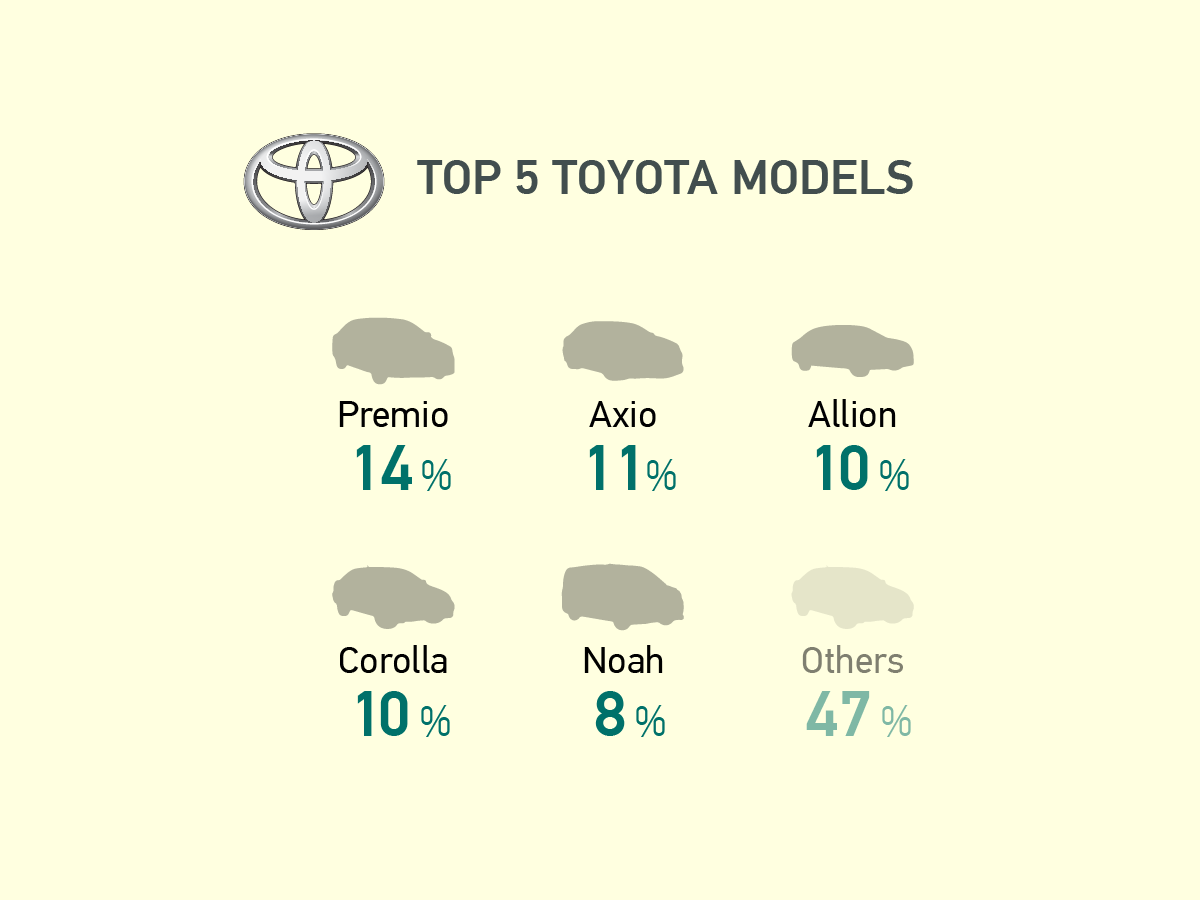 Toyota's Family cars
You probably won't need to look any further than Toyota if you are looking for the perfect family car. The brand offers a wide range of sedans, hatchbacks and much more. Apart from the long-time crowd favuorite Toyota Corolla, there is also Toyota Axio, Toyota Allion and Toyota Probox, all of which are known to be great options for a family car.
Smaller cars from Toyota
If you want a smaller car, the Toyota Ist, Toyota Passo, Toyota Aqua or Toyota Vitz might suit your needs. Small cars are known to be slightly more fuel efficient and relatively less expensive. With all the traffic and narrow roads in Dhaka, having a small car might also mean being able to easily navigate and park your car. These types of cars can be ideal for younger as well as older people. Also, people who are learning to drive will find them easier to control.
Luxury Cars from Toyota
Cars like Toyota Premio, Toyota Noah and Toyota Crown offer the user with a more premium experience even when moving through the jam packed streets of Dhaka. A car can be a place of tranquility for some and having a big space, comfortable seating and overall luxury feel is important. New cars from Toyota reach the Bangladeshi market quickly, such as the recently launched Toyota Corolla Altis.
Fuel Efficiency
The increase in traffic jams in Dhaka has greatly affected fuel efficiency. A lot of fuel is used up when cars wait on the road for hours on end. This leads to an increased demand for fuel and hikes up the price. There are some energy-efficient Toyota cars in the market, and they can be a great way to reduce your fuel cost. One such car is the hybrid Toyota Prius and has been quickly gaining popularity in Dhaka. In order to cut down transport costs, you could also convert your car to run on CNG fuel, as most people do with their Toyotas.
Availability
A great thing about Toyota being popular in Bangladesh is the availability of the vehicles in virtually all showrooms. Since these cars are the most seen on the streets of Dhaka, you will most likely get your desired Toyota at the nearest showroom. This also means a large array of cars from the Toyota line may be available to you to choose from, due to the high demand. Apart from the car itself, maintaining a Toyota car can also be quite easy in Dhaka, primarily because most car workshops in Dhaka carry parts and components of Toyota cars.
Highest resale value
Toyota cars are also known for their higher resale value in comparison to other brands of cars in Dhaka. As they are the most frequently searched for and bought by users, it is quite obvious that they will also have a high resale value when being sold. This will however depend on the condition in which the user is selling his/her Toyota and how well maintained it is. So, if you are looking to sell your maintained Toyota car then you can expect to get a good price from a number of prospective buyers.
Where should you go for your Toyota?
Car showrooms are quite prevalent in Dhaka. Many are clustered together so you can browse multiple shops before you make a decision. Before picking the car of your dreams, make sure you compare all your options within your price range from various shops. Some car dealers are also available to serve your personal needs. You can also look for cars online. As with most products, automobiles have made their way into the digital age. Bikroy.com allows potential buyers to browse a wide selection of cars from the comfort of their own home. Once you decide on a particular car, you can meet the seller and see the car you like up front. Bikroy is also a great place to look for a second-hand or used car or to sell your existing car.
Conclusion
Finding the right car is not easy. But depending on what type of car you want – large, small, fancy, simple, or even a hybrid -Toyota will most likely have the car you want. Since a car is a big investment for anyone, it would help to consider all of the factors covered in this article in order to make a well-informed decision about purchasing your next car. If you're planning to buy a car then check out here to find Toyota cars for sale.
Visit Bikroy.com now and get your own Toyota car today!
Toyota Fielder Push start 2012
Toyota Premio FL SILVER 2019
Toyota Premio FL SILVER 2019
Toyota Harrier GS SPORT PEARL 2018