State of Real Estate Market in Bangladesh in 2018 | Infographic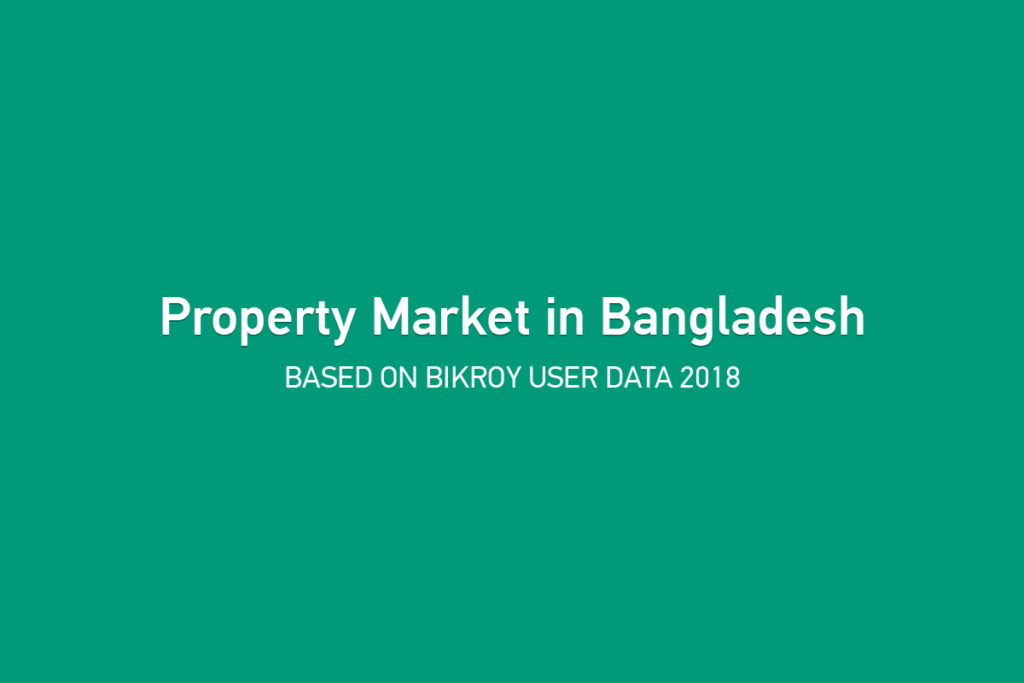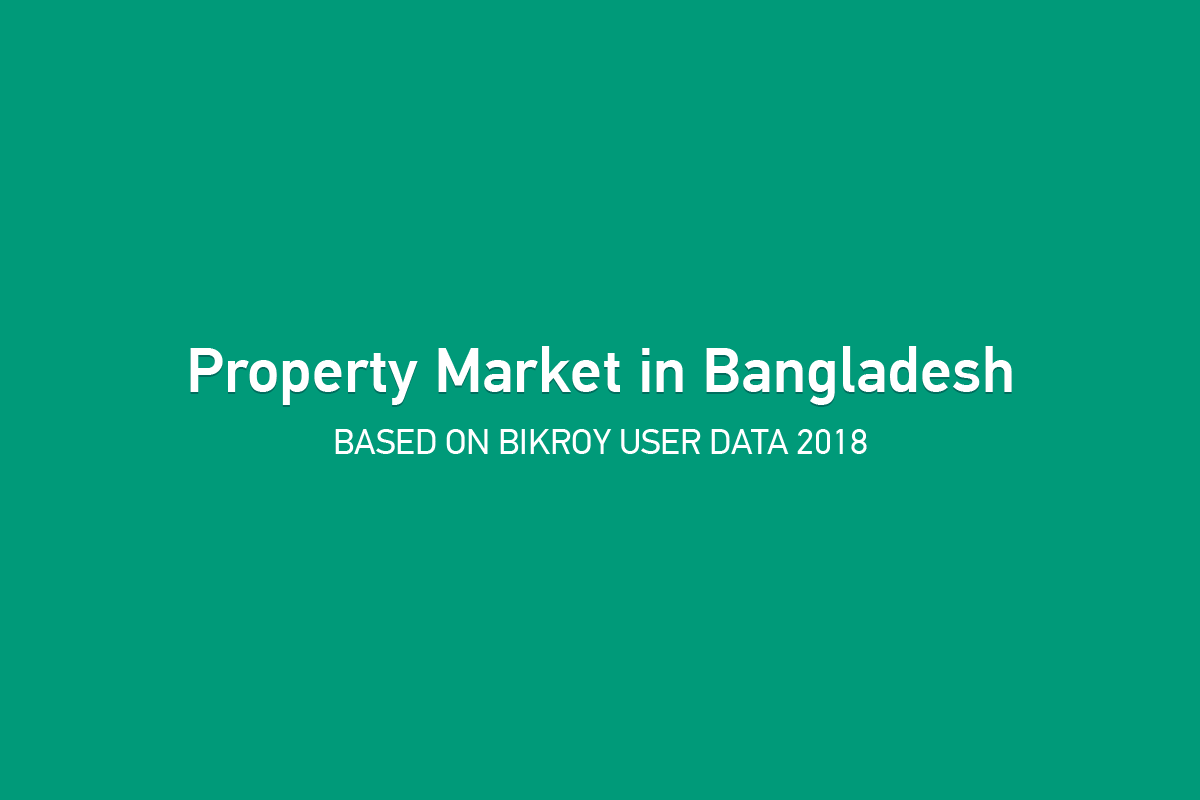 The property market, as known as 'real estate' is the most profitable and secure business in Bangladesh, if you know how to place your hand in the game in the right way. To understand this fruitful and rewarding market and its basic aspects, you need to observe and compare the key factors of this business on a yearly basis. Today we are going to help you have a quick and detailed look at the online real estate market in 2018, by providing all the basic aspects and key factors in a single article. So, stay tuned!
Top Locations for Property Sale in Dhaka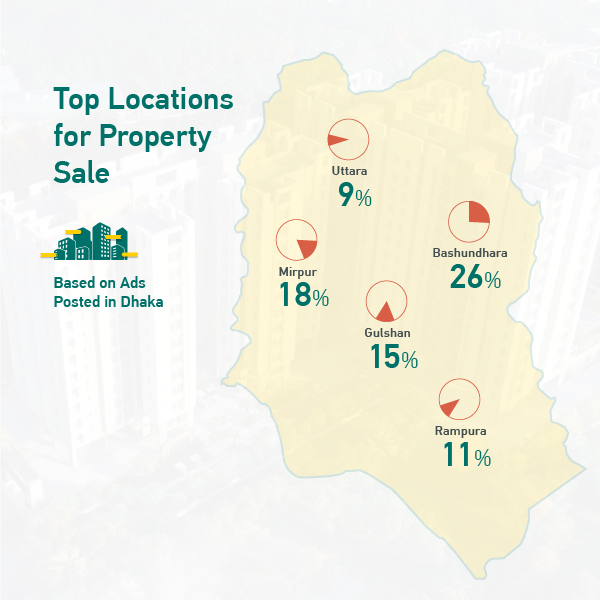 The top selling properties in 2018 were mostly from the most desired location in the mega city Dhaka, Bashundhara. Around 26% of properties for sale were from here and it is not too surprising. It is because of the quality lifestyle and balanced utilities offered by Bashundhara. Next comes Mirpur. With 18% of the most selling properties and consistent lifestyle improvement, Mirpur has made its place in the property market without much effort. In third place, we have seen the luxurious and one of the most hyped places in Dhaka city offering 15% of the total properties for sale in Dhaka, and it is none other than Gulshan. With 11% of the most selling properties in Dhaka, Rampura has made its way into our top list. This was possible because of offering reasonable price ranges and the availability of almost every lifestyle item in this area. Next comes Uttara, which is the busiest and most promising place as a living area, offering 9% of the properties for sale in Dhaka.
Top Locations for Property Rent in Dhaka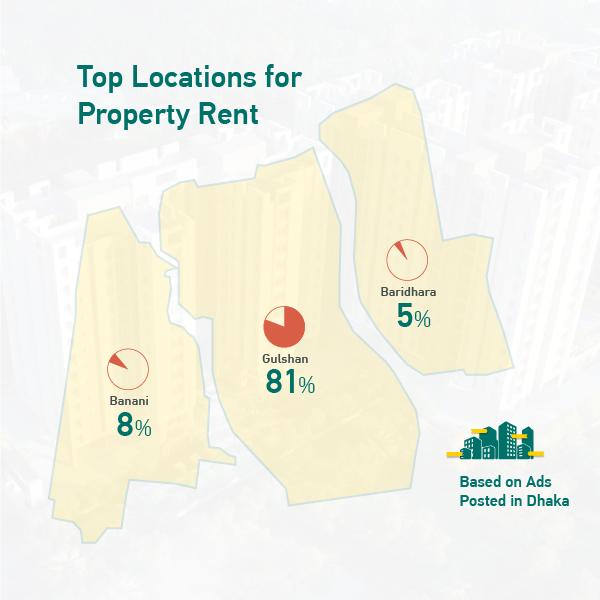 The top locations for property rental listings in Dhaka are surprisingly limited to the luxurious and the most hyped areas. Most of the properties for rent are from Gulshan area, which covers almost 81% of our total rental property listings. Next in line are Banani and Baridhara, which cover around 8% and 5% of rental property listings accordingly.
Available Property for Rent by Price Range
Below 10k:

This price range is desired by most people with lower income and smaller families. Around 14% of properties for rent are within this range. You can find mostly small 1 bedroom flats for rent below 10k.

10k-20k:

The second biggest list of rental properties are from this price range. As Bangladesh is a country with a majority of middle-class population, this is one of the most desirable price range for renting a property. Around 22% of rental properties are within this range. 2 to 3 bedroom flats with reasonably smaller space can be rented within 10k to 20k.

20-30k:

This range is also considered to be an average family apartment rent. Around 11% properties for rent are within this price range. Moderate to standard sized flats and apartments can be found in this list.

30-40k:

Spaces within this price range are mostly rented for small offices or bigger families. Around 8% rental properties fall within this price range and most of these properties are from popular residential areas.
Above 40k:

The majority of rental properties can cost you more than 40k BDT. Around 44% of properties for rent are within this price range. Commercial spaces, large furnished flats and apartments, plots and lands etc ads are available for rent above 40k BDT.
Available Property for Sale by Price Range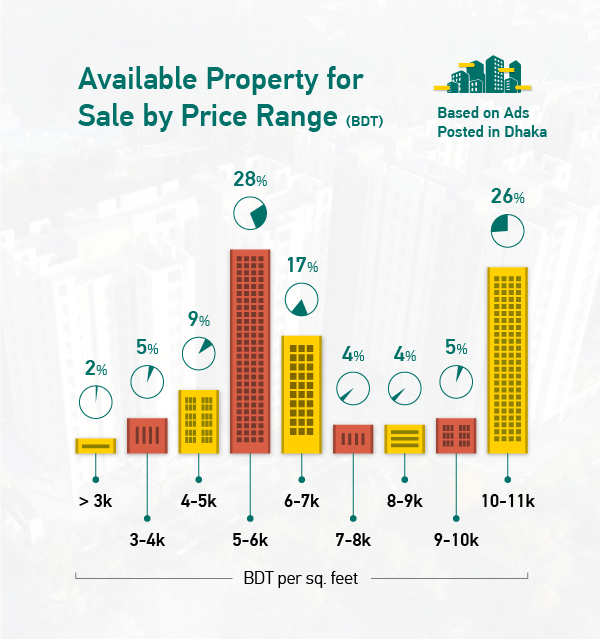 To understand properties for sale better, we will discuss the price ranges according to the rate for per square feet space. If you are looking for properties which are worth less than 3k BDT per square feet, you might be disappointed. There are only around 2% properties for sale available within this price range. If you go for spaces from 3k to 4k BDT per square feet price tags, you will find around 5% selling properties in the marketplace. From 4k to 5k BDT, there are about 9% of total properties for sale on the web. But the good news is that, from 5k to 6k BDT per square feet range, there are around 28% of properties for sale available in the market. Also, within the range from 6k to 7k BDT per square feet, there are about 17% of properties available for sale. From the next 1k margin the quantity drops again. Only 4% of total properties for sale are available within 7k to 8k BDT and within 8k to 9k BDT per square feet price ranges. Spaces with price tags from 9k to 10k BDT per square feet are merely 5% of the entire selling property market. But again, from 10k to 11k BDT per square feet pricing, you will find around 26% properties for sale available in the online marketplace. If you are worried about the drastic per square feet pricing, then you should know that real estate market is not just about flats and apartments, there are plots and lands, commercial spaces, houses, garages and many more varieties of properties.
Property Buying Trend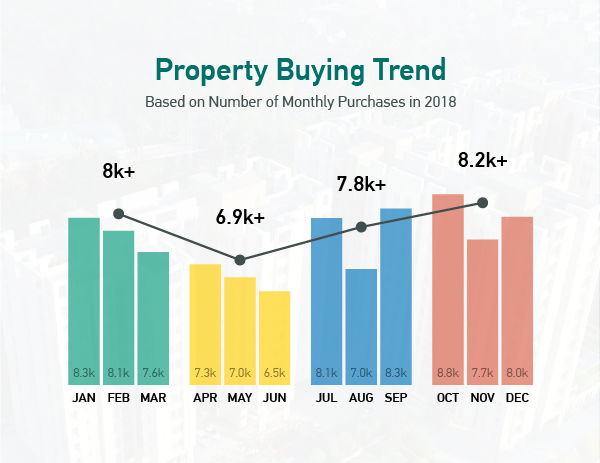 If you are a seller, you must have the knowledge of the customers' property buying habits and the right times in a year to post ads of your property for sale to sell them faster. Well in 2018, a lot of customers have bought different varieties of properties in the first quarter. More than an average of 8k purchases took place in the beginning of 2018. By the second quarter, the number of purchases dropped down to somewhere around 6.9k on average. Then the stakes gradually rise in the third quarter and around 7.8k property purchases took place on average. The most number of purchases were made by the last quarter of the year. Around 8.8k properties were purchased in October and on average the number of purchases hit 8.2k in the last months of 2018.
Top Locations by Price Range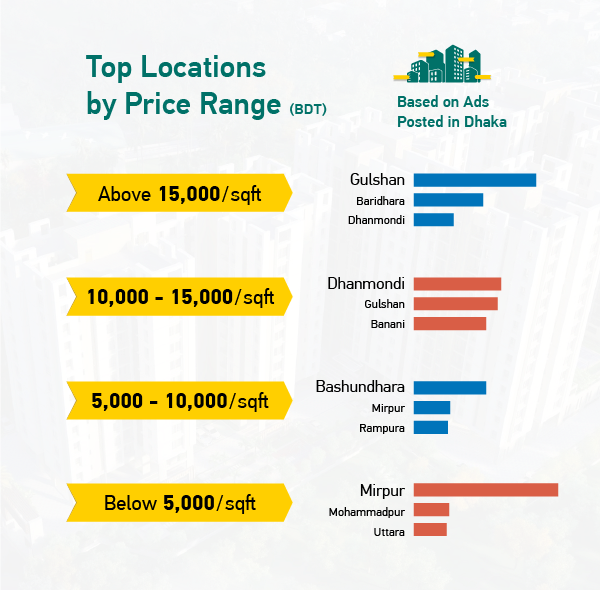 Below 5,000 BDT per sqft:

There are plenty of locations in Dhaka where you can find properties for sale within this price range. But the top 3 locations to find spaces that are priced below 5k BDT per sqft are Mirpur, Mohammadpur and Uttara.

5,000 to 10,000 BDT per sqft:

This price range is common for rental properties in most residential areas. The top 3 locations to buy an apartment within 5k to 10k BDT per sqft are Bashundhara, Mirpur and Rampura.

10,000 to 15,000 BDT per sqft:

Within this price range you can find amazing and smart spaces with modern furnishing and security. Dhanmondi, Gulshan and Banani are the top 3 locations to find standard flats and apartments within 10k to 15k BDT per sqft price.

Above 15,000 BDT per sqft:

The best spaces with modern amenities and the security of living within a developed residential area, all of these can be found within a handsome budget of more than 15k BDT per sqft. The best areas to find such properties are Gulshan, Baridhara and Dhanmondi.
Top Locations by Flat Size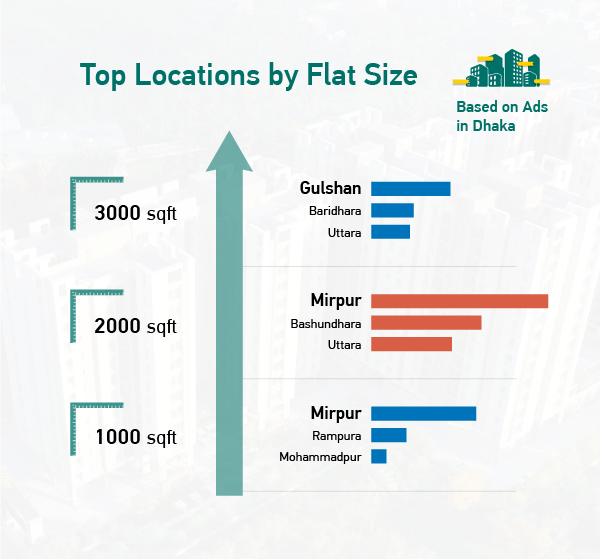 As a buyer, you have to consider the amount of space in an apartment to comfort your needs and taste. If you are looking for small spaces that are maximum 1000 sqft and also want the security of a developed residential area, then your best options are Mirpur, Rampura and Mohammadpur. For upto 2000 sqft space, the best 3 locations you can consider are Mirpur, Bashundhara and Uttara. Finally if you opt for larger spaces upto 3000 sqft, your best 3 options are Gulshan, Baridhara and Uttara.
New vs Used Flats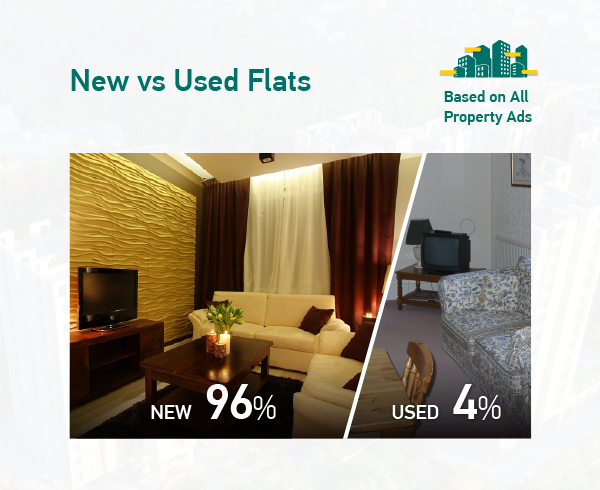 Also, if you think that online marketplaces only have used flats on offer, then you are wrong. Around 96% ads on properties for sale offer new and under-construction flats. And the rest 4% of the ads are about used or old flats for sale.
Top Searched Locations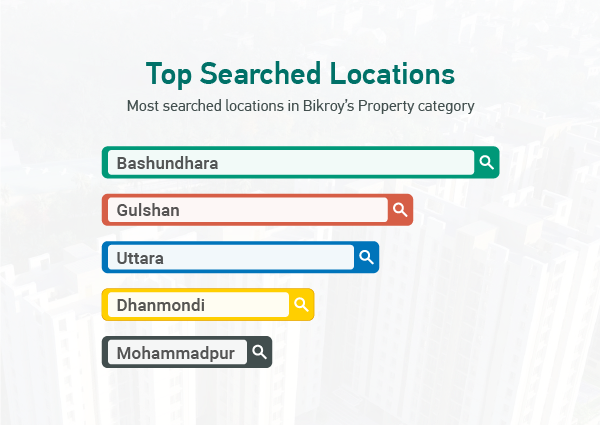 As a real estate businessperson, you need to keep a close eye on customer behaviour, demands and also their favourites. Online marketplace is a huge platform for real estate business, so it is important to observe the searching habits of valued customers to obtain maximum results from a large scale business like real estate.
On Bikroy, interested customers search for properties from their desires locations to compare between prices and make an informed decision before making a purchase. In case of properties for sale, the area that is searched the most on Bikroy is Bashundhara. The second best choice of customers are Gulshan. Then comes Uttara, Dhanmondi and Mohammadpur accordingly.
Conclusion
The real estate market in Bangladesh has been uprising and promising in the entire year of 2018. Even if there were some minor ups and downs in online property purchase trend, the numbers are still closer to each other. There were far more new flat offers on market than the used ones. People's choice in property has improved a lot, which indicate a healthy growth of economy this year in this country.
So in the year 2019, how is the online real estate market going to be like? The benefits of *investing on properties* are endless and rewarding! Browse Bikroy.com/property to browse thousands of real estate listings, posted daily by our valued members and professional real estate agents. Compare between different price ranges and make an informed purchase.
Get full Infographic on: 
Pinterest: Property Market in Bangladesh
Slideshare: Property Market in Bangladesh
Comments
comments
---