Vehicles
The 10 Best Small Cars in Bangladesh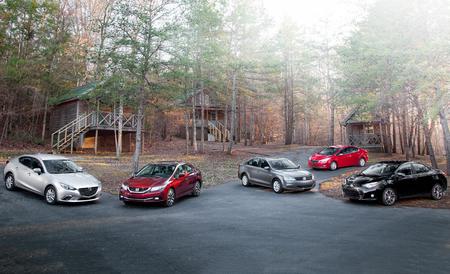 When driving through the streets of Bangladesh, it's important to have a vehicle that can handle whatever conditions come your way. While having a big truck might be ideal for those that have large loads to carry, the truth is that more people are going to be better off with a small car that can easily navigate through traffic with lots of other drivers on the road.
Finding the best car for you doesn't have to be a challenge. By looking at Bikroy cars, you can find a variety of different options that are perfect for you. With Bikroy.com, there are plenty of choices for both new and used cars, as well as cars for sale from a dealership and used cars for sale by owner.
In order to better help you decide what car is best for you, here are the 10 best small cars that will be perfect in Bangladesh.
Volkswagen Golf
The Volkswagen Golf is a great car for those that are looking for something that handles well and also gets great gas mileage. In addition, the Volkswagen Golf is a sporty looking car, and it will certainly have all of your friends envious of how great of a vehicle you have. When looking for used cars, the Golf is an excellent choice. It comes with a reputable manufacturer name and it'll certainly be something you'll be happy to have purchased.
Ford Fiesta
One thing is for certain when looking for second hand cars, and that's that you can't go wrong with a Ford Fiesta. The Fiesta is often highlighted for being a car that holds its resale value, while also being fuel efficient while on the road. This means that you'll save a lot of money while driving the Fiesta, but you can also expect to get a good price on it in the event that you decide to sell it again. Much like you did when making a purchase, selling your Fiesta on a used car website will allow of you to get a great return on a really wonderful car.
Chevrolet Cruze
The Chevrolet Cruze is a newer model car, but it's certainly one that is worth considering as a small car. For those that are looking for used cars for sale by owner, the Chevrolet Cruze comes with tons of inside space, which makes it ideal for those who have a lot of family members that need to be carried around. In addition, the Chevrolet Cruize drives very smoothly on the roads, which will come in handy when navigating through Bangladesh traffic.
Kia Forte
One of the biggest things that you should be looking for during your search is used car prices. One particular company of second hand cars that will be priced very well is the Kia Forte. Kia is a Korean company that is known for making small cars that are perfect in Asian markets. The Forte ranks very high with gas consumption, and it's also outfitted with tons of options that make for an even more enjoyable ride. If you love listening to music and hope to drive around a great car while doing so, the Kia Forte is an excellent option.
Honda Fit
Honda is another company that is known for making excellent small cars. When looking at the Honda Fit, you can expect to find used car prices that will be among the best deals for what you are getting. Not only does the Honda Fit come from a reputable brand, but that also means that you won't have to spend money on repairs. You can find a variety of different Honda models on used car websites, but the Fit is certainly one of the top options to consider.
Mazda 3
Another car that is popular on used car websites is the Mazda 3. Mazda has a few different options to choose from, but the 3 is one that is compact and light. It'll be ideal for getting great gas consumption, and Mazda is known for being a reputable company that makes outstanding vehicles. When looking at Bikroy cars online, finding a Mazda 3 is something that you should jump on if you are looking for a small and compact car.
Kia Soul
Another Kia to consider is the Kia Soul. When considering cars for sale, you can't go wrong with the Soul when you consider all that it offers. Like other Kia models, the Soul comes from a reputable brand that will last drivers for years if they take care of them. The Soul also has a great cash rating reputation, which should make you feel better if you are driving around your family in Bangladesh.
Chevrolet Sonic
The Chevrolet Sonic is another car that has only been in production for a few years, but it's already making a statement as one of the top options for small cars. Not only is the Chevrolet Sonic comfortable and compact, but it also comes with a host of other features that you'll be sure to love in a vehicle.
Honda Civic
The Honda Civic is one of the most reputable cars in the entire world. Whether you find a used Honda Civic that is 20 years old or something that is much newer, you can still expect it to run quite well. In addition, Honda's have very long lifespans and will likely last you for a very long time. Buying a car is a major investment. In order to make sure that it's not something that you have to do frequently, it's best to just buy a car that you know will run for a long time. With the Honda Civic, you certainly get that.
Toyota Corolla
Finally, the Toyota Corolla is rounds out the list of the 10 best small cars to choose from. And also we know that Toyota is the most popular brand among BD people. Like the Honda Civic, the Corolla is routinely praised for its long lifespan and durability when on the road. Whether you need a car that is great for going to work, or you want something that you can fit the entire family in, the Corolla is an excellent choice when looking for a used car for sale.