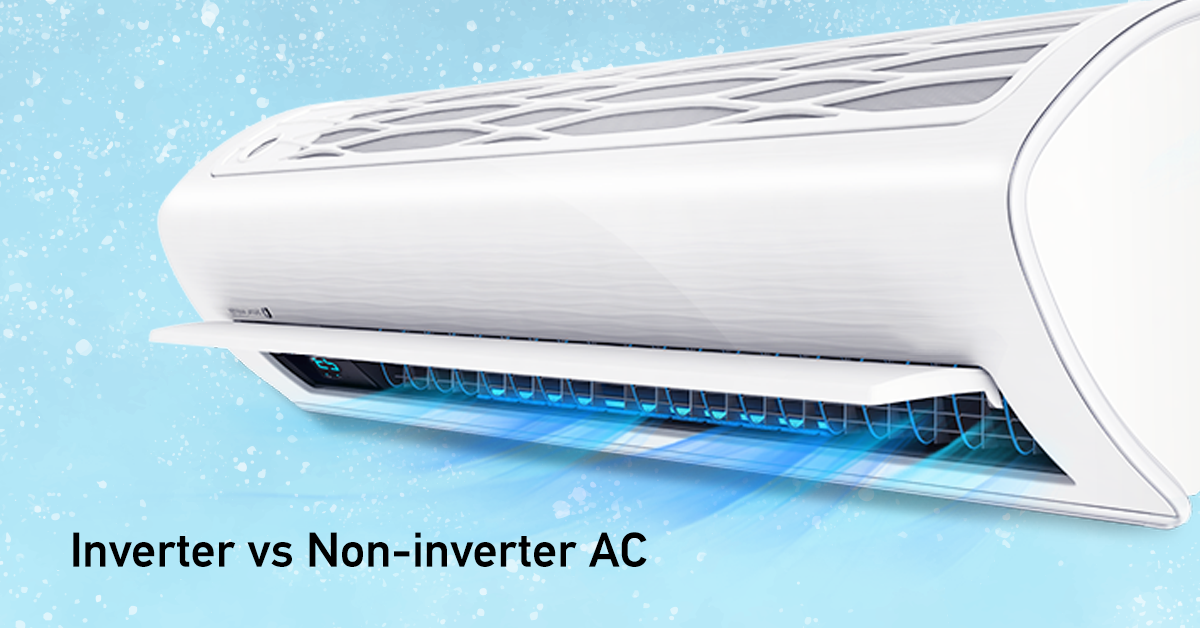 It's that hot part of summer and some days just seem to be unbearable. You open the windows hoping to let the breeze in, but when the weather app on your phone reads "feels like 45⁰C", you instantly know that there are no winds today to come to rescue you.
Maybe it's time to buy that new air conditioner you've been eyeing for a while now. On a day like this, that doesn't sound like such a bad idea. But before you grab your wallet and head down to the nearest electronics store, it might help to learn a thing or two about ACs to help you with your buying decision.
How an air conditioner works
The mechanism of an air conditioner is simpler than you might expect. In a nutshell, it takes in the air from a room, cools it by passing it through an evaporator, and blows it back into the room. A common misconception prevails that ACs take air from the outside unit, but in reality, they just work with the internal air.
Along with an evaporator, an AC also has a compressor to cool the gas in it, which in turn cools the incoming internal air from the room. AC compressors traditionally switch on or off automatically at intervals, or in ACs with new inverter technology, operate constantly at varying speeds. In both types, the compressor basically tries to maintain a steady temperature in the room.
Inverter or non-inverter?

With the advent of new technology, we often get improved systems in existing products. The new inverter ACs are becoming more popular lately, and the question arises as to whether or not they are generally better than the old-fashioned non-inverter ACs. Let's have a look.
A non-inverter AC has a compressor running at a fixed speed, which means the room will keep getting colder if the compressor is left turned on. The AC maintains the user's desired temperature by simply turning off the compressor when it's too cold, and then back on when it's too warm compared to the user's setting.
On the other hand, an inverter AC will have its compressor operating continuously, and instead of switching it off, it will gradually slow it down or speed it up to maintain the desired temperature. Evidently, inverter ACs can more accurately maintain a steady temperature and hence are far more comfortable for those sensitive to even the mildest fluctuations.
They also consume less electricity since they completely avoid having to switch on a powerful compressor every few minutes. Though it seems like an inverter is the best way to go, here is a full list of pros and cons for both types of ACs.
Inverter AC:
Advantages
Disadvantages

Slower cooling to save energy

Saves money on use due to less power consumption

Relatively expensive repair and maintenance

Expensive to buy than non-inverter ACs

Efficient cooling/heating

No voltage fluctuation caused by the compressor

Can be run on solar panels
Non-inverter ACs:
| | |
| --- | --- |
| Advantages | Disadvantages |
| More suitable for really hot climates | High power consumption and electric bill, making it expensive to use |
| | |
| | |
| Cheaper to buy than inverter ACs | |
Other things to consider
Aside from choosing between an inverter and non-inverter ACs, here are some other factors you might want to consider before buying:
Usage: If you're using the AC for more than 4–5 hours, which is likely given the scorching heat, then going for an inverter AC may be the best option. Even though the initial price of an inverter AC is high because it saves on power and is energy efficient, over a period of time you are spared from the huge electric bills.
Room Size: The basic function of an inverter AC is that it controls the compressor and the fan speed, hence controlling the capacity of an AC. So inverter AC will definitely be an add-on for average-sized rooms. However, since inverter ACs work inefficiently under extreme temperatures, a non-inverter AC may be more effective for bigger rooms.
Humidity: If you stay in an extremely humid area, inverter ACs won't really be as efficient as the salt in and around the AC will eventually damage its parts and you will be likely to have high repair charges.
What brand should I go for?
There is an abundant number of AC brands available in Bangladesh. Some brands that stand out include Walton, Gree, General, Sharp, Panasonic, Vision, Samsung, Haier, Hitachi, LG, and Carrier. Here's a brief look into some of these brands.
Walton
Searching for comfort in your office arena or home? Walton's innovative AC's comes into the market with new and updated technology. The new models reduce energy consumption and deliver faster cooling services along with a smart control system. In the next humid summer, you can have:
Walton 1.5 Ton WSI-INVERNA-18C Inverter Split AC

Walton 1.5 Ton WSI-RIVERINE (SUPERSAVER)-18C Inverter Split AC

Walton 2 Ton WSN-VENTURI 24B ​ 7034 Watts Non-Inverter Split AC

Walton 1 Ton WSI-VENTURI-12A Inverter Split AC

Walton 2 Ton WSN-RIVERINE-24BH Non-Inverter Split AC

Walton 1 Ton WSI-RIVERINE-12A Inverter Split AC
Gree
Gree has been around for quite some time, with a variety of ACs to offer. They are ideal for houses and homes. Their ton sizes also have a wide selection. Some notable mentions include:
Gree 1.5 Ton GSH-18UCV Inverter Air Conditioner

Gree 1.0 Ton GSH-12FV Inverter Air Conditioner

Gree 2 ton GSH-24VV Inverter AC

Gree 1.5 Ton Window Air Conditioner

Gree Cassette Type 5 Ton GS-60TW Air Conditioner
General
Most of us have seen a General window AC pretty much everywhere growing up. General now has a much wider selection. They are priced a little on the higher side but sometimes there are discounts available. From the General line, we hand-picked these models:
General 1 Ton ASGA12BMTA Air Conditioner Split AC

General 2.5 Ton Cassette Type Air Conditioner

General Window 1.5 Ton Air Conditioner

General 1 Ton ASH12USCCW Air Conditioner- Environmentally Friendly AC
Samsung
From mobile phones to refrigerators to washing machines to air conditioners, Samsung makes a wide range of products that make it one of the leading brands in the Bangladeshi market. Samsung ACs offer the same quality as its other appliances, with the added bonus of innovative designs. Our choices from the Samsung line include:
Samsung Inverter 2.0 Ton Air Conditioner- 8 poles digital inverter

Samsung 1.5 Ton AR18J Triangular Inverter Air Conditioner

Samsung AR12JC5ESLZNNA 1 Ton Split Air Conditioner- comes in a variety of colors and panel designs
Vision
Vision is a local brand jointly launched by Pran and RFL. The relatively new brand has quickly climbed to the spotlight in the national market. Vision has a range of electronics goods and their ACs are becoming more popular by the day. Here is a list we picked:
Vision AC 1.5 Ton – BXH H & C (3D Elite)

Vision AC Cassette Type 3.0 TR (C36K)

Vision AC 3.0 Ton – T36K (Ceiling)
Conclusion
Overall, for our country and its hot climate, a non-inverter AC would probably be a fast and effective cooler, but its high power consumption outweighs its pros significantly. If you're looking for relatively good cooling and also energy-saving, then an inverter AC is ideal for you.
Whatever you decide to go for, keep in mind the other determining aspects such as room size, expected running hours, and the budget you have set before making the final purchase. Bikroy.com has a large selection of ACS available in a host of brands from numerous sellers, some of whom offer discounts from time to time. So check it out and bring home the cool experience of an AC today!