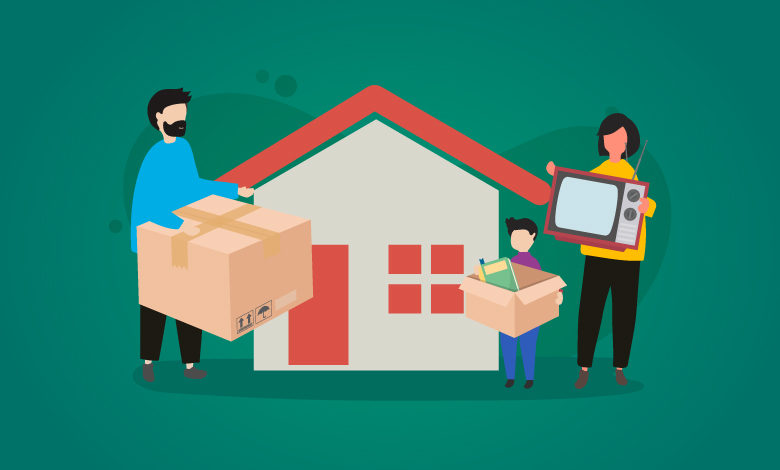 It's almost the end of the month and many people are thinking of moving. Relocating is a big change in life and by no means an easy one. If you've lived in your current home for a while, it may be difficult to leave behind memories and dreams attached to the place. It takes both physical and mental preparation to get through this process. But if done with the help of friends and family and with adequate time and care, moving to a new house may be easier for you. Today, we will discuss some tips on the planning required for this change.
Prepare a Checklist
First things first, make a list of all the things you need to do. Map out the process from start to finish. Having it in written form might help avoid missing something last minute, and will save you from having to remember every detail of the move. It will keep you on track with the progress of work as the day approaches.
Sell ​​Things You Don't Need
Regardless of whether you are renting or buying a new house, you need to decorate it. Decide what furniture goes into which room and how to arrange the common spaces. Getting new items to match the new home is much easier to do during the moving process, saving you the trouble of having to move in your old items only to get rid of them at some point later. So it's best to decide firsthand what you don't need in the new house, and sell them.
Valuables, Important Documents, and Fragile Items
Before moving large household items, keep your valuable possessions such as cash, jewelry, expensive gadgets, important documents like educational certificates, bank-insurance or land deed documents, medical prescriptions, or others separately in a safe place so you're not likely to lose them. Pack glass and other fragile items with bubble wrap in a separate box.
Arrange for Packing
Store large cartons, sturdy nylon rope, plastic bags, bubble wrappers, scotch tape for packing. Then box all the items except for the ones for daily use. Group items coming from the same room in the same box, or similar items together, and label them with names such as books, toys, cooking utensils, living room, etc. Put sharp objects such as knives and scissors safely into a large container to avoid injury while handling them. Fill up jars with liquid toiletries or products and seal the caps with scotch tape. You can wrap clothes in bedsheets to protect them from dust and wrinkles. Finally, take necessary things like toothpaste, toothbrush, soap, comb, and mobile charger in the box just before moving.
Notify Service Providers
Contact your internet, cable, and newspaper services at least 30 days before you move out, and give them your new address if required. If their coverage does not include the area that you are moving to, you may need to end the contract with them and look for other providers in the new area. By doing these well ahead of time, you can avoid being disconnected for sometime when you move in. If you have helpers working in your house that get paid on a monthly basis, let them know at least 1 month in advance.
Pay Special Attention to Electrical Appliances
Special attention should be given to electrical appliances such as fans, lights, air conditioners, TV, refrigerators, microwaves, washing machines, and gas stoves. It is challenging to move these things overnight. You can start emptying the fridge 2-3 days in advance. If there is any perishable food at home, it is better to cook them well before you move. It's best to have an empty fridge and temporarily switch to packed, canned, or takeout food during the moving process.
Clean Up the New and Old House
You definitely don't want to move into a house that is messy and dirty, especially during the COVID-19 crisis. That is why you need to ask the landlord or caretaker to clean your new home in advance, taking special care that the bathrooms and kitchen are not dirty in any way. It is best to have the house painted at least a week before the move so that the fresh paint does not cause breathing problems. When everything is set up in the new house, dust and clean frequently touched surfaces with a liquid disinfectant. Similarly, make sure that the house you are leaving behind is in good shape for the next tenants. If something is damaged, repair it and have the house cleaned.
Contact Pick-Up Van or Truck Rental
You need a pick-up van or truck to move your belongings. You can find the rental service by considering the distance of your new home from your current one, the number, and type of furniture, etc. However, bargain with the price and give them the new home address in advance and contact them again the day before you move. While giving instructions, talk to them with a smile, it is to the advantage of both parties.
Stick to the Timeline
As the saying goes, "A stitch in time saves nine". It is not possible to do time-consuming work like moving house overnight. So if you leave everything undone for the last day, the chances of making mistakes would be much higher. Again, you can miss many important things due to work pressure. If you know your neighbors, you should not leave without saying goodbye. Also, remember to pay all outstanding bills. If you share the workload with other members of the house and keep up with the checklist, everything can be done on time. It's wise to choose a weekend or holiday as your moving day, to give yourself plenty of flexibility and also to avoid traffic rush. Also if you move a few days earlier, you will have more time to set up your new home, and it will be a favor to your current homeowner as well.
Keep a Positive Attitude
Going to live in a new place and environment is a big change. Keep an open mind to help you adapt. If you don't already love the place, give it time. If you have children or teenagers in the house, understand that a change of location can be difficult and disruptive in their lives. Explain to them patiently why it is for the best, and reassure them that you will help them to stay in touch with their friends or playmates. All of this will help you to maintain a positive atmosphere in your new home.
Conclusion:
With the help and support of everyone in the family, the daunting process of moving can definitely be made easier. Hopefully, these tips will help you to relocate without much hassle.
We hope that you have a pleasant experience at your new home. Happy moving!