Mobiles
Best weather apps for Bangladesh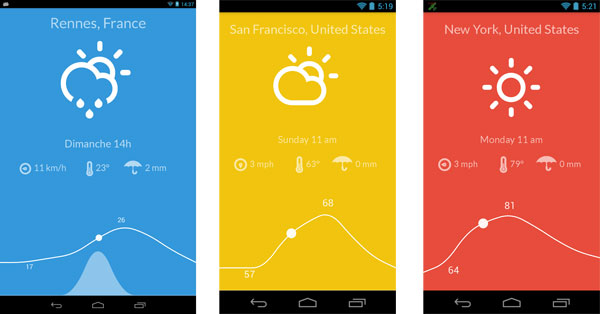 Bangladesh is known for having widely variable seasons of weather. From cool and dry, to hot and humid, to the intense cyclone seasons, something different can always happen. That's why it's important to know the most recent, accurate weather forecasts. And long gone is the time when only the news channels on t.v. could provide you with the knowledge you need. Now, there are a selection of quality weather apps for mobile phones. Here are the top 5 weather related mobile phones apps:
1. Bangladesh Weather App
This app focuses on Bangladesh specifically. You can see forecasts of up to 10 days of weather, including rainfall, speed of wind, and temperatures for different times of the day. Important flood alerts are displayed in this app, and the interactive nature means you can scroll to your particular area easily. This app includes every feature you need to be safe and happy in Bangladesh, and the developers focused on one particular area so they could focus the rest of their efforts on making your experience seamless.
2. BeWeather
Most apps are designed for iOS or Android. This app gives BlackBerry users something to be excited about. It uses GPS technology to find your precise location and customize your weather data. The 24-hour service includes forecasts of up to 7 days, and up-to-the-minute advisories keep you informed every second. Perhaps the best part of this app is that it is incredibly simple to use. The graphic design is made to allow you to focus on the weather, not on navigating your smart phone.
3. RadarScope
This no-nonsense app from Base Velocity gives you data to serve everyone from amateur to professional storm chasers. With a NEXRAD – Next Generation Radar – technology, you can know when the next storm is coming through, where lightning is, and even zoom in to find your relative area's weather conditions. Pinch to zoom and see up-to-the minute warnings about incoming monsoons or heavy rain spurts. Imagine knowing where to go in the event of an emergency before it strikes. Few apps boast software as technologically advanced as RadarScope. Tech lovers in Bangladesh will love this mobile app.
4. The Weather Channel
Sometimes, you need a simple interface that provides a lot of great weather data all in one place. That's what this mobile weather app provides. Available for Apple, Android, and BlackBerry, you can check all sorts of information, such as current UV index, the position of the sun, and even dedicate default areas to display on your map. In addition to the mobile app, you can sync your current location with The Weather Channel website in order to get your key information from anywhere.
5. AccuWeather
Long considered on the best weather apps in the industry, AccuWeather provides immense detail and a fun user design. The best part is that it's completely free. One on the user dashboard, you can see weather forecasts up to 15 days in advance. It even integrates with your calendars, so you can plan important meetings and lunches around the bad weather. Check statistics such as humidity, visibility, sunrise, sunset, pressure, dewpoint, UV level, wind speeds and more. With a zoomable display screen, you'll never struggle to find the weather information you need.
Residents of Bangladesh understand the intense change in seasons. Often times, you have little warning that a monsoon or heavy storm is beginning. That's why it's so important to stay informed with great technology. Use one or more of these great apps mentioned above to keep yourself happy, safe, and productive.