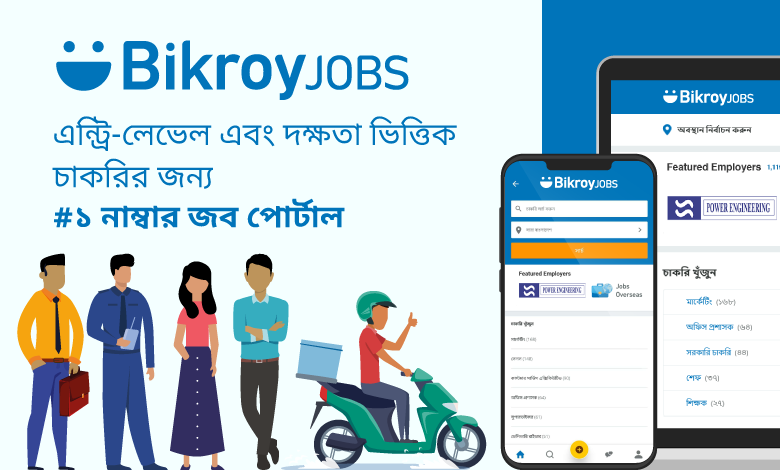 BikroyJOBS – #1 Job Portal for Entry-level and Skilled Jobs has acquired 100 reputable organizations through membership. Bikroy.com, the largest marketplace in Bangladesh has recently introduced BikroyJOBS with a new look. The upgraded BikroyJOBS portal will now make it much easier for employers to find qualified candidates for any position and job seekers to apply for any position.
BikroyJOBS basically acts as a communication medium between employers and job seekers and through this portal, employers can effortlessly find qualified people for the organization according to their expected skillsets. BikroyJOBS can be the best and most reliable platform especially for those looking for a skilled workforce in Bangladesh. On the other hand, BikroyJOBS is specially designed for part-time, entry-level, and young students.
Candidates can search by the job roles in BikroyJOBS and find their desired job. BikroyJOBS also provides a "Staffing Solutions" service – where after a jobs circular is published, they shortlist, interview, and complete many of such steps by themselves, and afterward, they share the potential candidates' list with the members. As a result, the work of the employers becomes much smoother.
On this occasion, Eshita Sharmin, Co-Managing Director of Bikroy.com said "Post-COVID has changed a lot in the job market. The emergence of new online-centric industries is creating job opportunities in various positions. Our platform has skill job offers for job seekers and we have 4,50,000+ monthly unique visitors and a solid 7,38,000+ CV database of applicants from where our valuable members can find their desired candidates. Besides, before onboarding any members, we always have a thorough background check and manually review their job ads ensuring the ad quality and authenticity."
Sharing his experience, one of the members of BikroyJOBS Jahidul Islam, Senior Manager of Sajeeb Group said, "We are really proud to be working with a platform like BikroyJOBS. Their support and service help us a lot. Many thanks to all the staff of BikroyJOBS and best wishes to BikroyJOBS for moving forward."
BikroyJOBS offers a curated search for recruitment purposes, whether the member is searching for the right talent or the potential candidates hunting for their dream job – BikroyJOBS is the ideal medium to connect, network, and promotes an individual's skillset and job offers.