Vehicles
Buying a Vehicle for Your Business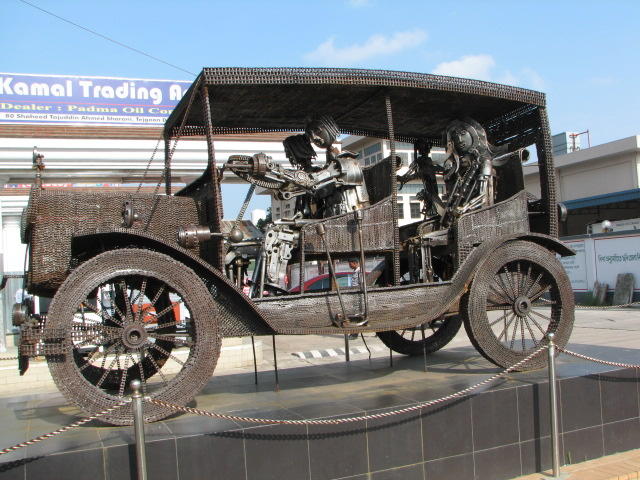 When it comes to investing in a company vehicle, the decision you make could have large implications on how your business runs. That is why it's very important that you buy a vehicle that will represent your company well, but also something that won't be a financial burden when it comes to gas or maintenance. When it comes to searching for a reliable vehicle for your company, you can rely on classifieds in Bangladesh. But before you start looking, here are some factors you should keep in mind.
What Size Vehicle?
The size vehicle that you are going to need is greatly going to depend on what you need it for. For example, if you are a company that has a lot of large supplies that need to be transported from your office to a destination, then you'll want to buy a large van or truck. Vans and trucks may be more of a financial investment when it comes to gas, but it'll often be the best choice to make for those that have large loads to carry.
Additionally, when looking at the size of the vehicle, you may also want to consider whether or not you are going to put advertisements on your vehicle. Many people put their company name, logo or a special design on their vehicle as a way to get a lot of advertising everywhere the person drives. However, there is going to be a large price variation between putting advertisements on a larger vehicle than a smaller one. It's not to say that it can't be done, and it'll certainly be a worthy investment either way, but it's certainly something to consider when buying a new vehicle for your business.
What Type of Gas Millage?
As mentioned previously, gas mileage should be something that you consider when buying a new car. And while you already know that larger vehicles are going to cost more at the pump, you should also consider the amount of driving that you'll be doing in your business vehicle. For example, if you are consistently driving and running long trips from city to city, then you'll want to find a car that is economical in terms of gas mileage. On the other hand, if you don't drive your business vehicle as frequently, then the cost of gas may not be as much of a factor. It's important that you consider both gas and distance when looking or cars, trucks, or vans for sale for your company.
Is It Right For The Road Conditions That You'll Be Driving On?
The roads in Bangladesh can vary greatly. In some places you could be driving on well-paved streets, while other places may be dirt roads filled with potholes. This is why it's very important that you consider these road conditions when you are purchasing a new vehicle. Larger vehicles will have an easier time getting on rougher roads, while smaller cars may be better for paved streets. So if you are driving to warehouses that are in remote locations, you may want to consider vans or trucks for sale, while city driving may be best with a car.
Running Condition
When it comes to business, every bit of money counts. That is why you don't want your business vehicle to become a financial drain. It's important that you get any potential vehicle checked out before you consider buying it. Consider finding a mechanic that you trust, so they can run some diagnostics on the vehicle to make sure it's in good running condition. If you can find a car that runs well and is operating as it should be, then you'll have far fewer headaches, and repair costs, in the future.
Longevity Of The Vehicle
Not only should the car be running well when you buy it, but you should also research to make sure that it will run for a long time. If your vehicle doesn't last and has limited longevity, then you will continually be needing to pay to have it repaired. This can take a serious cut out of your financial gains as a company, which can be disastrous. Instead, look for trucks and vans in Bangladesh that will last a long time and run well for years to come.
Comfort
If you spend a lot of time in your vehicle, then it only makes sense that you'll want it to be as comfortable as possible. After all, long trips of driving to business meetings or to meet new clients can start to hurt your back if you do not have a comfortable vehicle to drive in. Furthermore, if you are going to be driving with any of your clients, you'll also want to ensure that they are comfortable while in the car as well. Be sure that you consider the amount of time that you spend in the vehicle and who else you might have in it so that you can get a business car, van or truck that is comfortable to be in.
Aesthetic Appeal
It's not just about how the car looks and feels on the inside, but also how it appears on the outside as well. Potential clients and customers are going to be more willing to work with a business if the car that they drive is presentable. This represents a sign of passion and care that the owner has for their business, which often goes into the relationships that are built with customers. If your car is going to be used to impress clients, make sure you look in the classifieds in Bangladesh to find something that is in pristine condition. And even if your company vehicle is only seen very infrequently, you still want to ensure that it's presentable and represents your company properly.
Cost Of Vehicle
As you begin looking at vans and trucks for sale, you'll obviously want to consider the price. The total cost that you spend for a company vehicle should be represented by the type of business that you do, as well as the image that you want to uphold. Your vehicle should be a primary investment for your business, especially if you need it to run your operations properly. However, it's important that you avoid going into debt to buy a vehicle, especially if it isn't a good return on investment. Carefully determine how much to spend and what you can afford as you are looking at trucks and vans for sale.
Resale Value
The hope with any business is that, over time, it will grow and become more financially rewarding. Therefore, you may also want to consider what you may be able to get for it in terms of resale value. Vans in Bangladesh are typically always in high demand, so they resell quite well. In the event that your business expands and you need more vehicles, and you have the budget to pay for them, you may want to consider something new. Therefore, reselling your car in the classifieds in Bangladesh will be much easier if you have a car that is highly valued and sought after.
Finding the right company vehicle can be easy, as long as you consider the tips mentioned here. In doing so, you'll have a great running vehicle that will represent your business, look great and also get you where you need to be.