Girls just love to dress up. No matter what style you follow or create, it should always flow with the latest trend in the marketplace. If you are a fashion enthusiast and love to dress up like any other girl in Bangladesh, this article is for you. Because today we are going to talk about the cool latest trends in dresses for girls this season. We are also going to talk about various winter trends that are going to be the hottest winter attire in 2018 because winter is coming!
So, without further delay, the hottest fashion trends among the Bangladeshi girls in this season are described as follows-
Salwar Suits

The popularity of designer salwar suits is increasing among young ladies in Bangladesh. Most of these designer dresses are imported from Pakistan. The traditional essence of this type of dress makes it unique and accepted by all. From conservative religious minded people to style enthusiasts, no one can deny the elegance and beauty of traditional and trendy salwar suits.
These dresses are very comfortable, highly customizable and easier to stylize for all types of women. Pakistani designers use very soft and light fabric for making these dresses, hence they are very comfortable and these can be sewed in many stylish designs as well. Today girls like to wear something festive within their comfort zone and designer trendy salwar suits can rock any festive occasion, even more than sarees sometimes. And if you are worried about which jewellery to pair with your brand new dress, just check out Top 5 Popular Jewellery Trends for Girls in Bangladesh.
Sarees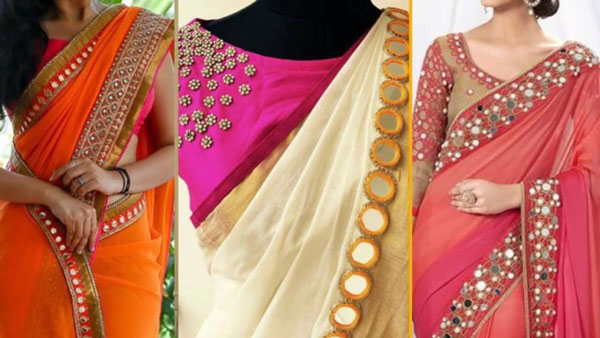 Fringe, frills, feathers and yes ruffles! Sarees are no longer a singular form of traditional look only! Now you can wear sarees in almost every festive occasion. Because today's sarees are highly customizable and delicate details are added in them to add that extra touch of glamour and sense of fashion.
Also, the material choice for sarees has changed a lot in recent years. Girls are leaning more towards light-weight and thin fabrics, that are easier to carry and looks more fashionable. Silk, half silk, organza, muslin, high quality georgette, satin etc are the prime choices of girls now in Bangladesh. Matched with a gorgeous blouse piece, these sarees can outshine any other attire in a festive gathering.
Capes and Shrugs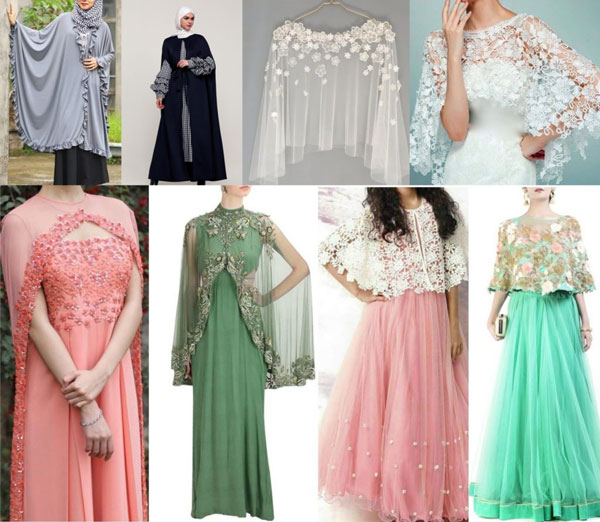 Whether you are religious minded and want to cover up more gracefully, or you're just cozy in your attire and add some extra bit of layer to it, capes and shrugs have been on the top list of fashion clothing in the recent years in Bangladesh. Extremely light-weight, thin and airy in texture, these beautiful pieces are used to accessorize many different types of clothing such as jeans, lehenga, kurti, burkha, abaya etc.
To wear with different types of clothing and not trapping too much heat within our body, the fabric in these capes and shrugs have to be extremely light and airy. Light-weight georgette, chiffon, net, jersey, silk, velvet etc are the most popular fabrics for these nowadays. These are designed in such varieties of ways that you can either choose to enhance the beauty of your stylish gown or dress while maintaining your modesty by completely not showing all your skin. Also, you can choose to wear it on top of other clothing or burqas to cover up yourself properly, while also doing it with style and comfort. Whatever you feel like to wear, just pick the right type of cape or shrug to make a statement with added elegance.
Denim Clothing

Now that winter is right around the corner, the popularity of denim wear is rising by the day among Bangladeshi girls. Although jeans are one of the most popular pieces of clothing all over the world, these are not the only denim clothing option anymore! Many designers have designed special stitched shirts, skirts, overalls, fashionable bags, chokers, headbands, hats, boots and many more out of denim fabric.
Clothing of the original denim fabric is suitable for winter wear in Bangladesh. There are also many varieties of denim that are comfortable to wear in other seasons as well. Denim clothing can be paired with varieties of other dresses, both deshi and western. Moreover, it is a trend that only changes with time a little, but the craze of denim clothing are timeless!
Cigarette Pants

Strangely, cigarette pants have made their way back into our wardrobes once again within a very short time. Wide, designer and elegant palazzos still haven't lost their appeal in the hearts of Bangladeshi women, because of their versatility and the freedom of matching them with almost any kind of tops, dresses, shirts etc., no matter the length! Cigarette pants are more suited with mid to long length kurtas, tops and some sort of loose-fit shirts as well.
These can be made from almost any fabric material available in the marketplace. But the most popular varieties of cigarette pants include chiffon work, lace and embroidery work in the calf and ankle zones.
Winter wear for girls this season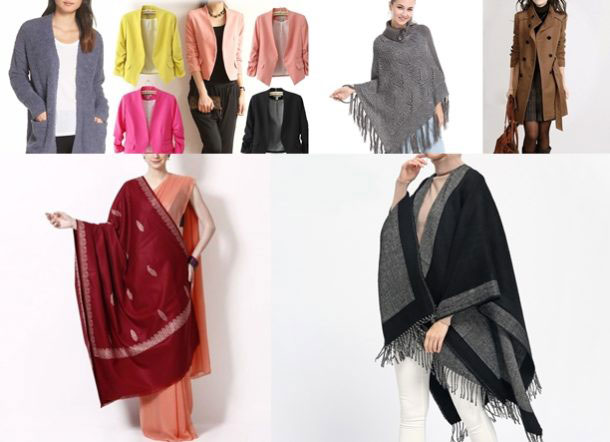 Winter was and always will be the season of style and fashion in Bangladesh. For us girls, it is a season when we can playfully come out from our traditional boundary in clothing, but don't necessarily have to compromise with our modesty. Winter wear this season is going to all about large comfy and warm blazers, jackets, large woolen cardigans, varieties of ponchos, heavy shrugs, capes etc. And yes, you can also wear your traditional party outfits, matched with colorful shawls, such as – Kashmiri, monochromatic woolen, khadi, pashmina shawls etc.
Conclusion
Fashion is ever changing! You can never catch up with the world if you fail to catch up with the latest trends in time. Many trends might be out of your comfort zone pretty often, but it doesn't hurt to try something new every once in a while. Sometimes a little change can bring greater joy into your lives, that most fail to embrace because of doubts and fears. So, go ahead, push yourselves to your limits! Try on something new today and you might find the style of a lifetime along the way. Buy exclusive fashion wear in our online marketplace Bikroy.com. Browse through hundreds of listings from our trusted members and from leading fashion brands. Wear your dreams this winter. Happy shopping!