Home & Living
What to Look Out For When Buying Used Home Appliances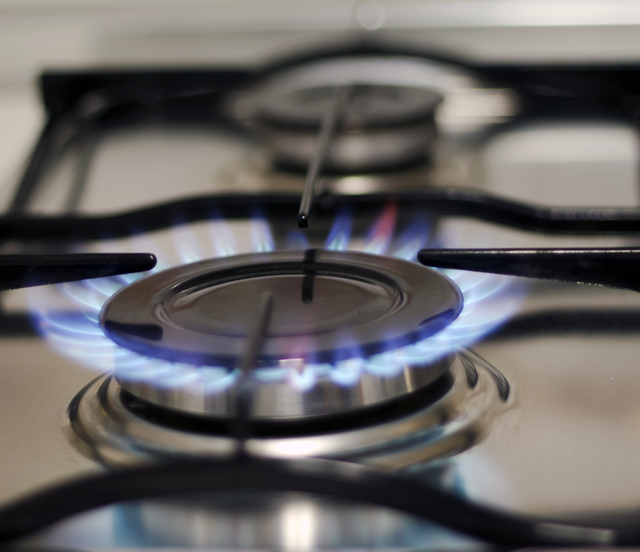 When decorating or upgrading your home, the cost of new furniture, curtains, home appliances, and paint can quickly add up. However, if you're willing to do some research before you purchase them, used home appliances are an excellent way to save money while still getting an next-to-new product. Since used home appliances deal in one way or another with food–either in storage or preparation–you need to examine all of your potential purchases for cleanliness and working parts. Here's how to find the best second-hand home appliances.
Microwave Ovens
A new microwave can be costly, so a used one is an attractive option for someone who needs to replace an older one or would like to upgrade to a different finish. Good used microwave ovens are usually easy to find, as people are always redecorating and discarding their old, but still working microwaves. When purchasing second-hand used appliances, ask if you can plug it in to make sure that it is still working.
Be sure that the keypad, interior light, and turntable all function properly. Some older microwaves can be found at a bargain price, but these models might not have the newer features that you want.
If one of the major elements of the microwave does not work, reconsider your purchase even if the seller is offering the microwave at a bargain price. Repair work can quickly eat into your budget, and some repairs are as costly as just purchasing a new unit.
Refrigerator
Purchasing a new refrigerator is one of the largest investments that you will make for your kitchen, so you want to make sure you spend your money wisely. Before you do anything else, measure the space (including the height, the depth and width) that your refrigerator will occupy. These home appliances come in many shapes, and you do not want to purchase something that will require you to move cabinetry to install.
If possible, consider purchasing a one that was built within the last ten years. Not only are these more energy-efficient, they have modern touches like ice dispensers, water dispensers, and movable shelving. Best of all, it is easier to find replacement parts for the newer models.
Before purchasing, ask the seller if you can plug in the appliance to see if it works. Refrigerators take about 24 hours to adjust to a new temperature, so come back in a day to check the coolness. If it has not cooled down in a day, skip that purchase and keep looking. You'll also want to make sure the ice maker (if one is included) works: ice should not become jammed, the maker should produce ice only when there is space, and the ice remain in cubes. If you find that there is a frozen clump of ice inside the ice maker, consider the cost of repairs as the freezer should not be thawing and re-freezing the ice that it produces.
Water Purifiers
In order to be effective, water purifiers must be able to filter out unwanted chemicals, dirt, and contaminants. Creating clean water requires the use of a replaceable filter; this filter must be changed often to keep the quality of water high.
When purchasing a used water purifier, consider the age. The water filtration system in older purifiers can break down with age which, in turn, prevents it from doing its job correctly. Purchasing a new purifier means that you are more likely to find replacement filters easily and cheaply, thereby guaranteeing that the water you filter through will be clean and free of contaminants.
If the purifier is plastic, check for cracks or loose places. You should also pass on deeply stained purifiers as the stains may transfer into your own water depending on what caused them originally.
More than the other used products mentioned here, a water purifier is directly responsible for protecting you from sickness and contamination. Use caution when purchasing a used one, as it may be the difference between clean, drinkable water and dirty water that could send your family to the doctor's office.
Kitchenware
Used kitchenware is a great way to add to your existing collection or start fresh. When purchasing a new set of dishes, examine the pieces carefully. Look for cracks or chips that would indicate a brittle material. If the sets are deeply stained, consider passing on them. Some stains can be removed, but it is very difficult to remove years of food stains.
Consider how important it is to have a matching set of eight or ten place settings. Used kitchenware is likely to have a reduced amount of plates and cups as they are easy to break. If you cannot find an affordable full set of matching dinnerware, consider purchasing coordinating place settings in a similar color or pattern. White china or porcelain sets look beautiful together even if the settings are not identical.
When looking at a set of dishes, ask the seller if he or she has any other coordinating pieces like serving forks or spoons, sugar dish, creamer dispenser, dessert plates, or coffee cups. Some patterns are extensive and have many more items than just dinner plates and bowls.
Other Things to Consider
No matter which second-hand home appliances you're considering, never spend more than half of the cost of your product on repairs. If you anticipate repairs costing more than that, skip the purchase and find another used product in better condition.
You should also consult the reviews on home improvement stores and Amazon.com before making your purchase. That bargain you're getting on a new freezer might be a bargain when you discover that the model was discontinued only a few months after it was released due to its poor cooling ability.
Other than in extreme cases, do not be scared off by a little dirt or dust. Most appliances can be cleaned with bleach or anti-bacterial soap to ensure that it has years of service still left.