Property
Why You Need to Find A Home Close to Your Workplace in Dhaka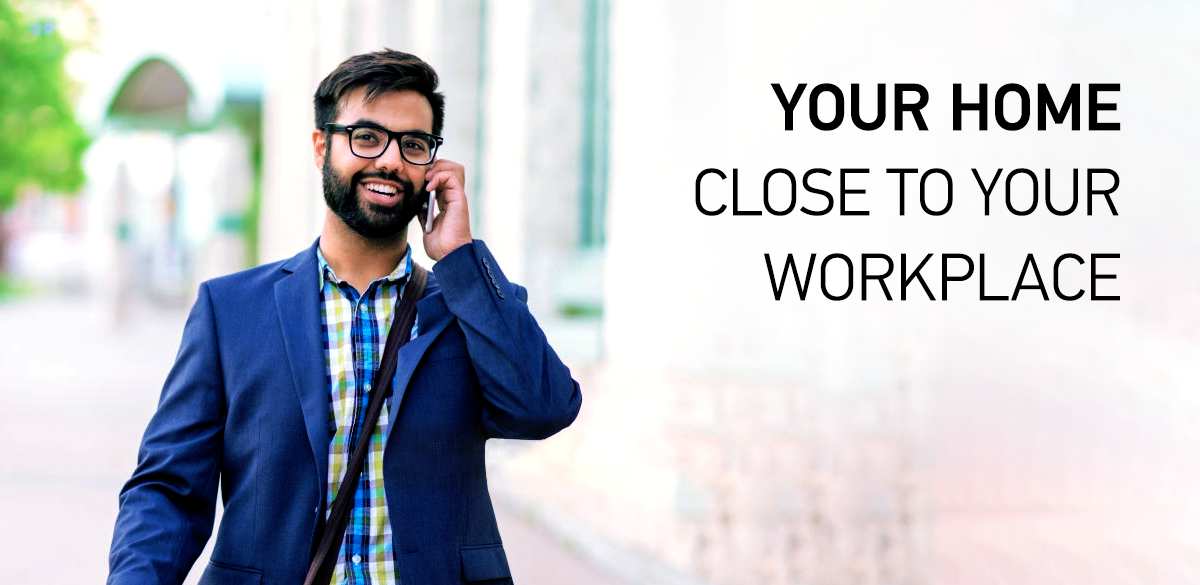 If you take the time to think about how long your workday is, you might feel a bit overwhelmed sometimes. Counting the hours from the minute you sit down at your desk is not the proper way to measure it. To be honest, your workday really starts from the second you leave your home and lasts until you crawl back home after a lot of hustle in the streets. Yes, you might only spend eight to nine hours in your office, but considering the fact that you are living in a busy mega city like Dhaka, how long does that stretch out to be?
According to a report by the World Bank, the average traffic speed in Dhaka has dropped from 21 kilometers per hour (kmph) to 7 kmph in the last 10 years. Also by 2035, this speed might drop to 4kmph, which is slower than the average walking speed! Every day, people of Dhaka city spend almost 3 to 4 hours in their commute between homes and workplaces. Which leads to 20 hours a week for those with 5 working days and 1 whole day in a week for those with 6 working days. Feels like working 7 days a week, which is pretty exhausting!
When it comes to finding a place to live, you need to keep a lot of things in your mind and yes, the location of your working place is a very important matter in this. Living in the mega city Dhaka in an overpopulated developing country like Bangladesh, people here suffer a lot from terrible road conditions and poor traffic system. So there are more advantages to living near your workplace than the few disadvantages along the way. Alo you can get some help from here: New in Dhaka? Find Suitable Home for Rent or Buy in Dhaka.
Let's have a look at the bright side of having a home near your workplace: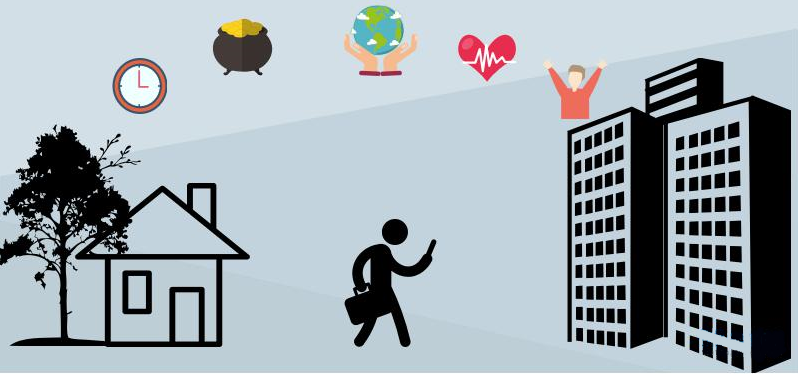 1. Saving Money
Transportation cost in Dhaka is dramatically rising every year, though the quality of public transports is poor as ever. If we consider the auto rickshaws, taxi cabs and ride-sharing services, the more time you spend in the exhausting and never-ending traffic jams, the bill gets higher every minute.
By the end of a month, most of the job holders in Dhaka city run out of cash flow, because almost one third of their basic salary is spent on transportation cost. This is true for those with personal transportation as well, as fuel price is super high. Think about how much money you need to spend on fuel each month. So, if you choose to live near your workplace, you can surely save a lot of fuel or transport money.
2. Saving Time
As we have already mentioned, the time we spend on streets of Dhaka kills a great amount of time in a day, especially in the peak hours. As a result, our workday stretches out to up to 150% in time and thus we lose valuable time from our lives.
Living in a home that is close to your workplace can save a great deal of your time in a day and you can spend those hours in healthy habits and family bonding. As your workday shorten, you feel less exhausted and can get enough time for that much-needed rest that you always crave for.
3. Reduced Stress and Increased Productivity
Your commute affects your mental health to a great deal, especially if you live in a megacity like Dhaka. Transportation in this city are extremely stressful, exhausting and can ruin your day right from the start. This affects your productivity at work as well, as you are already exhausted from the long harsh journey to your office.
If you choose to live near your workplace, then you can free yourself from such stressful mornings and you are in a better mood when you get to work. Thus, you are more likely to think clearly and be productive and energetic throughout the day.
4. Improved Personal Health and Minimized Pollution
Besides the bonus stress reduction, getting more time for yourself means that you can get enough time to sleep, exercise, and make healthy choices for your life. You can walk to your workplace or ride a bicycle, which can help you stay fit and healthy and cover up the long hours you need to spend sitting on a desk. Your overall health can be improved because of just changing your address. This is a huge benefit that you can get beyond your career, it can benefit your entire lifestyle.
Also, by using lesser public transportation and vehicles, you can contribute a little towards the mother nature as well. The less time you spend riding those vehicles, the lesser pollution you create.
5. Becoming More Reliable as an Employee
When it is easier for you to get to work everyday, it gets easier for you to get there 'on time'. You can be regular at work, without feeling exhausted or hot-headed from the drastic traffic along the way. There will be fewer late entries and missing outs, fewer absences, resulting in happier bosses.
This also means that you can get more chances to shine brightly among all the employees and get to work on important tasks and projects. You can spend more time at office in case of tight deadlines, without having to worry about getting home late. This might not be the favorite part of living close to the workplace for everyone out there, but this is the way of climbing towards the top and you can get promoted faster by being more available.
6. Improved Relationships in both Workplace and Home
When you don't have to lose more than half of your day at work and on the streets, you get more time to work on your relationships and spend quality time with your family and friends. When you get to spend more time together, you have more chances to be there for your family and friends an their times of need. Also in case of romantic relationships, getting those extra few hours for your personal life can mean a great deal, when you are planning to raise a family with your loved one.
Also, your relationships in the workplace is also improved, as you tend to be available more. If you are single and focusing on building a solid career, you should spend your extra time bonding with colleagues and superiors. You can turn into everyone's favorite at the office in no time.
7. Improved Work Life Balance
When you live very close to your workplace, you can easily take your lunch breaks at home and check on your family and kids. It also becomes more feasible to pick up your kids from school or to take them to extracurriculars. In this way, you can be productive at both offices and at home simultaneously and achieve that sheer balance in your life. You don't need to make hard choices when your home is just minutes away from your workplace.
You can also talk to your boss and work from home sometimes, he won't mind because you can still be available to join any special meeting or calls in a short notice. Thus you can enjoy the experience of working in your comfort zone and take better care of yourself as well.
8. Lesser Chance of Accidents
Accidents have become a daily affair in Bangladesh. In Dhaka, this problem is even more severe because most of the drivers lack proper driving skills and overtaking is their common habit. People who use public transportation, personal motorbikes or ride-sharing services are prone to accidents more than the ones who have transportation of their own. So, it is quite obvious that if you spend lesser time on the road, especially in the peak hours, the lesser is your chance of having accidents and fatal mishaps.
Now let's take a quick look at the facts that can trouble you if you choose to live near your workplace:
1) You get no excuses. You will always be expected to be at work, regardless of the weather,.minor sicknesses or even technical failures.
2) You become the chosen one, in almost everything! Living close to your workplace will likely increase the odds that you will be asked, or expected to do something after hours, even on weekends.
3) You'll be tired of doing unwanted favours. Your colleagues or even boss might want you to ask you for little favours, as you have better idea around the area. You might also be asked to bring stuff into the office from home, which is super annoying!
4) Your world gets smaller. A short commute means that you will be shrinking the size of your world. If the trip from home to work is too short, you might miss out on good travelling and shopping experiences or beautiful places to hang out after work.
5) You'll get bored with the same routine. Even though it will take you only a few minutes to reach your office or home, it will become old and monotonous shortly. You don't get enough chance to change routes and taking detours. Also, there is a good chance that you will want to trim that commute down from 15 minutes to 5. When we get used to having everything near our reach, we lose perspective quickly.
6) You might not like to mix up personal and professional life together. Living too close to work can affect your social life, as there is a huge chance of colleagues running into you quite often while you need some separate time with your loved ones.
7) A job is not forever! Nothing is permanent. But choosing a place to live near your workplace is a big commitment. It's basically an acknowledgment that you are willing to continue this job for as long as possible. This could work for you or against you, depending on your employer.
Conclusion
Well, we hope that we could clear up a lot of confusions and questions regarding this matter today. You might already be thinking that it's easy to talk about shortening your daily commute, but it's harder to actually make it happen! We suggest that instead of figuring out how to find a good home closer to you workplacehave a look on How to Find an Apartment to Rent Near You in Bangladesh and how to find a good job nearby.
20 to 24 hours a week is a huge amount of time, and you lose that much time every week, causing you stress and trouble every working day for hours and, if time is money, commuting is the stress that definitely doesn't pay! So hit that snooze button in the morning, go home for lunch, and find a place to live just near enough to your workplace, so that it doesn't cost you everything else. Browse Bikroy.com/Property and find the perfect place near your workplace today!