Property
Rented Flat Decoration | 4 Things to Keep in Mind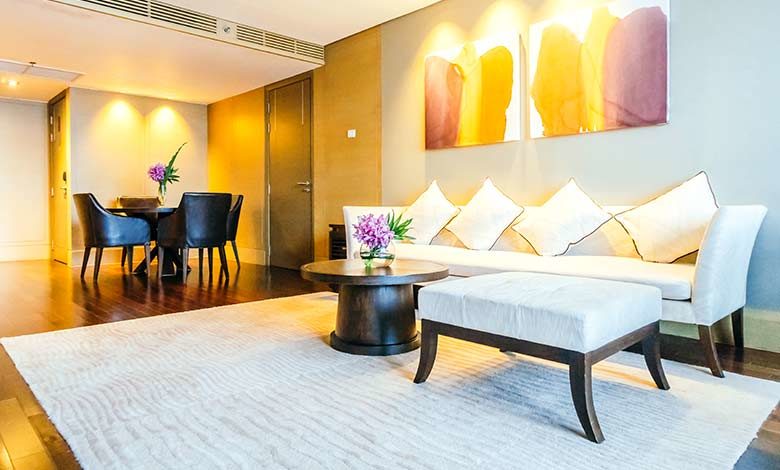 Home is our favorite place to regain some peace of mind after a long tiring day. This is the place where we rejuvenate and prepare for the next day. Many families have to rent a house away from their roots for job, business, or children's educational purposes. But how comfortable is it to live in a house owned by someone else with so many rules and restrictions? The landlord-tenant dispute is a never-ending one since there is constant conflict over the rented flat decoration. But if the house is not decorated as you please, it is not suitable for living. Let's see how you can decor a rented house!
Amazing Tips on Rented Flat Decoration
A house needs customization by the people living in. If the house is not well-decorated, it will look like a prison especially in a metropolitan like Dhaka. There is a different kind of satisfaction in decorating a rented house according to one's own personality. Today we are going to share some tips on decorating a rented house, which will save you from conflict with the landlord. There are 4 things to consider when arranging a rental home. They are discussed in detail below:
1. Arrange a Proper Light-Shadow
Nowadays flats are built so close that the natural light and air circulation are obstructed. In such a dark room we always have to rely on that electric bulb. And if you can manage a good home within your budget, consider the lighting system.
You will not get an aesthetic vibe just by installing tube lights in the whole house. You can instantly uplift the environment of the house just by arranging a light and shadow play here and there. Moreover, indoor lighting needs both bright light and dim light. Because when you are working on something, you need bright light. And if you want to relax, you will feel better in the dim light. Again, placing different lamp shades in the house will represent your tasteful personality. The play of light and shadow by table lamps, floor lamps, and fairy lights will definitely boost up your energy. You can find beautiful lampshades in home decor outlets and if you want to grab something in your budget, you can browse Dhaka New Market. Moreover, if you want a combination of innovation and modernity as per the local style, you can visit the local fashion houses.
2. Bring Out The Nobility Through Furnishing
It is very important to pay close attention to soft furnishings while decorating a rented house. Instead of monotonous boring traditional furniture, you can easily change the look of your home with soft furnishings. Window curtains or chicks, bed covers, table runners, sofa-bed cushion covers, etc. will add to the beauty of the house according to your preferences and tastes. And the use of Satranji on the floor will serve as a link between tradition and modernity. Curtain holders can be used to enhance the beauty of curtains on windows and doors, which will give your room a touch of nobility. If you prefer very simple furnishing then you might use one color curtains in the whole flat. And if you like a colorful environment, you can make a simple room colorful in an instant by using colorful printed curtains all over the house or one-color curtains in each room.
3. Freshness In Indoor Plants
Nowadays, people have become very isolated living in a closed urban environment. Placing small greenery in one corner of the house will bring back a positive mood. You can also make your own veranda or balcony garden with indoor plants. You can cultivate different flowering plants and some vegetables that grow in tubs. If you take care of the tree in the morning and afternoon, it'll help to calm your mind. And if you are looking for trees that need little care then you can easily choose Erica Palm, Snake Plant, Inch Plant, Money Plant, etc. A piece of green in the corner will bring a touch of serenity to your home. It is also worth mentioning that the snake plant absorbs 10% more carbon dioxide than any other plant. So we cannot stress how beneficial these plants are for well-being.
4. Walls Will Speak of The Mind
The most common hassle with your landlord is when it comes to decorating your rental home. Many homeowners do not like nailing on the wall. So what can I do with wall decoration? Empty walls look quite plain! In that case, you can decorate your walls without nailing them to the wall. Here are some ways you can follow-
There are many beautiful wall stickers available in the market now. You can make the wall quite attractive by attaching wall stickers of any size – small, medium, large as per your choice for decorating the rented house.

Another way to decorate a wall is to have different sizes of standing shelves so that you can decorate different show-pieces, family photo frames, and plants. You will see the decoration of the house will increase many times! In addition, the shelves are smaller in length and larger in width, you can also arrange different wall mats leaning against the wall.

If there is a mirror on the wall, the house looks bigger. The mirror does not necessarily have to be hanging on the wall. If you put a very simple large mirror against the wall, it will be quite gorgeous! However, if you have to nail it to the wall or if you want to make some other changes or go for some interior design, let the landlord know. And if you want to live in the

popular residential areas of Dhaka

, you can see that there are a few more rules and regulations in renting a house. If the rented house is decorated through mutual understanding, it is not that difficult!
Conclusion
Life is all about adaptation. We have to find all the happiness within our means. Hopefully, we have been able to give solutions to some of the problems with renting a house through this article. However, at the end of the day, everyone wants to have a permanent address of their own. Whether it is a house or a small apartment. Are you thinking of a new rental home or your own permanent address? Then browse to Bikroy.com, which will help you with various property information including flat rent and sale.