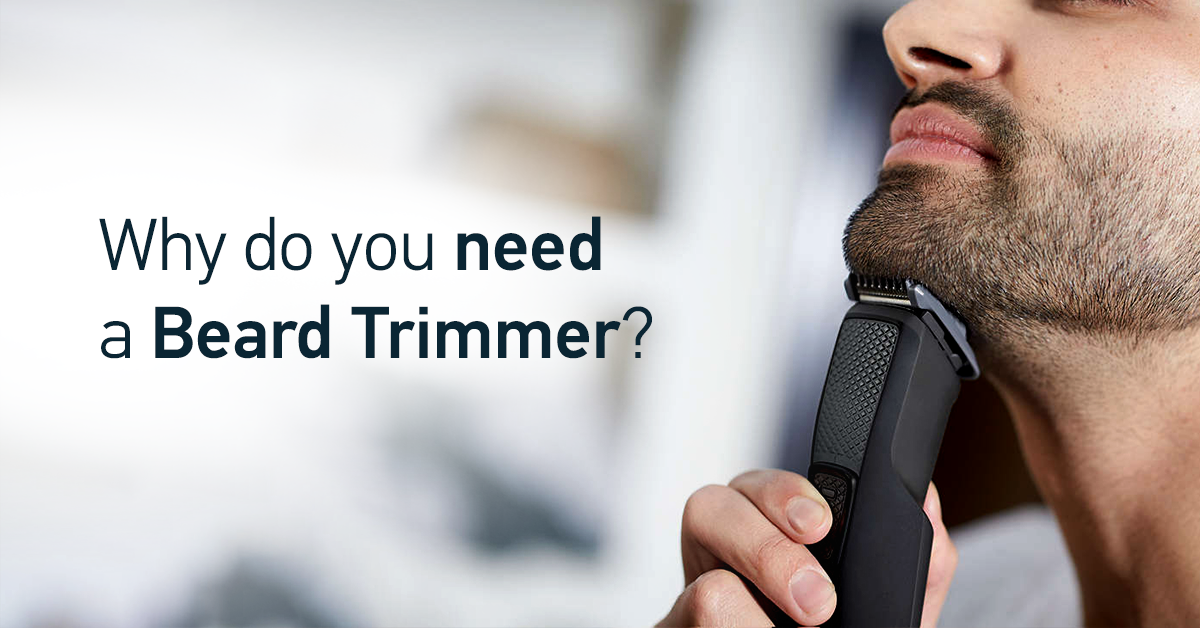 While many of us have different reasons for it, all men have some sort of a connection to a beard. For some of us it makes us a look a bit wiser, for some it highlights rugged good looks, for some it is to appear a bit older, for some it is sacred as a style or as a religious obligation.
But all men alike, we love our beards and it is all desired by the ladies!
Why you need a beard trimmer
As a first timer, you might have just started growing your beard but you must already be planning on styling it. While the traditional tools of razors and scissors are enough, times have changed and we like to have more control rather than sit in front of a barber.
As soon as you get easy to use a tool such as a beard trimmer, you are ready to try out different styles on yourself. Not only are you saving on the regular costs of the saloon, but you also are able to give yourself the personalized care your specific look needs!
But before you are a pro at using a beard trimmer, you are more than capable of keeping yourself well-groomed using a good quality beard trimmer.
Factors to consider before buying a beard trimmer
You can easily buy a beard trimmer for any local store but choosing the right one requires some thought. Don't invest money on just any trimmer, get the best beard trimmer for your needs!
Choosing the best trimmer is not very easy and can be very tricky. There are too many products out there with too many features and finding the best one is difficult. Some of the main things you must consider are performance, durability and comfort.
Recognize the need for a beard trimmer
Before you go to a store or online marketplace and pick one up, you must recognize your needs. You know that you need a trimmer, but you must be able to get more specific to define your requirements to yourself. There are many different types of trimmers, shavers, clippers, etc. in the market. You need to learn the differences between the many kinds of trimmers and other haircare electronics and then make a choice.
For beginners, hair clippers are used mainly for clipping hair and maybe even for trimming long beards. Beard trimmers are much smaller in blade size for shorter & finer hair for your facial hair. There are specific mustache trimmers for even smaller & finer hair. Then there are nose hair & ear hair trimmers, as well as body hair trimmers for girls & boys. Then there are also electronic shavers which are used for dry shaving. All these different types of haircare electronics are widely available in popular online marketplaces such as Bikroy.com.
Now given that you have so many options, you must now recognize what you need. If you are just growing a beard then you can use a standard beard trimmer. You will be able to get a great stubble beard with your beard trimmer effortlessly. But if you have a longer beard then you will need a heavier tool like a beard or hair clipper.
If you are a hair clipper owner and you think you don't need a beard trimmer then think again! A beard trimmer is specifically designed for giving you the perfectly groomed beard so there is no other alternatives. You must understand that all these different types of trimmers are designed to serve different particular purposes.
Let your beard length define your look
With a beard trimmer, you will be able to define your look to your exact requirements. If you want a slight stubble like a 5 o'clock shadow, then you can get that extremely low natural trim using a beard trimmer on a setting of 0.3 – 0.5 mm. So, choose a beard trimmer that is able to offer that short facial hair length. Normally, this length can be done without a guide comb, but you can use different guide combs for slightly longer lengths as well.
If you are going for a moderately long beard then you will need a beard trimmer with length adjustable guide combs. Most beard trimmers come with guide combs ranging between 2 mm to 5 mm in length and can go as high of up to 10 to 16 mm in length for medium to long beards.
Know about the blades in your trimmer
Most beard trimmers from good brands offer optimum quality blades which can last a lifetime. But for most others, there is the next convenient option of detachable blades while lets you change the blades for cleaning or replacement. Many beard trimmers also have the feature of replaceable blades for beard, mustache and hair. While some also have a separate clip on blade for nose and ear hair. You must know about the blades on your chosen beard trimmer.
There are trimmers that come with interchangeable guide combs and other accessories for getting various length trimming for your facial hair like beard and mustache. The guide combs are easy to take off for cleaning and they are able to cut through thick hair also. There are others where the guide is non-removable and are controlled by a lever or zoom wheel. The lever or wheel lets you change the length settings but they are sometimes difficult to clean and may jam easily when cutting thick hair.
It is also important to consider the durability of the blades and any higher technology used by the manufacturer like Self-Sharpening Blade technology. You must maintain your trimmer with lubrication such as oil, etc. But new high-quality brand beard trimmers use self-sharpening blade technology where the blades rub gently against each other to sharpen themselves. Also, better quality materials such as stainless steel or titanium coated blades are best for precision cutting and offer longer lifetime.
Cordless or corded: which is better
After comfort & convenience, one of the most vital decisions is whether to choose a cordless or corded beard trimmer.
The answer is quite simple… cordless is the way to go for the best trimmers!
But it does not mean that corded is a bad option. Cordless gives you more freedom for trimming your beard. It is easier to move around without a wire and safe around the bathroom or even any place like your bedroom or outdoors. It is a common misconception that battery powered cordless beard trimmers are less powerful than corded or wired ones. Best quality trimmers are not any less powerful whether they are corded or cordless.
Also, in most new models of cordless beard trimmers, there is the option of using it as a corded trimmer as well. So while you enjoy the freedom of its rechargeable battery, you can also use it by plugging in when needed.
Trimmer for Girls
While the product quality and performance is not any different to distinguish between trimmers for girls or boys, or men & women. There is a difference in the use of trimmers for girls or women. Regardless, the best trimmers for girls or boys both fall under these same requirements but are distinctive in their use. Specially designed trimmers for girls are made for thinner hair and are shaped with flexible curves to assist in their usage. As for the other features we have discussed, trimmers for girls are not any different to that of trimmers for boys.
What to Look For in a Good Beard Trimmer
There are many features in a beard trimmer but here are a few which are our favorites:
Cordless usage for flexibility

Good battery backup for maximum runtime during cordless usage

Plugged in usability: many cordless trimmers are also usable while plugged in

Waterproof for safe usage in the bathroom and easy cleaning

Removable or replaceable battery for maintenance

Various length settings for maximum styling options
These are features which will make your experience with a beard trimmer satisfied and are recommended features by us for premium trimmers for men & women. While there are many renowned companies in Bangladesh, shop from a reliable online vendor such as Bikroy.com to get the best quality trimmers which are original brand name products rather than cheap, fake versions.
Conclusion
A beard is the symbol of masculinity for men, as it has been for centuries ago in history and it is also a trend in the modern days today. While many keep it as a symbol of masculinity, many flaunt a good thick beard for its look, many grow it as a religious activity, but regardless of the reason, it must always be kept well groomed, neat & clean.
A good quality trimmer is a must have for maintaining a beard for a stylish look. A beard trimmer is specifically designed for maintaining a beard.
Don't be fooled by fake brands and cheap quality products elsewhere!
With the best beard trimmer you will be able to get the exact length, style and look you want from your beard. So browse through the hundreds of best quality trimmers and other products such as beard trimmers, nose and ear trimmers, hair clippers, electric shavers, etc. from reliable online marketplaces. Buy brand new trimmers from Bikroy Deals at Bikroy.com today to get your desired look.
Not just beard trimmers, search for thousands of other electronics, products, services, job postings, etc. and find the best from Bikroy Deals.
Let us know your thoughts about all the information we shared about beard trimmers and your favorite tips & styles for others in the comments section.