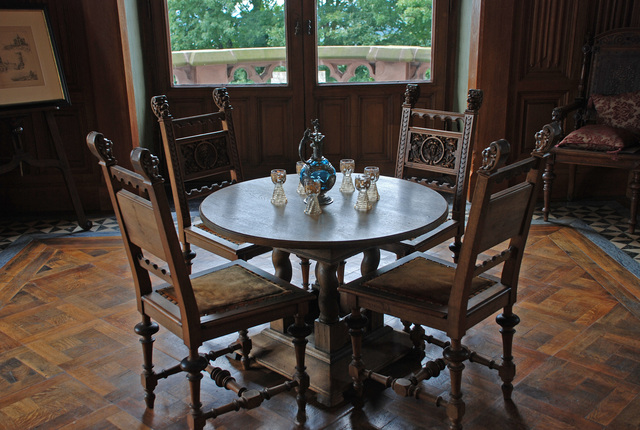 The history of antique furniture dates back to 1600s, and while the resale value on those historic pieces is high, so too are the costs of buying those people. While sitting at home and watching television shows, you'll likely see people talking about how they spent just a few dollars on a chair that is now worth a large sum of money. Antique dealers today scour bazaars, markets and other locations to find pieces that they can sell to others. Before you compete with those dealers, you need to learn more about buying antiques.
Early Styles
Jacobean and William and Mary refer to the oldest types of furniture found around the world. Experts identify Jacobean pieces as furniture created by or inspired by English designers. These pieces date to before 1690 and often feature dark wood stains and elaborate decorations. William and Mary furniture has a slightly more decorative look, with caned seats and some lacquer work. Queen Anne is another early furniture style. These pieces usually have elegantly turned legs, rich decorations and drawer pulls that look like bat wings.
The 18th Century
The 18th century brought a number of new designs to the furniture world. Colonial pieces date back to the early 18th century and feature conservative designs with some William and Mary elements. Chippendale is one of the more popular designs of this century. These pieces originally started in the United States before spreading to countries around the world. With curved legs, broken pediments and claw feet, it's a popular choice with home decorators. Towards the end of the century, designers introduced the Hepplewhite style, which features multiple wood colors and types and tapered legs.
More Modern Styles
At the turn of the 19th century, designers began incorporating more modern designs into their furniture, which led to the introduction of Shaker, Victorian and Arts and Crafts pieces. Shaker pieces, named for the Shakers who made those designs, have simple designs with little decorations, while Victorian pieces had highly decorated and elaborate legs and designs. The Arts and Crafts movement, also known as Mission style, used plain designs with straight lines and clean decorations. The Art Nouveau era, which started at the same time as the Arts and Crafts movement, used curved lines and intricate designs.
Sweden and Beyond
A new movement in antiques started in Sweden and Denmark in the 1930s. Often called contemporary pieces, these pieces had a more stylized design that mixed sleek decorations with clean lines. Though the movement officially ended in 1950, it bled into the mid-century modern era, which ran through the 1950s into the 1970s. Herman Miller and Eames are just two of the more famous designers from this era. Characterized by pale and light woods, some of the pieces featured atomic designs that drew inspiration from the space race.
What to Look for in Furniture for Sale
Once you know how to identify the pieces that you see for sale, you need to know what to look for before bringing a piece home. With older pieces, you should always open any drawers and look at the construction of those drawers. Older pieces feature dovetail corners, where the manufacturer carefully pushed together two pieces. You'll often come across newer pieces that have the same designs and decorations as antiques but with machine edges. With dressers and other pieces that have drawers, open each one and look inside. If you notice holes in the back of the drawer, this often indicates that someone added new hardware in the past. You'll also want to look at the feet of each piece to ensure that the feet are original. Many older pieces suffered damage from movement and frequent use, which led to past owners replacing or removing the feet.
Does it Have a Maker's Mark?
After you gain some more experience looking at old furniture, you'll know how to identify the different marker marks that you see. A piece with a clear mark is worth more than an unmarked piece. For example, Eames made a lounge chair in the 1960s that featured sleek chrome accents, wood paneling and leather upholstery. The popularity of that design led to several companies, most notably Plycraft, creating designs that looked almost exactly the same. An authentic Eames lounge chair is worth at least three times more than the imitation chairs.
Identifying Condition
Before listing any antiques for sale, you need to identify the condition of your furniture. Something as minor as a chip in a Queen Anne dresser will drop its value, and something more serious, including repaired feet or broken decorations can bring the value down even further. If you have any concerns or questions, or you aren't sure if the piece had repairs, don't be afraid to ask an expert for help. An antiques expert can take one look at a chair or table and tell you its condition.
Where to Buy
One of the first questions that new sellers ask is about where they can buy antique furniture. The truth is that you can find sofas, chairs, dressers, tables and other pieces from dozens of sources. If you have an outdoor flea market or bazaar, spend the day browsing through the stalls. Make sure that you get there early to beat your competitors. You might also find pieces for sale at resale shops, through your friends and family and even from furniture and antique stores in your area.
Where to Sell
Selling antiques online in Bangladesh is difficult. You won't find as many sites that are open to users from your area, and your slow Internet connection might make it difficult to upload photos and create listings. Instead of charging high shipping rates and dealing with other computer problems, consider opening your own shop or selling at a bazaar. With some time and hard work, you can build up your customer base and see your profits increase as you gain some more experience.