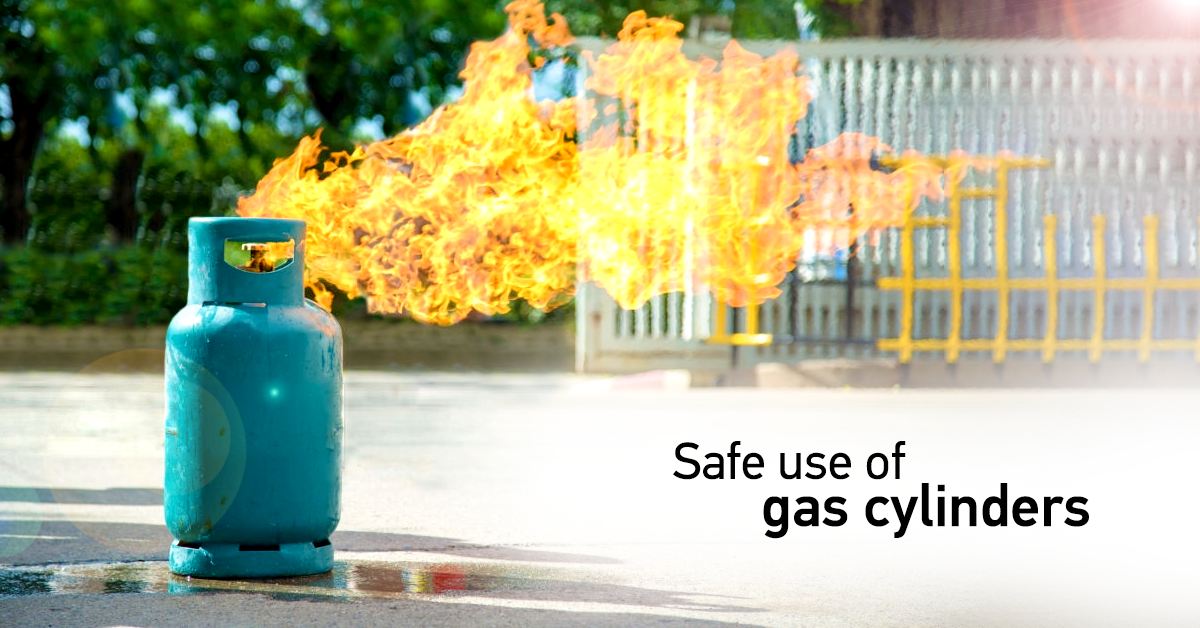 A gas cylinder can now easily be found in most Bangladeshi homes.
Many of us cannot imagine life without it because of our daily life uses of it. Those of us living at places where no new gas lines are provided, must use gas cylinders. And many also have it at home as a backup for when the gas service is unavailable.
Given its widespread use and the heavy risks of accidents such as the terrible incident that took the lives of many just a few weeks ago, we have decided to write a complete safety guide for the daily use of gas cylinders.
The incidents of gas cylinders exploding is not rare, it is more common than we think!
What are Gas Cylinders & Its Uses?
We know it commonly as gas cylinders, but it is formally known as a LPG cylinder. LPG stands for Liquid Petroleum Gas which is used for our cooking in homes, restaurants, etc. We also know CNG cylinders which are widely used in our vehicles as CNG stations are a common sight. CNG stands for Compressed Natural Gas, the one used to operate vehicles.
While the government of Bangladesh has progressed a lot and made many improvements in terms of safety standards, a huge learning curve is needed for public awareness. An accident can happen at any time, this is why it's important that we make an effort to learn all the safety tips to prevent the amount of damage to us and to those around us. For more on fire tips check our another blog on What Should You Do If a Fire Breaks Out in Your Home or Workplace?
Importance of Gas Cylinder Safety
The safety of the people should be the biggest concern for gas cylinder manufacturers, whether they are private or public. Because even the slightest of mistakes can lead to a disaster.
Many people across all the different industries such as in manufacturing, maintenance, medical, hospitality, science and education use gases in the compressed form in gas cylinders. They are compressed at a very pressure and technological advancements will be able to increase them even further. So, the need for proper & improved safety protocols, is more necessary than ever!
Today, gas cylinders are commonly used in every industry and locations due to its obvious benefits like affordable price, mobility, environment friendliness, less pollution than other alternatives and so on. It has become one of the most easy to use alternatives to fossil fuels and carbon emissions.
But the numbers of catastrophes associated to them is also more common these days. It is not surprising that most of these accidents happen more because of negligent and careless handling than anything else.
Gas cylinders also need to be used with protective measures taken as the flaw in proper use can lead to blasts, fire hazards, property damage and most vital, physical injuries or death to people. So, it is important to know basic safety protocol like safe storage indoors & outdoors, amongst all other things.
Buy Approved Cylinders from Certified Companies
It is important to always buy from authorized sellers. Also, you must make sure that the cylinder is made by certified manufacturing companies. So please ensure the following when buying a gas cylinder:
Ensure that the company seal is present

Ensure that the safety cap is securely fixed on cylinder

Do not hesitate to ask seller or the delivery man to show proper usage instructions

Should be placed on ground level on a plain surface

Never drag, roll or drop the cylinder as it is strictly unadvised
Try to only buy from approved sellers. Buying cheaper cylinder units from unapproved, uncertified, or otherwise unauthorized sellers, is calling danger upon yourself and your surrounding people.
Before & After Use Safety Tips
If you are a gas cylinder user or otherwise around a place where it is being used, then you should follow these tips or inform others of these safety tips.
Always be on alert for any smells or noticeable signs of gas leak

Avoid the use of candles, or match sticks when looking for leakages

Always place or store the gas cylinder in an upright position on a plain surface

Always keep it in proper ventilated area and not in closed cabinets

Keep cylinder away from other sources of fire, electricity and heat

Always turn off after usage

Store empty cylinders in cool spot and make sure safety cap is on

Always light your match stick or fire source before turning cylinder gas on

Make sure that rubber tube or other cylinder connections are changed as needed
What to Do in Case of a Gas Leak
If you are ever in the situation when there is a gas leak then follow these important tips:
Do not panic

Be calm, cool & collected

Do not turn any electrical appliances on if you doubt there is a leak

Turn off all appliances and put out flames, lights, incense sticks, candles, etc.

Turn cylinder connection off & put on safety cap

Open all windows and doors to get more air ventilation, but turn off all fans

Get in touch with emergency service providers
Simple Gas Cylinder Safety Steps for Our Daily Life
It is true that there are too many things associated with gas cylinders in our daily life already. So it is not possible to stop using them or being around a place that uses them. Our kitchen or homes have our loved ones and we spend most of our time in it.
So it is extremely important that we keep simple things in mind during our daily lives. The following are some of those simple safety tips for our daily life:
Make sure that you regularly do proper servicing for you gas cylinders and appliances used with them. There may not be a problem and an accident may just happen. Lots of times simple and quick maintenance can avoid massive disasters.

Always check for genuine products when you buy a gas cylinder, electrical or gas appliances.

Never do anything that you are not sure of such as how to connect or disconnect cylinders, etc.
Avoid using curtains on windows near your cooker or in kitchen, you can use other methods of privacy which are not easy to catch on fire.

Do not keep other things like kerosene next to the gas cylinder as they are flammable.

Do not permanently remove the safety cap as it can be used in case of any leaks.

Always turn off after use and double check to see that it is fully turned off.

DO NOT PANIC, ever! Make calm, cool & collected decisions.

Keep emergency phone numbers and safety experts within reach.

Buy safety tools like gas detectors, fire extinguishers, etc. for your homes, especially in the kitchen in case of emergencies.
The point of these safety tips is to ensure that you prevent an accident and if any, then minimize the damage to yourself and others around you.
Prevention is always better than cure!
A gas cylinder in our homes has made our lives easier and has become an important part of everyday life. While the government and companies do their part in ensuring the safety of these products, we too should take care in learning proper use of it to reduce incidents, or accidents which can happen anytime.
Precautions and Safety Tips for Commercial Use
Liquified or Liquid Petroleum Gas is cost effective and even more popular commercially. However, it is important to note that despite all safety features they are still combustible and a source of fuel. Workers and business owner must ensure complete precautions and safety procedures to avoid casualties and other issues.
So, commercial or industrial use like in hotels, restaurants, and etc. should be even stricter.
Precautions for Commercial Use
In case of any accident, no matter how small, use an alarm to inform everyone

In case of leak, evacuate and carry cylinder away to open space

In case of a fire use fire extinguisher & call fire service

In case of uncontrollable situations immediately inform emergency services without doubt
Don'ts for Commercial Use
Gas cylinders must be kept in an upright position

Must check for leaks always

Entry must be restricted for everyone in cylinder areas

Smoking should not be allowed near storage or area
Conclusion
Due to the massively widespread use of gas cylinders in Bangladesh, any accident can be deadly. Dhaka is densely populated and commercial or residential areas are always full of lots of people at any given time. In such scenarios, without the proper safety measures in place, any incident can be a disaster.
Hopefully, this simple guideline for the safe use of gas cylinders has been able to teach you some new things or reinforce some simple steps in our daily lives.
Everyone in your environment, your neighbors, family and friends are all within your close proximity and you should be sharing your knowledge to improve the standard of safety Do's Don'ts of everyone.
Buy from authorized sellers using the Bikroy.com marketplace for all your home safety equipment, gas cylinders, and more for a satisfying experience.
Stay alert, stay safe and be the "friendly neighborhood hero", just like SpiderMan!