Property
How to Find a Flat: For Students Coming for University Admission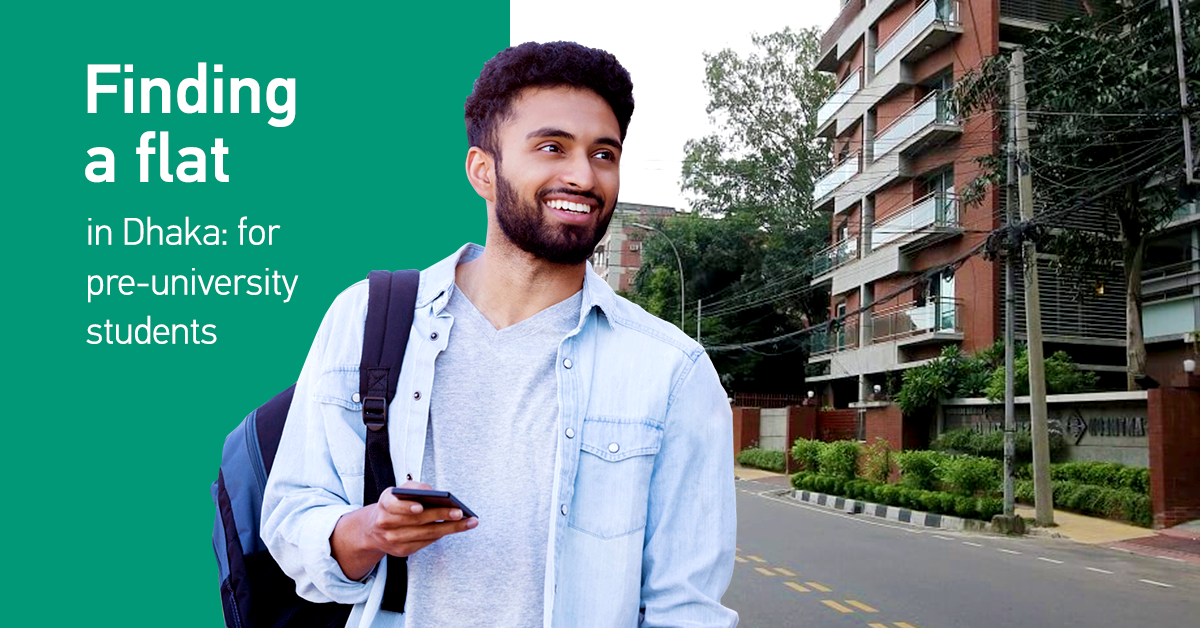 Looking for the perfect flat for yourself can be one of the biggest decisions someone has to make. Whether you decide to find a mess in Dhaka, or find a sublet or even look for a small flat for yourself, it all comes down to what you are looking for in a place of your own.
You have to consider the area where you want to move in, the amount of money you're willing to spend on rent or whether you want to share a flat with your friends. As a student who is coming to Dhaka to study, all of this can be a little overwhelming, so we're here to make things a little easier.
If you're new in Dhaka, you can also check out our article, New in Dhaka? Find Suitable Home for Rent or Buy in Dhaka over at Bikroy.com and get a better idea about what to expect from the capital of the nation.
Finding a place close to your job
It is important to note how having your own place in Dhaka can make a difference in your lifestyle as a student. It means that you can have your own private spot, live the way you want to and not have to be at the mercy of your family relatives. Some students may also have jobs and hence a packed schedule. Since living in Dhaka can be costly, having a job would make things slightly easier in the finance department. Even so, this means juggling your classes, exams, and office workload. Living close to your workplace in this case would make a significant difference to your travel costs as well as time management. It goes without saying that finding accommodation near your workplace is ideal. Have a look at our article on Why You Need to Find a Home Close to Your Workplace in Dhaka, before you delve into this one.
Things to consider when finding a place
Cost:

Finding a mess, sublet or a small apartment

can be quite costly in Dhaka. However, the cost will also heavily depend on the area you settle for. Areas like Baridhara or Dhanmondi can get a little pricey, whereas Bashundhara or Uttara could be more affordable. The average rent will vary from around 5,000 BDT to almost 20,000 BDT. For a student, even one with a job of some sort, this can be quite expensive. To find reasonably priced lodging you can

look for flats, sublets, or a mess

on platforms like

Bikroy.com

and save yourself some time!

Community: You might want to look into the kind of area or community your flat belongs to. If you find an affordable and suitable place but the environment feels risky or shady, it's best to avoid it. As a student, you will be traveling to and from classes quite a bit, sometimes during late hours. It's important that you don't have to constantly worry about your well-being due to living in an unsafe area.
Roommates: Of course, as a student, you will probably look for a shared apartment with roommates, preferably students. Other than obviously sharing rent and other household responsibilities to lighten the load, a good roommate will also provide the ideal companionship and support to help you get through this phase of your life. It might help to look for students in the same or similar course(s) as yourself. When you have no trouble fitting in, your time in the house will be less stressful.
Coaching centers: For a new university student, the pressure of studies can be a lot to take in. Some students may require a little extra help from coaching centers and tuition services. So, living close to them can help students to get help whenever they need it.

Finding a mess or a flat near coaching centers

can make a big difference for students coming to Dhaka to study.

Female Students: Living alone in Dhaka can be challenging for female students. Finding the right place will affect the lifestyle and safety aspects of student life. It is ideal to share a flat or room with another female and to stay in a locality that ensures safety at all times. It is better to avoid clustered living conditions and slightly desolate areas.
Facilities: The extent of facilities available will definitely vary depending on where you choose to live. This includes the supply of electricity, gas, water, security guards, and more. Make sure you are getting at least the basic facilities are being provided to you at all times. Living in areas with electricity or gas problems can hamper your academic life and your overall well-being.
What to look for in your ideal place?
Let's talk about what to expect. A bathroom and a kitchen are some of the bare essentials. Having a common bathroom can be relatively challenging with multiple students living in the same house.
The number of bedrooms you require will depend on whether you decide to stay alone or with a roommate, however, if your prospective flat has a room big enough for two then it shouldn't be a problem! If you're thinking of staying in a mess, then you should be careful about certain things.
Firstly, a student's mess will most likely be packed with your fellow university goers, and often times finding a seat can be both time-consuming and very difficult. So if you do decide to reside in a mess make sure you book your seat way in advance to avoid the human traffic jams. Also, living in a mess means living with a lot of different types of people. If you are not willing to mingle and only want your alone space, then maybe a mess isn't for you.
Lastly, as the name suggests a mess can be a mess sometimes, so if you want your place to be clean then you have to keep it clean. Nonetheless, living in a mess can give students a very exciting experience in university life. Finding a mess in Dhaka, with all your friends and enjoying the next four to five years of your life free from the hands of any stand-alone responsivities can be fun! Furthermore, if you are planning to stay in a sublet then there are some things to have to take into account as well.
Finding sublets in Dhaka can be difficult but with the right tools if can be quite easy too. Before deciding on your perfect sublet, remember the costs, the size of the sublet, and the availability of a bathroom and cooking area. However, for some students living in a sublet is the best option. This is because it allows you to have your own private space without it being ridiculously expensive like a full-blown apartment and you can have the facilities of an apartment too. All things considered, finding a place to reside can be a challenging thing to do. Even so, websites like Bikroy.com have made things a lot easier and have made finding the right place a good experience for all prospective renters.
How to find a place for yourself?
Now that we talked about what to look at and what to expect from certain types of places, we need to figure out how to find the place exactly.
The traditional way
The traditional way to find a flat, mess, or sublet is to look around the place you want to live in and scour around for the little black to-let signs. A lot of people also call up their relatives living in that area or friends and tell them to ask around for any vacancies in the housing sector. Some people can call up real estate agents in order to find themselves a place but this can sometimes be costly.
The modern way
The new and easy way to look for housing is to do it online. Platforms such as Bikroy.com, are allowing people to look through hundreds of rental ads without having to visit them physically. By filtering the ads according to the area you want to live in and your preferred budget, you can get yourself the best deal for the best home. You can also eliminate the need for a middle man and connect directly with the seller. To get a better idea about the property market on the online platform you can check out our article Bangladesh Property Market in the Digital Age over at Bikroy Blog.
Conclusion
All in all, finding yourself a place is a big decision to make. Where you live determines how your daily life will turn out in terms of both mental and physical health. If your place doesn't make you happy then you may not feel motivated to pursue your education and your career. So find yourself a place that will make you happy. Have a read of our article How to Find an Apartment Near You in Bangladesh to get a better idea about renting options in all of Bangladesh and not just in Dhaka. The property market is dynamic and if you want to snag yourself a place then it might help to read up on the current state of the local real estate market. This information is available in our article Real Estate Market in Bangladesh in 2018. When finally deciding on a place of your own just keep some things in mind, the cost, the community and the condition of the place itself. Remembering these things should to keep you on track to finding the perfect place! We hope this article could act as a guide in your house searching endeavors. For exciting deals on houses, flats, sublets and more check out Bikroy.com and get the keys to your perfect home today.