Property
A look at Property for sale in Chittagong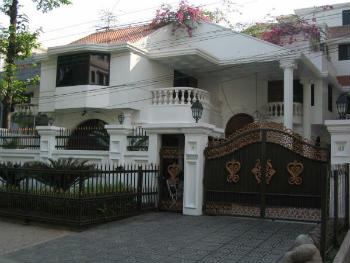 The property market can be very tricky for people who are inexperienced. Before you spend a lot of your money on renting or buying an apartment, house or condominium, you need to be familiar with all of the details about the location. At the present time, Chittagong is considered to be one of the best places to buy or rent in Bangladesh. The market has become more stable in recent years and has actually started to trend upward. This is a great improvement over the past several years when values were down. If you want to find some plots of land for a construction project you have been thinking of starting, there are a large variety to choose from in the city. You will also find property for sale and property for rent in a wide range of prices for all levels of income.
One of the great things about land project in Chittagong is that there are many different types of properties to satisfy various preferences in style and taste. There are also many apartments and flats for people who have just started a family. If you have a business that you are considering moving to Chittagong, you will find commercial property available in large quantities within the city. There is no shortage of rooms to rent to provide you and your family an accommodation if you have decided to move to the city. Let's take a look at some of the important things you need to know about the property market in Chittagong. To get an overview of the property market in Bangladesh please have a look on our infographic stats: Real Estate Market in Bangladesh in 2018 | Infographic
Apartments and flats
Flat price in Chittagong is better than it has been in many years. There are now many affordable units available that would have been much more expensive several years ago. If you are really interested in living in Chittagong, you would be wise to seriously start looking at properties in the near future. While the prices are affordable at the present time, these prices will eventually start to fluctuate again. If they should start to trend upward, you may no longer be able to afford a place that is ideal for you and your family. If we use past trends to help us figure out the Bangladesh market, we can see that prices tend to fluctuate dramatically every six to eight months. There are many factors that play a role in this fluctuation. The bottom line is that waiting to look at a place could be a big mistake. If you planning to buy an Apartment or flat have a look on this article before buying Nobody Will Tell You This about Buying Your Home in Bangladesh.
Plots of land
Chittagong has proven itself to be one of the best places in Bangladesh for many different types of construction projects. The ground is solid enough to construct foundations for large buildings of varying heights. There is also a large amount of contractors and skilled labor within the city, making it easy to find someone to handle your project, no matter how big and complex it is. Flat price in Chittagong will be directly determined by the location of the land and the size of the plot. The quality of the dirt and soil will also play a role in the price. This is because some land is better for construction than others. It is important to thoroughly research the quality of the land before beginning any construction project. You need to find out if the ground is strong enough to support the structure you plan on building. Before you buy a polt or land you must know The Technical Aspects of Buying Plots/Lands in Bangladesh.
Commercial property
At the present time, Chittagong is one of the best locations in all of Bangladesh to open a business. One of the primary reasons for this is the amount of quality land plots that are specifically designed for commercial real estate. Prices have come down in recent years, making it easier for small business owners to open up additional stores at a lower cost. The price of this land will depend on where it is located. For example, if it is positioned close to a major road or a business center, the price will be higher because it is a more desirable location. The reason a location like this is preferred among business owners is due to the fact that there will be a greater amount of people walking and driving through the area, leading to increased business. Although the prices of commercial property are low at the present time, people who are interested should begin touring available properties immediately before prices start to rise. They should attempt to get an extended lease to protect themselves from any future price increases.
Property for rent
It is becoming more popular in Chittagong for families to rent houses and larger properties because the rental fees are less than smaller apartments when comparing the square footage. This makes them more appealing to couples who plan on having children at some point in the future. The house rental market has become very profitable in the city over the past few years. This has created a new market of people who are buying a property for the purpose of renting it out and making a profit from the rental income. Before you agree to rent a house in Chittagong, you should have it thoroughly inspected to make sure there are no issues that could cause you problems down the road. No matter what size dwelling you are looking for within the city, you are certain to find one that suits your needs. This is because the amount of available properties for rent is so large. Know more How to Find an Apartment to Rent Near You in Bangladesh.
Best areas for properties
The Chittagong city center is rapidly growing and has become one of the more desirable places to live in Bangladesh or if you wish to invest in land project in Chittagong. Because of this, it is more expensive to live here than other parts of the city. However, renting a place here allows you access to many of the city's best features. It is also a good place for students to live because it is close to several of the city's biggest universities. Take a look at the available flats to see if any of them appeal to you.
FAQ
Is Property expensive in Chittagong?
Beside being a metropolitan city, Chittagong is the commercial capital of Bangladesh. Chittagong is also the center of shipping industries, which is the backbone of businesses. Property is expensive in Chittagong depending on the location and view.
Is it good to buy property in Chittagong?
Chittagong is a port city and the communication here is well maintained. As a civilian, one can get all of the necessary features and places to roam around in Chittagong. With a reasonable property price, Chittagong is a good place to invest.
How can I buy a flat in Chittagong?
To buy an apartment or a flat in Chittagong, you can visit
Bikroy.com
– The Largest Marketplace in Bangladesh. Where you will find all sorts of property listings based on your locality, and budget.
Facebook Comments