Jobs
Why is BikroyJOBS the Best Platform for Blue Collar Jobs in Bangladesh?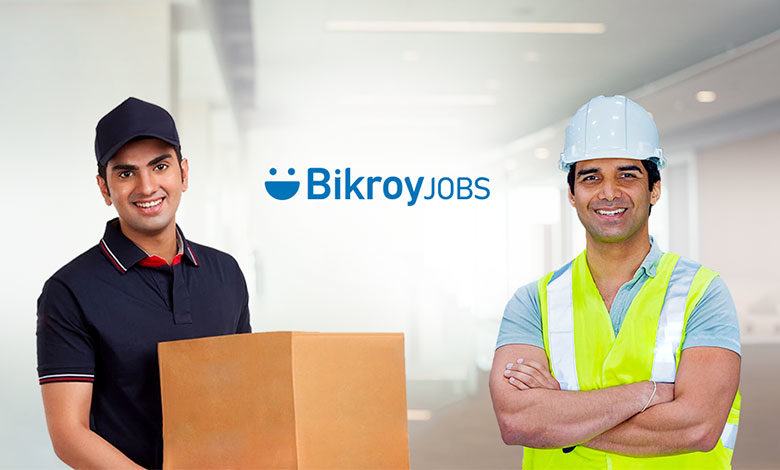 Are you or anyone in need of blue collar jobs in Bangladesh?
Are you looking to hire blue collar employees?
BikroyJOBS is one of the most reliable platforms for blue collar jobs in Bangladesh!
While many of us pursue white collar jobs and see it as a successful milestone in life, the importance of blue collar jobs or the work is undeniably crucial to our society & lifestyle.
So what is a blue collar job?
Blue collar jobs are a variety of skilled and/or unskilled work in fields like manufacturing, mining, sanitation, custodial work, textile manufacturing, commercial fishing, food processing, oil field work, waste disposal, and recycling, construction, mechanic, maintenance, warehousing, technical installation, etc. But in Bangladesh, mostly all types of work related to physical labor is considered a blue collar job such as Security Guards, Drivers, Electricians, House Keepers or maids, Delivery Man, Waiter, Sales Representative (SR), Mechanic, etc.
While most people don't think of these types of work as their dream jobs, these are the type of jobs that beautify or comfort our modern day society or our lifestyle. These jobs allow us to move around in working cars in heavy traffic, clean roads & footpath, air conditioned homes & offices, fresh food & fruits in the markets, etc.
It is unfortunate that we take these blue collar jobs for granted and do not give them their due credit. But we all will agree on the difficulty of finding good blue collar employees. Get Help for Your Job Search in Bangladesh! Visit Bikroy.com/jobs.
Hiring blue collar employees & finding blue collar jobs
In our country today, the task of finding blue-collar employees for jobs such as drivers, delivery staff, maids, cooks, peons, office boys, house keepers, babysitters, carpenters, plumbers, etc. is a daunting task!
Not only for our homes but small business owners such as shops, saloons, beauty parlors, fast food, clinics, etc. are always struggling to find employees or connect with those people who are looking for these jobs. Traditional solutions such as recommendations in the form of middlemen or agencies are often unreliable, costly and prove to be complex. This is a problem in a sector which is complex and has remained to be a problem until now.
Bikroy Jobs is a platform which has filled this void by letting employers & employees connect for various types of jobs including such blue collar jobs.
Many times there are agencies which try to cheat or fraud customers to take advantage of their weakness. But with initiatives such as our neighboring country, the Government of India has taken steps to eradicate this problem. They are sponsoring the right channels and raising awareness & education for such jobs as well as organizations such as Make in India, Digital India, Startup India and Skill India to improve the current situation.
While Bangladesh is still far from where we need to be, we can take inspiration and build our own solutions so that both job seekers and employers are better connected. This can be done using the rapid rise in our digital vision with technological products such as mobile applications which connects the big city to rural & remote areas. The Bikroy Mobile App can be used to connect with potential employers by job seekers and vice versa, no matter where they live.
How to attract a new generation towards blue collar jobs
Bangladesh is a developing country, with its rapid rise towards digitization, education & development, there still resides a massive percentage of uneducated or very low educated population. These younger people are unable to pursue blue collar jobs and many falter by moving into crimes such as stealing, etc. This is because of the lack of them connecting with relevant jobs.
It is alarming to think that the demand to fill blue collar jobs such as electricians, drivers, maids, security guards, etc. are more challenging than IT jobs. This is because while the unskilled blue collar job holders are aging and leaving their jobs, there is a void of younger blue collar workers. This gap will only widen as more of our generation pursue education while the rest are forced into crimes & begging due to poverty.
The following are some of the ways to attract a new generation towards blue collar jobs:
Implement Technology & its Advances in this Sector as well
New generations whether educated or uneducated, rich or poor, are digital generations who are all heavily influenced by technology. So, even in the blue collar job sectors its implementation is needed and that too with a purpose. Both employers and job seekers are aware of smartphones and social media, so they must have the ability to use these innovative technologies in their work sector.
Security guard jobs, driver jobs, electrician jobs, housekeeper jobs, delivery man jobs, waiter jobs, sales representative jobs, mechanic jobs, and others need to be made available to be pursued with technology.
These business owners & homeowners must have a platform such as online job portals to find blue collar employees. Agencies need to train workers to use technology to help them for making an earning. Bangladesh needs to implement a way like Pathao or Uber to liberate blue collar employees in other sectors such as cleaners, electricians, plumbers, etc.
Treat Blue Collar Jobs as a True Job Sector
The negative stereotypes surrounding blue collar jobs cannot be removed with an eraser. It cannot happen overnight. But we need to recognize it as a true job sector and give it its due treatment. A collective mindset is required by not only the government but also businesses, employers, parents, teachers, journalists, politicians and the normal public for this to happen.
We can hope, dream & work collectively so that our upcoming generations will respect & appreciate blue collar employees such as mechanics, drivers, maids, etc. just like doctors and lawyers. As a result, more people will realize its importance and treat them as a true job sector that contributes heavily to building our society and sustaining our lifestyles.
Government must enforce initiatives for businesses & agencies to train blue collar job seekers, offer good salaries, benefits, advancement opportunities, holidays, etc. The shortage of blue collar employees is a massive problem for any economy, so we as a nation must recognize this tremendous opportunity and put in the work necessary to solve this problem. More businesses need to act differently like BikroyJOBS to solve the issues surrounding blue collar jobs in Bangladesh.
With such framework in place, those who are now indulged in crimes, begging due to poverty will believe in new opportunities to learn or grow their skills and feel not only compensated but also appreciated for their work. This will help build our economy, our mentality while reducing crimes & other mishaps.
Conclusion
As we have discussed in this article, blue collar jobs are one of the most influential and critical sectors of our nation. A majority of the population, if not all, is heavily reliant on blue collar jobs such as security guard jobs, driver jobs, electrician jobs, house keeper jobs, delivery man jobs, waiter jobs, sales representative jobs, mechanic jobs, and many more.
We as people, professionals and also as a government must treat this job sector with its due importance for sustaining our future. If you are an employer looking for blue collar job seekers, then you can use Bikroy's job portal to find the right candidate for your jobs. If you or anyone you know is seeking blue collar jobs, use the Bikroy platform to find the right job today.
There are hundreds and thousands of job postings in Bikroy.com/Jobs for blue collar jobs such as security guards, drivers, electricians, house keepers, delivery man, waiters, sales representatives, mechanics, cleaners, in addition to white collar jobs.
I hope you enjoyed reading about blue collar jobs and how BikroyJOBS is helping to improve this job sector in Bangladesh. Share your thoughts & feedback on the comments section!